Discovering Christ in All the Scriptures Upgrade (9 vols.)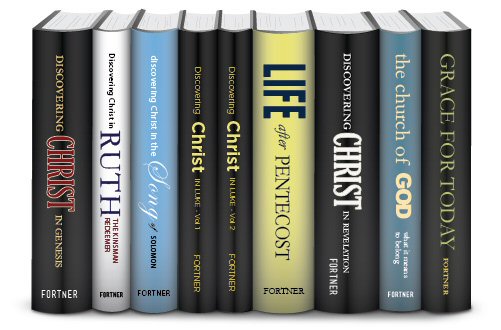 Discovering Christ in All the Scriptures Upgrade (9 vols.)
•
Overview
In Discovering Christ in All the Scriptures Upgrade (9 vols.), Don Fortner presents a holistic look at the Bible, as well as a close-up view of six books of the Bible: Genesis, Ruth, Song of Solomon, Luke, Acts, and Revelation. This collection also includes a volume on the importance of public worship and a one-year devotional. The nine volumes included in this collection examine who Christ is throughout the entirety of the Bible, engaging the reader with Fortner's highly accessible writing style and obvious passion for the Scriptures. His writings are a wonderful companion to personal Bible study, providing a trove of insight into the Scriptures, and are an excellent resource for laity, pastors, teachers, and students.
A pastor and conference speaker as well as a prolific author, Fortner has much to offer readers, both theologically and practically. His words, brimming with knowledge from years of biblical studies, are more accessible than ever in the Logos edition. Scriptures are accessible instantly with a mouseover, and his studies will appear in passage guide searches.
Key Features
Includes commentaries on six books of the Bible
Provides additional resources that compliment the studies, such as a daily devotional
Examines the text in a highly readable and accessible discussion of the Scriptures
Encourages the reader in their daily walk with God
Product Details
Title: Discovering Christ in All the Scriptures Upgrade
Author: Donald S. Fortner
Volumes: 9
Pages: 3,357
Collection Details
About Donald S. Fortner
Donald S. Fortner, pastor of Grace Baptist Church of Danville, Kentucky, is also a prolific author and conference speaker.
Más detalles sobre estos recursos