Brill Josephus and History Collection (2 vols.)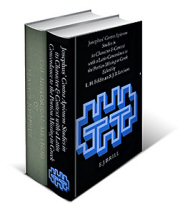 Overview
The works of Josephus represent some of the most important writings for understanding the history of the Jewish people, their culture, and the broader situation of the first century in the eastern Roman Empire. The two volumes included here in the Brill Josephus and History Collection bring Josephus' historical importance to the forefront. With the first complete study of Josephus' approach to writing history combined with the concordance to the Latin portion of Contra Apionem, this collection is valuable addition to any library.
While Varneda takes a wider, holistic approach that examines all of Flavius Josephus' historical writings, Feldman and Levison examine numerous aspects of a single work: Contra Apionem in light of its textual history, sources, literary style, and Judaism in the first century. Together, these two volumes provide a unique perspective on Josephus both narrowly and broadly. With Logos Bible Software, they become even more accessible with the ability to have Josephus' works readily at hand, whether using Niese's Greek text, Whiston's English translation, or the new multi-volume translation and commentary edited by Steve Mason.
Key Features
The first comprehensive study of Josephus' historical method
Complete concordance of the Latin portion Josephus' Contra Apionem
Excellent indexes
Product Details
Title: Brill Josephus and History Collection (2 Vols.)
Publisher: Brill Academic
Volumes: 2
Pages: 847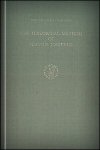 In this important volume, Varneda investigates and analyzes all of the historiographical problems present in the works of Flavius Josephus. By taking this broader, holistic perspective, Varneda seeks to present an exhaustive analysis of Josephus' strategy as a historian.
Varneda divides his study into three major sections. The first examines historical causation in Josephus' historical works in relation to Josephus' conceptual and philosophical perspective on human and divine causation in history. Building on the question of causation, section two takes a look at Josephus' approach to narrating history, including the manner in which he characterizes historical personages, creates speeches for the major historical players, and presents the chronology of events and the geography of his Greco-Roman setting. Both sections one and two include comparisons of Josephus' work with previous and contemporary historians of the Greco-Roman world. Finally, section three attempts to summarize and synthesize, where Varneda proposes that Josephus writes "pragmatic history," which he defines as an account that prioritizes historical events of political value over all others.
Pere Villalba i Varneda, Ph.D. (1981) in Classical Philology, University of Barcelona, is Professor Emeritus of Classical Philology at the University of Barcelona and a member of the Acadèmia de Bones Lletres de Barcelona.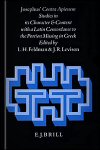 This volume offers a state-of-the-art collection of papers on one of the most significant works of Flavius Josephus, by many of the leading scholars in current Josephus research. The collection, which includes a concordance by H. Schreckenberg of the Latin section Contra Apionem 2.52-113, forms a standard, indispensable resource for the study of Josephus' writings, of apologetic literature in general, and particularly for the study of Contra Apionem, one of the most significant apologetic treatises in Antiquity.
Helpfully, the first article in the volume seeks to guide the reader who might be overwhelmed by the constant argumentation, refutation of Contra Apionem. To that end, it provides a survey and overview of current scholarship on Contra Apionem, the following articles of this book, and Josephus' Contra Apionem itself.
We congratulate [Louis H. Feldman and John R. Levison] and authors for this important collection of essays and studies.
—J. K. Elliott, Novum Testamentum, 2000
Articles Include:
"Introduction: The Character and Context of Josephus' Contra Apionem" by John R. Levinson and J. Ross Wagner
"Text, Überlieferung und Textkritik van Contra Apionem" by Heinz Schreckenberg
"The Distinctive Vocabulary of Contra Apionem" by Peter W. van der Horst
"Contra Apionem 1.28-56: Josephus' View of His Own Work in the Context of the Jewish Canon" by Per Bilde
"Josephus between Greeks and Barbarians" by Arthur J. Droge
"Polemic and Apologetic Methods of Writing in Contra Apionem" by Aryeh Kasher
"The Contra Apionem in Social and Literary Context: An Invitation to Judean Philosophy" by Steve Mason
"Josephus' Contra Apionem and Historical Inquiry in the Roman Rhetorical Schools" by Robert G. Hall
"Reading Between the Lines: Appreciation of Judaism in Anti-Jewish Writers Cited in Contra Apionem" by Louis H. Feldman
"The Jews as Typhonians and Josephus' Strategy of Refutation in Contra Apionem" by Jan-Willem van Henten and Ra'anan Abusch
"An Ass in the Jerusalem Temple—The Origins and Development of the Slander" by Bezalel Bar-Kochva
"Josephus' Account of the Temple in Contra Apionem 2.102-109" by Richard Bauckham
"Contra Apionem and Antiquitates Judaicae: Points of Contact" by Paul Spilsbury
"Contra Apionem and Christian Apologetics" by Michael Hardwick
"A Concordance to the Latin Text of Contra Apionem 2.52-113" ed. Heinz Schreckenberg
Louis H. Feldman, Ph.D. (1951) in Classical Philology, Harvard University, is Professor of Classics at Yeshiva University, New York. His many publications include Jew and Gentile in the Ancient World (Princeton University Press, 1993) and Studies in Hellenistic Judaism (Brill, 1996).
John R. Levison, Ph.D. (1987), is Research Scholar in Residence at Duke Divinity School, Duke University. His publications include Portraits of Adam in Early Judaism (Sheffield Academic Press, 1988).
More details about these resources