Herman Witsius Collection (11 vols.)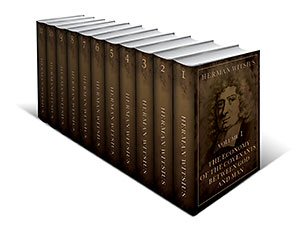 Overview
Herman Witsius, Dutch theologian, pastor, and professor of the seventeenth century, was a major proponent of covenant theology, and in this 11-volume collection, his greatest works on grace, law, sin, and holiness are collected. Witsius was most famous for The Economy of the Covenants Between God and Man, a systematic exploration of Old Testament law, New Testament grace, the grace of God in both covenants, and how Christ fulfills each covenant. It is included in this collection, as well as his commentary on the Apostles' Creed and a volume on the authorship of the Pentateuch. The final title, Conciliatory or Irenical Animadversions on the Controversies Agitated in Britain, explores godliness, law, grace, and the role of the believer. Witsius' work is characterized by careful regard for Scripture and a desire to reconcile different denominations.
During his lifetime, Witsius was a major influence on his contemporaries, such as John Gill and John Owen, and he continues to inspire Christians today, including J. I. Packer. For anyone interested in basic Christian theology or exploring different doctrines of the Christian faith, the writings of Witsius are essential. With the Logos edition of the Herman Witsius Collection (11 Vols.) is easy to read and incorporate right into your studies. Every Scripture reference is linked to the Bibles in your library.
Key Features
Contains Witsius' most important writings
Over 3,000 pages of theological insight
Each volume includes a detailed table of contents to guide study
Praise for the Print Edition
Herman Witsius. . . was a masterful Dutch Reformed theologian, learned, wise, mighty in the Scriptures, practical . . . on paper he was calm, judicious, systematic.
. . . a writer not only eminent for his great talents and particularly solid judgments, rich imagination, and elegance of composition, but for a deep, powerful, and evangelistic spirituality, and savor of godliness.
Product Details
Title: Herman Witsius Collection
Author: Herman Witsius
Volumes: 11
Pages: 3,015
About Herman Witsius
Herman Witsius was born in 1636 in Holland. He became a pastor in 1656 and a professor of divinity in 1675. The author of several theological books, Witsius died in 1708.