Mobile Ed: NT334 Book Study: Paul's First Letter to the Corinthians (12 hour course)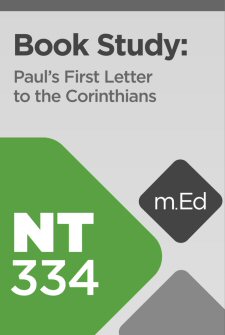 Mobile Ed: NT334 Book Study: Paul's First Letter to the Corinthians (12 hour course)
•
Runs on Windows, Mac and mobile.
Overview
In Book Study: Paul's First Letter to the Corinthians (NT334) Craig Blomberg steps through the text to explain the big picture and the many issues and controversies found in 1 Corinthians. You will be encouraged in your Christian walk to understand and express your spiritual gifts and to see the contemporary relevance of the issues faced by the Corinthian church. This study reveals the pastoral heart of Paul in both addressing moral and community issues of Christian leadership, factionalism, lawsuits, sexuality and food sacrificed to idols whilst keeping rehabilitation always in mind. Taking a broad-brush approach, you will gain a balanced perspective on spiritual gifts and the importance of love before diving in to examine the controversial topics of tongues and prophecy. There is something of relevance for every Christian in this study which shows that the same issues facing the first century church can be found in the church today.
Learning Objectives
Upon successful completion you should be able to:
Describe first-century Corinth and the Graeco-Roman culture in which the Corinthian church existed
State the occasion for Paul's first letter to the Corinthians, and outline its basic structure
Discuss the specific problems in the Corinthian church that Paul addresses and the factors that unite them
Summarize Paul's treatment of important issues, including sexual sin, Christian freedom, marriage, Christian worship, spiritual gifts, and bodily resurrection
Summarize Paul's teaching in 1 Corinthians on major doctrines, including the triune Godhead, creation, humanity, sin, salvation, sanctification, the church, and last things
Course Outline
Introduction
Introducing the Speaker and the Course
Unit 1: Introducing 1 Corinthians
Background
Structure
Unifying Problems
Authorship
Relevance
Unit 2: Letter Opening, Factionalism, and the "Foolishness" of the Cross (1 Cor 1:1–2:5)
Greetings
Thanksgiving
Factions
"Foolishness" and "Wisdom"
God's "Foolishness"
"Wisdom" versus Spiritual Power
Unit 3: Wisdom and Unity (1 Cor 2:6–3:23)
God's Wisdom and the Wisdom of this Age
Spirit's Ministry in Revealing True Wisdom
God's Field
God's Building
Conclusion of the Matter and Application
Unit 4: "Apostolic Ministry" and "Sexual Sin" (1 Cor 4:1–5:13)
Apostolic Ministry: Faithful Stewards and Following Scripture
Apostolic Ministry: Unjustly Suffering
Apostolic Ministry: Specially Related
A Case of Incest
Clarifying a Misunderstanding from Paul's Previous Letter
Application
Unit 5: Lawsuits, Sexual Immorality, and Marriage vs. Celibacy (1 Cor 6:1–7:9)
Lawsuits within the Church
The Consistently Wicked Are Not Christians
Abuse of Freedom and Prostitution
Sexual Immorality
The Pro-Celibacy Faction's Slogan and Paul's Response
Application of Pro-Celibacy Slogan to Married Couples and Celibacy, Widows and Widowers
Unit 6: Marriage and Divorce (1 Cor 7:10–40)
Application of Pro-Celibacy Slogan to Married Couples Considering Divorce
Preliminary Conclusion: Bloom Where You're Planted
Application of Pro-Celibacy Slogan to Those Considering Marriage
Application of Pro-Celibacy Slogan to the Engaged
Application
Unit 7: Christian Freedom: Idol Meat and Money for Ministry (1 Cor 8:1–9:18)
Food Sacrificed to Idols: Part 1
How Love Tempers Knowledge with Respect to the Ignorant
Paul Reasserts His Right to Money for Apostolic Ministry
Paul Supports His Right to Money for Apostolic Ministry
Paul Relinquishes His Right to Money for Apostolic Ministry
Application
Unit 8: Christian Freedom: Contextualization, Idolatry, and Idol Meat (1 Cor 9:19–11:1)
Paul's Goal: All Things to All People to Save Some
Exertion to Become All Things to All People
The Danger of Idolatry
Types of All the Evils to Avoid
"Types" as the End of the Ages Has Come
Food Sacrificed to Idols: Part 2
The Sum of the Matter: Freedom Plus Restraint
Application
Unit 9: Christian Worship: Head Coverings and the Lord's Supper (1 Cor 11:2–34)
Introduction to Christian Worship: Headship
Head Coverings and Worship: Part 1
Head Coverings and Worship: Part 2
Head Coverings and Worship: Part 3
Lord's Supper: Corinthian Abuse of the Ritual
Lord's Supper: Words of Institution
Lord's Supper: Application to the Corinthian Practice
Application
Unit 10: Spiritual Gifts (1 Cor 12:1–31a)
Introduction to the Spiritual Gifts
Metaphor of the Body: Part 1
Metaphor of the Body: Part 2
Application of Body Metaphor to Spiritual Gifts
Application
Unit 11: Love, Tongues, and Prophecy (1 Cor 12:31b–14:25)
The Still More Excellent Way
Love Described
Comparison of Tongues and Prophecy
Response of Outsiders to Tongues and Prophecy and Application
Unit 12: Conclusion to Spiritual Gifts, and Resurrection (1 Cor 14:26–15:28)
Criteria for the Regulation of Tongues and Prophecy
Gender Roles and Conclusion to Spiritual Gifts
Testimony to Christ's Resurrection: Part 1
Testimony to Christ's Resurrection: Part 2
Our Resurrection Depends on Christ's Resurrection
Meaning of the Resurrection
Application
Unit 13: Bodily Resurrection and Letter Closing (1 Cor 15:29–16:24)
Further Defense of Resurrection Reality
Continuity and Discontinuity of Resurrection Bodies: Analogies
Continuity and Discontinuity of Resurrection Bodies: Application
Necessity of Transformation: Part 1
Necessity of Transformation: Part 2
Instructions on the Collection
Travel Plans
Final Commands and Greetings
Application
Unit 14: Theology of 1 Corinthians
The Triune Godhead
Creation, Humanity, Sin, Angels, and Demons
Salvation and Sanctification
The Church
The Last Things
Conclusion
Recommended Resources and Bibliography
Conclusion to the Course
Product Details
Title: Mobile Ed: NT334 Book Study: Paul's First Letter to the Corinthians
Instructor: Craig L. Blomberg
Publisher: Lexham Press
Publication Date: 2016
Product Type: Logos Mobile Education
Resource Type: Courseware, including transcripts, audio, and video resources
Courses: 1
Video Hours: 12
About Craig Blomberg
Craig Blomberg is distinguished professor of New Testament at Denver Seminary, where he has been teaching since 1986. Blomberg earned degrees from Augustana College, Trinity Divinity School, and Aberdeen University in Scotland. He previously taught at Palm Beach Atlantic College and spent one year in Cambridge as a research fellow with Tyndale House. He has been on translation committees for the New Living Translation, English Standard Version, and the Holman Christian Standard Bible.
Bloomberg is the author, coauthor, or coeditor of numerous books and more than 80 articles in journals or multiauthor works. A recurring topic of interest in his writings is the historical reliability of the Scriptures, and he has also covered such diverse issues as wealth and poverty, hermeneutics, and women in ministry. His books include Jesus and the Gospels: An Introduction and Survey, 2nd ed., Zondervan Exegetical Commentary on the New Testament: James, A Handbook of New Testament Exegesis, Making Sense of the New Testament, Preaching the Parables, and the NIV Application Commentary: 1 Corinthians.
Getting the most out of Mobile Ed
Logos Mobile Education is a highly effective cross-platform learning environment that integrates world class teaching with the powerful study tools and theological libraries available in Logos Bible Software. Every course provides links to additional resources and suggested readings that supplement the lecture material at the end of every transcript segment.
This course comes with an Activities resource that functions as a type of "workbook" for the course. This resource includes learning activities such as: places for you to respond to reflection questions, exercises that will challenge and show you how deepen your understanding of this course by using specific Logos tools and resources, tutorial videos on different features of Logos Bible Software, and links to relevant Logos guides and tools. A link to open the Activities resource is conveniently placed at the end of every segment.