Mobile Ed: NT231 Paul of Tarsus (5 hour course)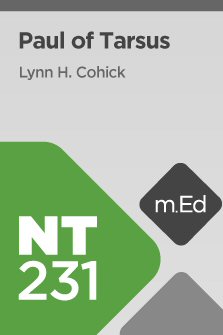 Mobile Ed: NT231 Paul of Tarsus (5 hour course)
•
Runs on Windows, Mac and mobile.
Overview
Who was Paul of Tarsus? In this course, Dr. Lynn Cohick draws from the book of Acts as well as Paul's letters to paint a vivid picture of who he was, what he did, and what he believed. "We want to take a look both at Acts and at Paul's letters because we want to make sure that we understand Paul not simply as someone who thinks about theology, sits at a desk and writes letters, but also as someone who is doing, who is living out what they claim."
Dr. Cohick begins with Luke's perspective in Acts, and draws attention to Paul's desires and actions and the major events in his life. Then, using Acts as a narrative framework, she looks at Paul's own writings to reveal more about his personal thoughts and fears. If you want a guided tour through the life and teachings of one of the most influential figures in the Christian church, this is it.
Learning Objectives
Upon successful completion you should be able to:
Trace Paul's movement from Tarsus through his call and three missionary journeys until he ends up in Rome
Place the key events in Paul's life and ministry in the correct city or region
Identify the big Pauline themes with the particular books that address them most directly
Course Outline
Introduction
Introducing the Speaker and the Course
Unit 1: Paul's Background
Introduction to Paul
Paul's Setting
Ancient Rhetoric
Roman Empire
Example from Shakespeare
Jewish World
Using Community Tags to Enhance the Factbook
Unit 2: Paul the Apostle
Paul of Tarsus
Pharisee
Using Cultural Concepts and Clippings to Research the Pharisees
Persecutor of the Church
Paul's Calling in Acts
Calling in Galatians
Called, Not Converted
Followers of Jesus
Discovering Early Names for Christians with the Factbook
Paul's Theology
Center of Paul's Theology
Social Implications of the Gospel
Future Implications of the Gospel
Paul and Empire
Paul and the New Perspective
Researching the "Works of the Law" with Searching and Notes
Paul the Letter Writer
Rhetorical Approaches in Paul's Letters
Unit 3: Paul's Travels
Starting Our Journey
Galatians 2 and Acts 11 or 15?
Paul and Barnabas in Pisidian Antioch
First Corinthians 15
Jerusalem Council and the Law
Galatians, Part 1
Galatians, Part 2
Paul's Visit to Philippi
Visit to Thessalonica
Paul's Message in Athens
Using Media Search to Find Images and Videos of Mars' Hill
Visit to Corinth
The Message of Thessalonians
Paul's Third Missionary Journey
Unit 4: Paul's Epistles
First Corinthians
Paul's Reconciliation
Theological Themes
Romans
Using Bible Book Guides to Research the Purpose of Romans
Themes of Romans
Two Views of Salvation History
Faith and Justification
Romans 5–7
Romans 8–11
Romans 12
Paul Arrested in Jerusalem
Using Ancient Literature to Discover Temple Purity Regulations
Paul Arrives in Rome
Colossians
Ephesians
Using Propositional Outlines to Trace the Structure of a Passage
Authorship Question
Philemon
Philippians
Philippians 2–4
Using Literary Typing to Find All Poetry in the New Testament
Theology of Philippians
Conclusion
Paul, the Apostle to the Gentiles
Product Details
Title: NT231 Paul of Tarsus
Instructor: Lynn H. Cohick
Publisher: Lexham Press
Publication Date: 2015
Product Type: Logos Mobile Education
Resource Type: Courseware, including transcripts, audio, and video resources
Courses: 1
Video Hours: 5
About Lynn H. Cohick
Dr. Lynn H. Cohick is professor of New Testament at Wheaton College. Dr. Cohick's special interests include women in the ancient world, the ways that Jews and Christians lived out their faith in the Graeco-Roman world, and building understanding between Jews and Christians today. She has written commentaries on Ephesians and Galatians, Women in the World of the Earliest Christians and coauthored The New Testament in Antiquity.
Getting the most out of Mobile Ed
Logos Mobile Education is a highly effective cross-platform learning environment that integrates world class teaching with the powerful study tools and theological libraries available in Logos Bible Software. Every course provides links to additional resources and suggested readings that supplement the lecture material at the end of every transcript segment.
This course was produced with screencast videos. These videos provide tutorials showing you how to use Logos Bible Software in ways that are tied directly into the content of the course. We are now producing Activities resources as a replacement for screencast videos. We plan on updating this course to include this additional Activities resource in the future for no extra charge.
More details about these resources