Institutes of the Christian Religion: 1536 and 1541 (2 vols.)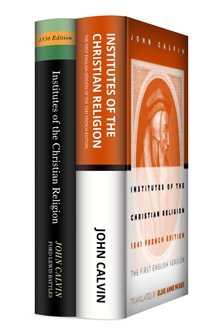 Institutes of the Christian Religion: 1536 and 1541 (2 vols.)
•
Runs on Windows, Mac and mobile.
Overview
John Calvin is undoubtedly one of the most influential figures of the Reformation. His Institutes of the Christian Religion is a monumental work that, for over four centuries, has stood among the greatest works of Christian theology. It has been translated into dozens of languages, and maintained a prominent place in the reading lists of theological students and scholars everywhere. Calvin's 1536 edition of the Institutes, written in Latin, was the genesis of the work that Calvin began and expanded throughout his life. In 1541, Calvin published a new edition that he translated into French. Both of these editions have been translated into English and collected here, so you can get to know the Institutes and examine the indelible mark they made on Christianity.
In the Logos editions, these volumes are enhanced by amazing functionality. Important terms link to dictionaries, encyclopedias, and a wealth of other resources in your digital library. Perform powerful searches to find exactly what you're looking for. Take the discussion with you using tablet and mobile apps. With Logos Bible Software, the most efficient and comprehensive research tools are in one place, so you get the most out of your study.
Key Features
Showcases a classic Protestant text
Presents Calvin's "little book", the original Institutes
Introduces readers to Reformation thought
Individual Titles

John Calvin was just 27 years old when the first edition of his Institutes was published in Basel in 1536. Building on the work of Erasmus and Luther, Calvin wrote with brilliance and passion of the many ways the church and its theology had been "deformed," and he presented a case for restoring the church and theology to its pristine purity. Calvin's "little book"—as he affectionately called it—grew in size through the rest of his life; eventually, this early, shorter version evolved into what is now known as the Institutes, the 1559 edition, which Calvin considered the authoritative form of his thought for posterity.
Noted Calvin scholar Ford Lewis Battles translated the 1536 Institutes in 1975, after completing his masterful translation of the 1559 Institutes. This revised edition is intended both for readers who wish to gain a better understanding of this earliest expression of Calvin's theology and for scholars who may wish to pursue further research. It contains extensive notes and references. The book's four appendices include a new translation of Calvin's preface to Olivétan's Bible (1535); the five indices include an index of biblical references and a comparative table of the 1536 and 1559 Institutes. The numerous citations in the endnotes from the writings of Calvin's predecessors and contemporaries illuminate the significance of the text in its historical context.

John Calvin originally wrote his famous Institutes of the Christian Religion in Latin. Beginning with the second edition of his work published in 1541, Calvin translated each new version into French, simultaneously adapting the text to suit lay audiences, shaping it subtly but clearly to teach, exhort, and encourage them. Besides reflecting a more pastoral bent on Calvin's part, this 1541 Institutes is also notable as one of the founding documents of the modern French language.
Elsie Anne McKee's masterful translation of the 1541 French Edition—the first-ever English version—offers full access to the brilliant mind of John Calvin as he considered what common Christian people should all know and practice.
Any who wish to encounter Calvin's systematic theology at its most pastoral, freest from controversial preoccupations, and mediated through superlative translation, should devour this rendering of the Reformer's own French version of the second edition of his Institutes. This volume should win Calvin many new friends.
—J.I. Packer, professor of theology, Regent College
This sparkling translation of John Calvin's 1541 French Institutes offers modern-day readers in the English-speaking world the opportunity to read Calvin's first version of his masterwork intended for a general audience. Elsie McKee is to be commended for her faithful yet accessible translation of this key text.
—Karin Maag, H. Henry Meeter Center for Calvin Studies, Calvin College and Seminary
About John Calvin
John Calvin (1509–1564), one of the most important thinkers in church history, was a prominent French theologian during the Protestant Reformation and the father of Calvinism. His theological works, biblical commentaries, tracts, treatises, sermons, and letters helped establish the Reformation throughout Europe.
Calvinism has spawned movements and sparked controversy throughout the centuries. Calvin began his work in the church at the age of 12, intending to train for the priesthood. Calvin attended the Collège de la Marche in Paris at 14, before studying law at the University of Orléans and continuing his studies at the University of Bourges.
In 1532, Calvin's first published work appeared: a commentary on Seneca's De Clementia. The controversy of calling for reform in the Catholic Church disciplined Calvin in his writing project, and he began working on the first edition of The Institutes of the Christian Religion, which appeared in 1536. Calvin's Commentaries and The Letters of John Calvin are also influential–both appear in the Calvin 500 Collection.
More details about these resources