Neo-Calvinism and the French Revolution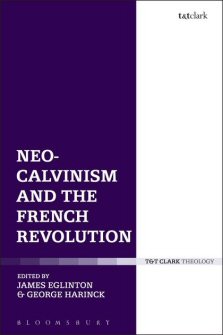 Neo-Calvinism and the French Revolution
•
Runs on Windows, Mac and mobile.
Your Custom Discount
Reg. Price $65.99
Sale Price $32.99
Your Price $32.99
You Save $33.00 50%
Your Price
What's Pre-Pub?
$32.99
Reg.: $65.99
Print: $112.00
Overview
The French Revolution was the scene of intellectual and social upheaval unprecedented in the modern era. It permanently altered societal frameworks for everything from the relationship of church and state, science, literature, fashion, philosophy, and theology. Although the French Revolution's momentum was felt across Europe and North America, it met a particularly interesting response in the Netherlands, at that time the scene of a burgeoning neo-Calvinist movement.
In this Dutch context, the likes of Groen van Prinsterer, Abraham Kuyper, and Herman Bavinck responded to the French Revolution's ideals in a variety of intellectual and practical ways. This book approaches their response from a range of historical and theological perspectives, gathering essays that explore the relationship between the French Revolution and the development of neo-Calvinism.
Beginning with historical portraits of Bavinck and Kuyper in relation to the Revolution, essays also address the place of multilingualism in neo-Calvinism and the Revolution, neo-Calvinist and Revolutionary approaches to fashion, a dialogue between Kuyperian theology and Kieslowski's Three Colours trilogy, and a contemporary neo-Calvinist critique of French laïcité.
With Logos Bible Software, this volume is enhanced with cutting-edge research tools. Scripture citations appear on mouseover in your preferred English translation. Important terms link to dictionaries, encyclopedias, and a wealth of other resources in your digital library. Powerful topical searches help you find exactly what you're looking for. Tablet and mobile apps let you take the discussion with you. With Logos Bible Software, the most efficient and comprehensive research tools are in one place, so you get the most out of your study.
Key Features
Explores the relationship between the French Revolution and the development of neo-Calvinism
Examines neo-Calvinism's relationship to contemporary issues and postmodern culture
Gathers essays from a variety of scholars and perspectives
Contents
Foreword by Paul Wells
Preface by James Eglinton and George Harinck
"Abraham Kuyper and the French Revolution" by James Bratt
"Herman Bavinck and the French Revolution" by George Harinck
"From Babel to Pentecost via Paris and Amsterdam: Multilingualism in Revolutionary and Neo-Calvinist Thought" by James Eglinton
"The Revolution and the Reformed: Learning from History" by Mark Elliott
"The Theo-Politics of Fashion: Groen van Prinsterer and the 'Terror' of French Revolutionary Dress" by Robert Covolo
"Long Films about Love: Kuyper and Kieslowski's Three Colours Trilogy" by Alissa Wilkinson
"Dutch Orthodox Protestant Parties and the Ghost of the French Revolution" by Ewout Klei
"Kuyper's Anti-Revolutionary Doctrine of Scripture" by Hans Burger
"'Marie Antoinette' or Mystical Depth? Herman Bavinck on Theology as Queen of the Sciences" by Wolter Huttinga
"French Secularity and the Islamic Headscarf: A Theological Deconstruction" by Matthew Kaemingk
"Another Revolution: Towards a New Explanation of the Rise of Neo-Calvinism" by Hugo den Boer
Bibliography
Praise for the Print Edition
These essays offer us profound neo-Calvinist explorations of the deeply anti-Christian roots of the French Revolution. But they give us much more, with marvelous commentaries on film, fashion, literature, political theory and contemporary Islam—to say nothing of some creative perspectives on important issues in basic theology!
—Richard Mouw, professor of faith and public life, Fuller Theological Seminary
Does Abraham Kuyper's claim that the ideas of the French Revolution were the original sin of modernity hold up under the careful scrutiny of contemporary historians? The answer, suggested by this uniformly high-quality collection of essays ranging from discussions of uniformity versus multi-linguisticality to the 'terror' of French Revolutionary dress and even to French secularity and the Islamic headscarf, is a qualified 'yes.'. . . Students of Dutch neo-Calvinism will find this volume stimulating in its exploration of old and new themes and an indispensable resource for applying the valuable insights of this tradition today.
—John Bolt, professor of systematic theology, Calvin Theological Seminary
This volume presents fresh and interesting insights into the complicated relationship between Calvinism and modern culture. The French Revolution functions as the landmark that launched a plethora of reactions and developments, which were formative for the movement that became known as neo-Calvinism. The creative contributions of younger and distinguished scholars show how the questions and answers do not only belong to a distant past, but are vibrant and challenging in our current situation.
—Cornelius van der Kooi, professor of systematic theology, Vrije Universiteit Amsterdam
About the Editors
James Eglinton studied at the Universities of Aberdeen, Glasgow, and Edinburgh. He is Meldrum Lecturer in Reformed Theology at New College, the University of Edinburgh. He is also the author of Trinity and Organism and a number of articles in the Journal of Reformed Theology, Kuyper Center Review, and others.
George Harinck is professor of history of neo-Calvinism at the Vrije Universiteit Amsterdam and extraordinary professor of history of the Reformed Churches in the context of Dutch Protestantism at Kampen Theological University. He is director of the Historical Documentation Center for Dutch Protestantism.
Sample Pages from the Print Edition