The Founders Journal (94 issues) (1990–2013)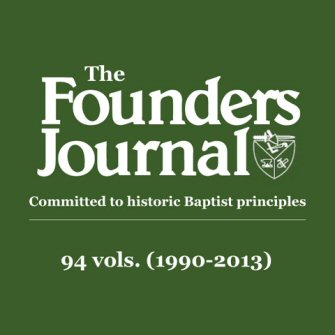 This journal collection fully integrates with the Logos 6 Journal Feature and includes specialized tagging by author, passage, and topic. To learn more, visit our Logos 6 feature page.
Overview
Committed to historic Southern Baptist principles, the Founders Journal promotes the doctrines of grace and their application in the local church. This collection gathers a quarter century of theological scholarship for students, pastors, and church leaders seeking to recover the gospel of grace and work for the spiritual health and reformation of local churches. Containing both classic and contemporary articles, book reviews, and editorials, as well as news and letters, this journal is both a link to Southern Baptist heritage, and a valuable tool for modern church ministry.
The value of the Founders Journal is dramatically increased with Logos. The issues become exquisitely searchable, in entirety or in use-defined collections (e.g. decade by decade). Scripture citations appear on mouseover in your preferred English translation. Important terms link to dictionaries, encyclopedias, and a wealth of other resources in your digital library. Powerful topical searches help you find exactly what you're looking for. Tablet and mobile apps let you take the discussion with you. With Logos Bible Software, the most efficient and comprehensive research tools are in one place, so you get the most out of your study.
For a massive collection of journals from world-renowned scholars across a variety of disciplines—including the Founders Journal—check out the Master Journal Bundle.
Key Features
Promotes the doctrines of grace and their application in the local church
Gathers a quarter-century of contemporary and classic articles, reviews, and editorials
Provides a link to Southern Baptist heritage and a valuable tool for modern ministry
Praise for the Logos Edition
After seeing the journal in Logos, I'm convinced its the best way now available to benefit from its content. The search capability and crosslinks with Scripture make it especially useful. I'm looking forward to going back and rediscovering and rereading some articles.
—Ken Puls, editorial director, Founders Ministries; director, Founders Study Center
Product Details
Individual Volumes
The Founders Journal, Issue 1, 1990
The Founders Journal, Issue 2, 1990
The Founders Journal, Issue 3, 1990–1991
The Founders Journal, Issue 4, 1991
The Founders Journal, Issue 5, 1991
The Founders Journal, Issue 6, 1991
The Founders Journal, Issue 7, 1992
The Founders Journal, Issue 8, 1992
The Founders Journal, Issue 9, 1992
The Founders Journal, Issue 10, 1992
The Founders Journal, Issue 11, 1993
The Founders Journal, Issue 12, 1993
The Founders Journal, Issue 13, 1993
The Founders Journal, Issue 14, 1993
The Founders Journal, Issue 15, 1994
The Founders Journal, Issue 16, 1994
The Founders Journal, Issue 17, 1994
The Founders Journal, Issue 18, 1994
The Founders Journal, Issue 19/20, 1995
The Founders Journal, Issue 21, 1995
The Founders Journal, Issue 22, 1995
The Founders Journal, Issue 23, 1996
The Founders Journal, Issue 24, 1996
The Founders Journal, Issue 25, 1996
The Founders Journal, Issue 26, 1996
The Founders Journal, Issue 27, 1997
The Founders Journal, Issue 28, 1997
The Founders Journal, Issue 29, 1997
The Founders Journal, Issue 30, 1997
The Founders Journal, Issue 31, 1998
The Founders Journal, Issue 32, 1998
The Founders Journal, Issue 33, 1998
The Founders Journal, Issue 34, 1998
The Founders Journal, Issue 35, 1999
The Founders Journal, Issue 36, 1999
The Founders Journal, Issue 37, 1999
The Founders Journal, Issue 38, 1999
The Founders Journal, Issue 39, 2000
The Founders Journal, Issue 40, 2000
The Founders Journal, Issue 41, 2000
The Founders Journal, Issue 42, 2000
The Founders Journal, Issue 43, 2001
The Founders Journal, Issue 44, 2001
The Founders Journal, Issue 45, 2001
The Founders Journal, Issue 46, 2001
The Founders Journal, Issue 47, 2002
The Founders Journal, Issue 48, 2002
The Founders Journal, Issue 49, 2002
The Founders Journal, Issue 50, 2002
The Founders Journal, Issue 51, 2003
The Founders Journal, Issue 52, 2003
The Founders Journal, Issue 53, 2003
The Founders Journal, Issue 54, 2003
The Founders Journal, Issue 55, 2004
The Founders Journal, Issue 56, 2004
The Founders Journal, Issue 57, 2004
The Founders Journal, Issue 58, 2004
The Founders Journal, Issue 59, 2005
The Founders Journal, Issue 60, 2005
The Founders Journal, Issue 61, 2005
The Founders Journal, Issue 62, 2005
The Founders Journal, Issue 63, 2006
The Founders Journal, Issue 64, 2006
The Founders Journal, Issue 65, 2006
The Founders Journal, Issue 66, 2006
The Founders Journal, Issue 67, 2007
The Founders Journal, Issue 68, 2007
The Founders Journal, Issue 69, 2007
The Founders Journal, Issue 70, 2007
The Founders Journal, Issue 71, 2008
The Founders Journal, Issue 72, 2008
The Founders Journal, Issue 73, 2008
The Founders Journal, Issue 74, 2008
The Founders Journal, Issue 75, 2009
The Founders Journal, Issue 76, 2009
The Founders Journal, Issue 77, 2009
The Founders Journal, Issue 78, 2009
The Founders Journal, Issue 79, 2010
The Founders Journal, Issue 80, 2010
The Founders Journal, Issue 81, 2010
The Founders Journal, Issue 82, 2010
The Founders Journal, Issue 83, 2011
The Founders Journal, Issue 84, 2011
The Founders Journal, Issue 85, 2011
The Founders Journal, Issue 86, 2011
The Founders Journal, Issue 87, 2012
The Founders Journal, Issue 88, 2012
The Founders Journal, Issue 89, 2012
The Founders Journal, Issue 90, 2012
The Founders Journal, Issue 91, 2013
The Founders Journal, Issue 92, 2013
The Founders Journal, Issue 93, 2013
The Founders Journal, Issue 94, 2013