Journal for Biblical Manhood and Womanhood 19 vols. (1995–2014)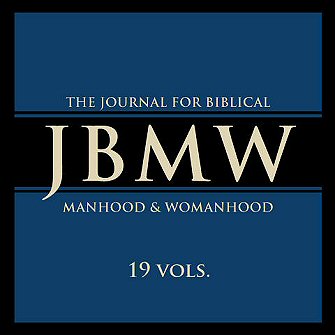 Journal for Biblical Manhood and Womanhood 19 vols. (1995–2014)
•
Runs on Windows, Mac and mobile.
This journal bundle fully integrates with the Logos 6 Journal Feature and includes specialized tagging by author, passage, and topic. To learn more, visit our Logos 6 feature page.
Overview
Modern society is constantly grappling with issues of gender and sexuality, and Christians need strong, biblical resources to engage on this important subject. Featuring the scholarship of influential evangelical leaders such as Wayne Grudem, John Piper, Tim Challies, Denny Burk, Russel Moore, and Bruce Ware, The Journal for Biblical Manhood and Womanhood (JBMW) provides complimentarian and traditional views on issues such as gender roles and homosexuality. A biannual publication of the Council on Biblical Manhood and Womanhood, JBMW teaches that men and women are created equal in the image of God and are designed to fulfill different roles in the family and the Church.
For a massive collection of journals from world-renowned scholars across a variety of disciplines, check out the Master Journal Bundle.
Key Features
Includes the scholarship of influential evangelical leaders
Discusses complementary differences between men and women
Provides articles on homosexuality, gender roles, and other crucial topics related to sexuality, family, and the church
Individual Titles
Journal for Biblical Manhood and Womanhood Volume 1, Numbers 1–4 (1995)
Journal for Biblical Manhood and Womanhood Volume 2, Numbers 1–5 (1996–1997)
Journal for Biblical Manhood and Womanhood Volume 3, Numbers 1–4 (1998)
Journal for Biblical Manhood and Womanhood Volume 4, Numbers 1–4 (1999–2000)
Journal for Biblical Manhood and Womanhood Volume 5, Numbers 1–2 (2000)
Journal for Biblical Manhood and Womanhood Volume 6, Numbers 1–2 (2001)
Journal for Biblical Manhood and Womanhood Volume 7, Numbers 1–2 (2002)
Journal for Biblical Manhood and Womanhood Volume 8, Numbers 1–2 (2003)
Journal for Biblical Manhood and Womanhood Volume 9, Numbers 1–2 (2004)
Journal for Biblical Manhood and Womanhood Volume 10, Numbers 1–2 (2005)
Journal for Biblical Manhood and Womanhood Volume 11, Numbers 1–2 (2006)
Journal for Biblical Manhood and Womanhood Volume 12, Numbers 1–2 (2007)
Journal for Biblical Manhood and Womanhood Volume 13, Numbers 1–2 (2008)
Journal for Biblical Manhood and Womanhood Volume 14, Numbers 1–2 (2009)
Journal for Biblical Manhood and Womanhood Volume 15, Numbers 1–2 (2010)
Journal for Biblical Manhood and Womanhood Volume 16, Numbers 1–2 (2011)
Journal for Biblical Manhood and Womanhood Volume 17, Numbers 1–2 (2012)
Journal for Biblical Manhood and Womanhood Volume 18, Numbers 1–2 (2013)
Journal for Biblical Manhood and Womanhood Volume 19, Number 1 (2014)