Mobile Ed: PC151 Theology of Everyday Life (5 hour course)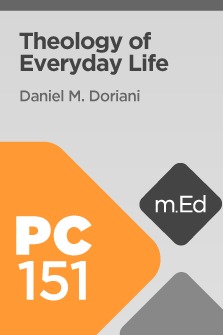 Mobile Ed: PC151 Theology of Everyday Life (5 hour course)
•
Runs on Windows, Mac and mobile.
Overview
In Theology of Everyday Life, Dr. Daniel Doriani shows how theology can inform social and personal life. From eating and playing, to friendship and weddings, this course looks at the importance of developing a deeper sense of the relevance of Scripture and Christian ethics to physical and relational life. Reflecting deeply on what the Bible has to say about various everyday topics, Doriani gives rich ethical guidance and provides tools to help you find insight from Scripture.
Learning Objectives
Upon successful completion you should be able to:
Discuss the need for a theology of everyday life in light of social pressure
Give a cultural analysis and a theological response on a given issue
Examine the hermeneutics of Jesus and apply it to your own study of Scripture
Explore the significance of Scripture on a variety of social and personal areas of living
Apply the "creation-fall-redemption-restoration" paradigm to a variety of issues
Begin to form your own theology of everyday life
Course Outline
Unit 1: Social Dimensions of Everyday Life
An Example from the Czech Republic
Finding and Understanding Passive Imperatives in Romans
Vaclav Havel on Social Pressure
Living in the Truth
Unit 1 Quiz
Unit 2: Friendship
Resisting Social Pressure
Walking in the Light Together
Grounded in the Character of God
The Friendship of God
Using a Bible Search to See Where God is Referred to as "Friend"
The Practice of Friendship
Unit 2 Quiz
Unit 3: Play
Celebrating the Goodness of Life
The Paradoxes and Pitfalls of Play
The Redemption of Play
Unit 3 Quiz
Unit 4: Food
A Theological Perspective on Food
Food: Scarcity and Abundance
The Redemption of Food
Searching The Apostolic Fathers in English for References to Fasting
Temperance
Evaluating the Meaning of "Wine" in the Bible
Unit 4 Quiz
Unit 5: Calling
A Theology of Calling
Researching God's "Calling" with Bible Word Study
The Call of God
A Place in Life
Unit 5 Quiz
Midterm Exam
Unit 6: Sleep
An Ethic of Rest
Sleep in Scripture
Finding Literal References to Sleep in the New Testament
Sleep as an Act of Faith
Unit 6 Quiz
Unit 7: Work
Faithfulness at Work
The Fall of Work
Using the Dictionary of Bible Themes to Find References to Work
The Meaning of Work
Work as Shared Humanity
Gifting and Work
Working with Integrity
Work Narratives from Scripture
Christ in Our Work
Unit 7 Quiz
Unit 8: Weddings
Weddings in Culture
Weddings in Scripture
Unit 8 Quiz
Unit 9: The Body
A Theology of Life in the Flesh
The Body in Culture
The Creation of the Body
The Fall of the Body
The Redemption of the Body
The Restoration of the Body
The Future of the Body
Comparing Translations of Koilia with Bible Word Study
Practical Applications
Unit 9 Quiz
Final Exam
Product Details
Title: PC151 Theology of Everyday Life
Instructor: Daniel M. Doriani
Publisher: Lexham Press
Publication Date: 2014
Product Type: Logos Mobile Education
Resource Type: Courseware, including transcripts, audio, and video resources
Courses: 1
Video Hours: 5
About Daniel M. Doriani
Dr. Daniel M. Doriani (STM, PhD) is vice president of strategic academic projects and professor of theology at Covenant Seminary. He has also served in various pastoral roles and has been involved in planning and study committees at the presbytery level in both the Presbyterian Church in America (PCA) and the Evangelical Presbyterian Church (EPC). He is the author of several books, including Getting the Message: A Plan for Interpreting and Applying the Bible, Putting the Truth to Work: The Theory and Practice of Biblical Application, and commentaries on Matthew and 1 Peter in the Reformed Expository Commentary series.
Getting the most out of Mobile Ed
Logos Mobile Education is a highly effective cross-platform learning environment that integrates world class teaching with the powerful study tools and theological libraries available in Logos Bible Software. Every course provides links to additional resources and suggested readings that supplement the lecture material at the end of every transcript segment.
This course was produced with screencast videos. These videos provide tutorials showing you how to use Logos Bible Software in ways that are tied directly into the content of the course. We are now producing Activities resources as a replacement for screencast videos. We plan on updating this course to include this additional Activities resource in the future for no extra charge.
More details about these resources