Reformed Expository Commentary (18 vols.)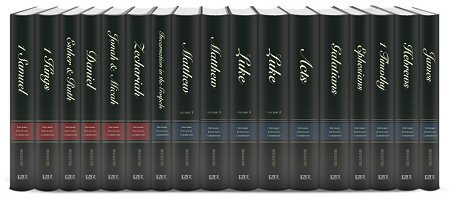 Reformed Expository Commentary (18 vols.)
•
P&R 2005–2013
For an updated version of this collection, see here.
Overview
The Reformed Expository Commentary series is for people who want to experience the Word of God in all its power. Scholarly yet practical, its expositions are accessible to both pastors and lay readers. Each volume in the series provides exposition that gives careful attention to the biblical text, is doctrinally Reformed, focuses on Christ through the lens of redemptive history, and applies the Bible to our contemporary setting.
With Logos, you can use these volumes more efficiently for research and sermon preparation. Every word from every book has been indexed and catalogued to help you search the entire Reformed Expository Commentary series for a particular verse or topic. With Logos, this series will integrate into the passage guide. Whenever you enter your passage and click go, results from this commentary series will appear on the text you're studying. This gives you instant access to exactly what you're looking for in less time than it would take you to walk over to the bookshelf and begin flipping through a print volume.
Key Features
Provides biblical, doctrinal, redemptive-historical, and practical commentaries
Includes doctrinally Reformed expositions by pastor-scholars
Offers material well suited for pastors and students
Praise for the Print Edition
A rare combination of biblical insight, theological substance, and pastoral application.
—R. Albert Mohler Jr., ninth president, Southern Baptist Theological Seminary
Some commentaries lose the forest for the trees, and others the trees for the forest. This series promises to be both exegetically sensitive and theologically faithful.
—Mark Dever, senior pastor, Capitol Hill Baptist Church, Washington DC, MD
A rare blend of insightful exegesis and discerning application. What's more, you'll find the glories of Christ shining through texts that can otherwise appear obscure and irrelevant.
—C. J. Mahaney, president, Sovereign Grace Ministries
Those of us who regularly preach need commentaries that provide the best biblical scholarship and that also understand the challenges of today's pastorate. This series ably speaks to both needs.
—Bryan Chapell, distinguished professor of preaching, Knox Theological Seminary
Here is exposition modeled by pastors with scholarly gifts and by scholars with pastor's hearts. Exegetical and theological reliability, redemptive-historical sensitivity, a Christ-centered focus, and contemporary practical application—these are promised hallmarks of the series. May it serve as a model to encourage and enthuse a new generation to love the Word of God and to rediscover the life-transforming power of expository preaching!
—Sinclair Ferguson, senior minister, First Presbyterian Church, Columbia, SC
A canonical, Reformed expositional commentary has long been a desideratum, and we are now in debt to this gifted team of pastor-theologians for bringing it to pass.
—J. Ligon Duncan III, senior pastor, First Presbyterian Church, Jackson, MS
Product Details
Title: Reformed Expository Commentary
Editors: Richard D. Phillips, Philip Graham Ryken, Iain M. Duguid, and Daniel M. Doriani
Publisher: P&R Publishing
Series: Reformed Expository Commentary
Volumes: 18
Pages: 7,872
More details about these resources
Show More