Mobile Ed: OT301 Origins of Genesis 1-3 (4 hour course)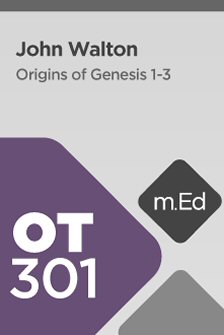 Mobile Ed: OT301 Origins of Genesis 1-3 (4 hour course)
•
Runs on Windows, Mac and mobile.
Overview
Take an in-depth look at the first three chapters of Genesis with Old Testament expert Dr. John H. Walton. In this follow-up course to OT201, Dr. Walton focuses closely on the ancient Near Eastern context of the text, helping you see how the claims of Genesis 1–3 would have been understood by the book's original audience. He also examines the function of the creation story and contentious issues between science and the biblical text.
Grow your understanding in the Old Testament. Earn a Mobile Ed Certificate of Completion when you invest in your education. Learn more about the Old Testament Certificate Programs.
Learning Objectives
Upon successful completion you should be able to:
Describe the challenges of reading an ancient text
Explain the concepts of "compatible truths" and "authoritative claims" and their significance for understanding the relationship between the Bible and science
Define "cosmic geography" and explain how ancient Near Eastern people viewed the cosmos
Discuss the functional focus of the creation account and contrast it with a material focus
Explain the concept and significance of a cosmic temple in Gen 1
Define an "archetype" and explain its importance in the account of Adam and Eve in Gen 2
Explain the concepts of order, non-order, disorder, and goodness in Gen 1–3
Summarize why the Church's interaction with science is important
Course Outline
Unit 1: The Text and the Text in Its Context
Internal Logic in Genesis 1–3
Two Helpful Resources for Exploring Questions in Genesis
Authority
Reading an Ancient Text
Useful Resources for Studying Biblical Interpretation
Communication
Quiz – Unit 1
Unit 2: The Bible's Ancient Near Eastern Context
Unit 2: The Bible's Ancient Near Eastern Context
Differences in How We See the World
The Importance of the Ancient Near East
Finding Ancient Near Eastern Creation Accounts
The Necessity of the Ancient Near East
Mythological Views of the World
Israel's Cosmic Geography
Reading the Text
Quiz – Unit 2
Unit 3: Science and the Bible
Natural and Supernatural
Two Principles for Understanding Science and the Bible
Quiz – Unit 3
Unit 4: Proposed Thesis: Functional Focus
Text Analysis
Comparing Ancient Near Eastern Creation Accounts with Genesis
The Meaning of Bara' ("To Create")
Searching for God as the Subject of Bara'
The Starting Point
Comparing Different Translations of Genesis 1:1
A Functional Focus
Quiz – Unit 4
Unit 5: Functions and Functionaries
A House and a Home
Functions: Days One through Three
Ancient Near Eastern Focus on Functions
Functionaries: Days Four through Six
The Image of God
The Meaning of 'Asah ("To Make")
Using the Proximity Search to Find Where 'Asah Occurs with Bara'
Quiz – Unit 5
Midterm Exam
Unit 6: Proposed Thesis: A Cosmic Temple
Cosmos as Sacred Space: Why Does God Rest?
Researching Temple Accounts in Relation to Genesis 1
Cosmos as Sacred Space: Whose Home Is It?
Seven Days
Conclusions Regarding Genesis 1
Unit 7: Cosmology outside Genesis
Material and Functional Issues
Conclusion
Quiz – Unit 6–7
Unit 8: Genesis 2–3
Use of the Word "Adam"
Literary Introduction
Archetypal Proposal
Formed from Dust
Human Origins in the Ancient Near East
Quiz – Unit 8a
Woman from the Side of Man
Highlighting Important Words with the "Interesting Words" Feature
Priestly Roles
Categorizing Uses of 'Ezer with a Passage List
Archetype Summary
Ancient Near Eastern Archetypes
Message of Archetypes
Adam in the New Testament
Narrative Art
Quiz – Unit 8b
Unit 9: Summary Issues
Material Origins Implications
"It Was Good"
Order, Non-Order, Disorder
Hypothetical Model: Pre-Fall
Hypothetical Model: Fall
Answers to Issues
How Should We Think?
Why It Matters
Quiz – Unit 9
Final Exam
Product Details
Title: OT301 Origins of Genesis 1–3
Instructor: John H. Walton
Publisher: Lexham Press
Publication Date: 2014
Product Type: Logos Mobile Education
Resource Type: Courseware, including transcripts, audio, and video resources
Courses: 1
Video Hours: 4
About John H. Walton
John H. Walton is professor of Old Testament at Wheaton College Graduate School. Before teaching at Wheaton, Walton taught at Moody Bible Institute for 20 years.
His primary focus is in areas of comparison between the Old Testament and the Ancient Near East, particularly Genesis. He is the author or coauthor of several books, including Ancient Near Eastern Thought and the Old Testament, IVP Bible Background Commentary: Old Testament, and A Survey of the Old Testament.
Getting the most out of Mobile Ed
Logos Mobile Education is a highly effective cross-platform learning environment that integrates world class teaching with the powerful study tools and theological libraries available in Logos Bible Software. Every course provides links to additional resources and suggested readings that supplement the lecture material at the end of every transcript segment.
This course comes with an Activities resource that functions as a type of "workbook" for the course. This resource includes learning activities such as: places for you to respond to reflection questions, exercises that will challenge and show you how deepen your understanding of this course by using specific Logos tools and resources, tutorial videos on different features of Logos Bible Software, and links to relevant Logos guides and tools. A link to open the Activities resource is conveniently placed at the end of every segment.
More details about these resources