Conspectus: Journal of South African Theological Seminary (18 vols.) (2006–2014)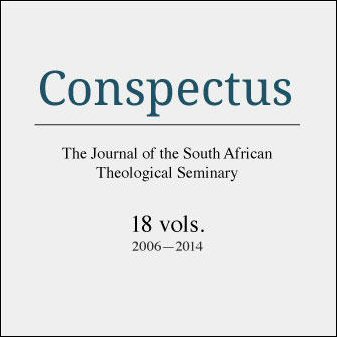 Conspectus: Journal of South African Theological Seminary (18 vols.) (2006–2014)
•
Runs on Windows, Mac and mobile.
Overview
Approach questions of systematic theology, biblical studies, and practical theology with scholarship and insight from Conspectus: The Journal of the South African Theological Seminary. Providing a forum for Bible-based theological research and debate, Conspectus covers a broad range of topics from a historically orthodox evangelical perspective. Published in biannual volumes, this collection features 18 entries from 2006 to 2014, serving both the church and the academy with rigorous scholarship that is faithful to Scripture.
The Logos editions of Conspectus enhance your study with amazing functionality. Fully integrated into your digital library, the Timeline enables you to instantly contextualize the people, places, and ideas discussed in the journal with thousands of other biblical and world events. Perform powerful searches to instantly gather relevant biblical texts and resources together. Free tablet and mobile apps let you take the discussion with you. With Logos Bible Software, the most efficient and comprehensive research tools are in one place, so you get the most out of your study.
This new version of Conspectus fully integrates with the Logos 6 Journal Feature and includes specialized tagging by author, passage, and topic. To learn more, visit our Logos 6 features page.
Key Features
Provides rigorous scholarship for the academy and the church
Emphasizes fidelity to Scripture
Covers the fields of biblical studies, systematic theology, and practical theology
Individual Volumes
Conspectus: The Journal of the South African Theological Seminary, Volume 1 (2006)
Conspectus: The Journal of the South African Theological Seminary, Volume 2 (2006)
Conspectus: The Journal of the South African Theological Seminary, Volume 3 (2007)
Conspectus: The Journal of the South African Theological Seminary, Volume 4 (2007)
Conspectus: The Journal of the South African Theological Seminary, Volume 5 (2008)
Conspectus: The Journal of the South African Theological Seminary, Volume 6 (2008)
Conspectus: The Journal of the South African Theological Seminary, Volume 7 (2009)
Conspectus: The Journal of the South African Theological Seminary, Volume 8 (2009)
Conspectus: The Journal of the South African Theological Seminary, Volume 9 (2010)
Conspectus: The Journal of the South African Theological Seminary, Volume 10 (2010)
Conspectus: The Journal of the South African Theological Seminary, Volume 11 (2011)
Conspectus: The Journal of the South African Theological Seminary, Volume 12 (2011)
Conspectus: The Journal of the South African Theological Seminary, Volume 13 (2012)
Conspectus: The Journal of the South African Theological Seminary, Volume 14 (2012)
Conspectus: The Journal of the South African Theological Seminary, Volume 15 (2013)
Conspectus: The Journal of the South African Theological Seminary, Volume 16 (2013)
Conspectus: The Journal of the South African Theological Seminary, Volume 17 (2014)
Conspectus: The Journal of the South African Theological Seminary, Volume 18 (2014)
More details about these resources
Show More