Detroit Baptist Seminary Journal (18 vols.) (1996–2013)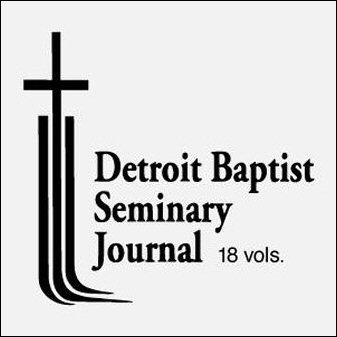 Detroit Baptist Seminary Journal (18 vols.) (1996–2013)
•
Runs on Windows, Mac and mobile.
Overview
Examine key biblical passages, cultural issues, and theological themes from a conservative perspective with the Detroit Baptist Seminary Journal. Contributors provide rigorous scholarship on a variety of topics, arguing meticulously for positions congruent with the Baptist theological tradition. Producing 18 volumes from 1996 to 2014, Detroit Baptist Theological Seminary's distinguished journal is edited by William W. Combs, and presents work from leading scholars, including Roland D. McCune, Gerald L. Priest, Mark A. Snoeberger, and Andrew David Naselli.
The Logos editions of the Detroit Baptist Seminary Journal enhance your study with amazing functionality. Fully integrated into your digital library, the Timeline enables you to instantly contextualize the people, places, and ideas discussed in the journal with thousands of other biblical and world events. Perform powerful searches to instantly gather relevant biblical texts and resources together. Free tablet and mobile apps let you take the discussion with you. With Logos Bible Software, the most efficient and comprehensive research tools are in one place, so you get the most out of your study.
Get all the journals at the best price—including the Detroit Baptist Seminary Journal—with the Master Journal Bundle.
This new version of the Detroit Baptist Seminary Journal fully integrates with the Logos 6 Journal Feature and includes specialized tagging by author, passage, and topic. To learn more, visit our Logos 6 features page.
Key Features
Presents 18 years of leading Baptist scholarship
Provides rigorous scholarship on a variety topics
Offers a conservative Baptist perspective on contemporary theological questions
Individual Volumes
Detroit Baptist Seminary Journal, Volume 1 (1996)
Detroit Baptist Seminary Journal, Volume 2 (1997)
Detroit Baptist Seminary Journal, Volume 3 (1998)
Detroit Baptist Seminary Journal, Volume 4 (1999)
Detroit Baptist Seminary Journal, Volume 5 (2000)
Detroit Baptist Seminary Journal, Volume 6 (2001)
Detroit Baptist Seminary Journal, Volume 7 (2002)
Detroit Baptist Seminary Journal, Volume 8 (2003)
Detroit Baptist Seminary Journal, Volume 9 (2004)
Detroit Baptist Seminary Journal, Volume 10 (2005)
Detroit Baptist Seminary Journal, Volume 11 (2006)
Detroit Baptist Seminary Journal, Volume 12 (2007)
Detroit Baptist Seminary Journal, Volume 13 (2008)
Detroit Baptist Seminary Journal, Volume 14 (2009)
Detroit Baptist Seminary Journal, Volume 15 (2010)
Detroit Baptist Seminary Journal, Volume 16 (2011)
Detroit Baptist Seminary Journal, Volume 17 (2012)
Detroit Baptist Seminary Journal, Volume 18 (2013)
More details about these resources
Show More