Don't Waste Your Life (with audio)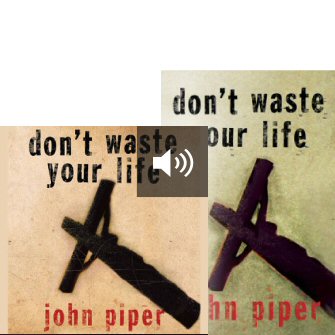 Don't Waste Your Life (with audio)
•
Runs on Windows, Mac and mobile.
Your Custom Discount
Reg. Price $22.95
Sale Price $16.95
Your Price $16.95
You Save $6.00 26%
Your Price
What's Pre-Pub?
$16.95
Reg.: $22.95
Print: $28.93
Overview
Millions of people are wasting their lives pursuing dreams of happiness that don't rise above a good marriage, nice kids, a successful career, a nice car, fun vacations, nice friends, a fun retirement, a painless death, and (hopefully) no hell. John Piper calls this a tragedy in the making. He argues that we were created for joy. We were designed to have one life-encompassing passion.
In this book he describes his own journey in discovering this great, single passion. And he pleads that at all costs we pursue our joy in the crucified Christ, who is the glory of God. The cost is great. But the joy is worth any cost. Don't buy seductive, tragic promises of worldly joy. Don't waste your life. This product includes both the audio and Logos edition of Don't Waste Your Life.
Audiobooks add new dimension to your digital library. When you listen in Logos, the audio syncs word-for-word with the text. Your audiobooks also sync across devices—pause a book anytime on your home computer, then pick up where you left off in your car or on your laptop. Listen on your lunch breaks, as a family, or as part of your personal devotional time. Tap into the power of Logos Bible Software in a whole new way.
Key Features
Examines how to put Christ first and live according to his purpose
Discusses what it looks like to waste life, and how to live a joyful life in servitude to Christ
Explores the many different ways that society lies about true joy and how to avoid those pitfalls
Contents of Print Edition
My Search for a Single Passion to Live By
Breakthrough—the Beauty of Christ, My Joy
Boasting Only in the Cross, the Blazing Center of the Glory of God
Magnifying Christ Through Pain and Death
Risk Is Right—Better to Lose Your Life Than to Waste It
The Goal of Life—Gladly Making Others Glad in God
Living to Prove He Is More Precious Than Life
Making Much of Christ from 8 to 5
The Majesty of Christ in Missions and Mercy—A Plea to This Generation
My Prayer—Let None Say in the End,"I've Wasted It"
Resources Included

Don't Waste Your Life (audio)
Author: John Piper
Narrator: Lloyd James
Edition: Unabridged
Publisher: christianaudio Hovel
Product Type: Audiobook
Runtime: 6.25 hours
Piper is writing at his most humble and transparent, and Lloyd James brings home his message like a trusted friend, the words soothing, encouraging, and inspiring. Fully capturing the tone of the piece, James reads it the way it should be heard, never rushing or forcing a point. Together Piper and James give listeners a sense of intimacy and propriety, treating the material as the precious information it is.
—AudioFile
About John Piper
John Piper (b. 1946) is a widely respected theologian and bestselling author who served as pastor for preaching and vision of Bethlehem Baptist Church for 33 years. He still serves as chancellor of Bethlehem College and Seminary. Logos has collected his sermons in the The John Piper Sermon Archive.