Apostolic Fathers in Greek and English (Lake Edition)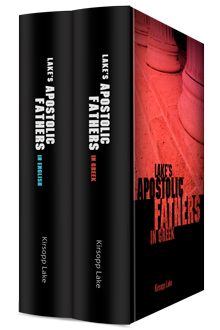 Apostolic Fathers in Greek and English (Lake Edition)
•
Runs on Windows, Mac and mobile.
Overview
The writings of the Apostolic Fathers give a rich and diverse picture of Christian life and thought in the period immediately after New Testament times. The term "Apostolic Father" is reserved for early Christian writers who had personal contact with the Apostles. They include Clement of Rome, Ignatius of Antioch, Hermas, Polycarp of Smyrna, and Papias. Their writings address core theological questions and provide unparalleled insight into a critical transitional stage in Christianity's history.
These two volumes provide crucial selections of the Apostolic Fathers' writings in Greek, along with English translations and introductions by Kirsopp Lake. These early Christian writings shed light not only on theological developments, but on issues of canonicity, lexicography, and ecclesiology. They are cited extensively both in lexicons (e.g., BDAG and TDNT) and commentaries (e.g., NAC and WBC). BDAG, for example, contains nearly 2,500 references to the letters of Ignatius alone. Read more about the value of the Apostolic Fathers for biblical studies.
Product Details
Title: Apostolic Fathers in Greek and English (Lake Edition)
Publisher: Logos Research Systems
Translator: Kirsopp Lake
Volumes: 2
More details about these resources