Wipf & Stock Topics in Biblical Studies (6 vols.)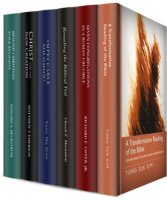 Wipf & Stock Topics in Biblical Studies (6 vols.)
•
Runs on Windows, Mac and mobile.
Your Custom Discount
Reg. Price $119.95
Pre-order Price $89.95
Your Price $89.95
You Save $30.00 25%
Your Price
What's Pre-Pub?
$89.95
Reg.: $119.95
Print: $159.00
Overview
The Wipf & Stock Topics in Biblical Studies collection presents a fresh look at biblical subjects. Each volume introduces innovative and absorbing studies on significant topics—the redefinition of the early Christian movement according to Hellenistic culture, the portrayal of Solomon in Chronicles, challenges in translating biblical text, an analysis of Revelation that utilizes ancient literary and archaeological evidence, and the relationship between human transformation theory and biblical interpretation. These thought-provoking studies encourage readers to reexamine these subjects from new perspectives.
In the Logos editions, these valuable volumes are enhanced by amazing functionality. Scripture citations link directly to English translations, and important terms link to dictionaries, encyclopedias, and a wealth of other resources in your digital library. Perform powerful searches to find exactly what you are looking for. Tablet and mobile apps let you take the discussion with you. With Logos Bible Software, the most efficient and comprehensive research tools are in one place, so you get the most out of your study.
Key Features
Contemporary studies on a wide variety of biblical topics
New perspectives on significant subjects
Opportunity to learn more about biblical interpretation
Individual Titles
Beyond Christian Folk Religion: Re-grafting into Our Roots (Romans 11:17–23)
Author: Edward A. Beckstrom
Publisher: Wipf & Stock
Publication Date: 2013
Pages: 276
In Beyond Christian Folk Religion, Beckstrom writes that as the Christian church moved from its inception in an Eastern culture into Greco-Roman culture, with primarily a Western philosophy, theology, and values, Jesus' message and Paul's teachings began to be interpreted according to those cultural norms. Beyond Christian Folk Religion brings the reader back to Jesus' roots (Romans 11:17-23) and to the core of Paul's message.
In a style both engaging and conversational, Beyond Christian Folk Religion attempts to show us there is a lot more going on with the story of Jesus than we generally imagine . . . Beckstrom admits his observations and interpretations may be new and shocking to some readers. But the goal of the work is to give us all a fuller, richer, and—Beckstrom would argue—truer picture of Jesus Christ.
—Michael L. Rhyne, pastor, Geeseytown-Newry Lutheran Parish
In his thought-provoking new work, Ed Beckstrom maintains that the message of the early Christian movement has been profoundly redefined by the culture, values, and logic of the Hellenistic world. Drawing especially on late twentieth-century biblical studies and archeology, he encourages us to look behind Christian culture, of which we are inheritors, to the heart of the early church's proclamation of the crucified one.
—H. Julian Gordy, bishop, ELCA Southeastern Synod
In this book you will meet the Jesus of the first century, a man whom many have never encountered. The Jesus Beckstrom reveals will be for most people a very odd and foreign man who looks nothing like the Jesus they presently know. He will provoke you and he will surprise you, but in the end he is the man who gave his life for the sake of the world. I recommend this book to anyone who is a follower of Jesus; you will be challenged and you will come away with a new understanding of our Lord Jesus who is the Messiah.
—Randy Jones, pastor, Messiah Lutheran Church
Edward A. Beckstrom is a retired minister and air force chaplain. He is the author of Toward a Ministry of Families (1981) and King of the Jews: Jesus and the Messianic Age (2001). He has also authored numerous articles for the Pulpit Digest, Minister's Annual, and, most recently, the Biblical Theology Bulletin (2012).
Christ and the New Creation: A Canonical Approach to the Theology of the New Testament
Author: Matthew Y. Emerson
Publisher: Wipf & Stock
Publication Date: 2013
Pages: 206
In Christ and the New Creation, Matthew Emerson takes a fresh approach to understanding New Testament theology by using a canonical methodology. Although typically confined to Old Testament theology, Emerson sees fruitfulness in applying this method to New Testament theology as well. Instead of a thematic or book-by-book analysis, Emerson attempts to trace the primary theological message of the New Testament by paying attention to its narrative and canonical shape. He concludes that the order of the books of the New Testament emphasize the story of Christ's inauguration, commissioning, and consummation of the new creation.
Emerson provides us with a most fascinating project, a New Testament theology conceived by attending to the New Testament's literary and canonical shape. I recommend Christ and the New Creation for hermeneuts, biblical theologians, and systematic theologians.
—Bruce Ashford, provost and associate professor of theology and culture, Southeastern Baptist Theological Seminary
Christ and the New Creation exhibits a comprehensive mastery of a broad range of scholarly disciplines, hermeneutical methodologies, biblical themes, and a thorough grasp of the primary and secondary literature related to biblical theology. . . While some may not affirm every aspect of the methodology or conclusions, Christ and the New Creation stimulates our intellect, challenges our conceptions, excites our imaginations, and advances the discussion toward a canonical New Testament theology.
—Alan S. Bandy, assistant professor of New Testament and Greek, Oklahoma Baptist University
Matthew Y. Emerson is assistant professor of Christian studies and lead faculty for Christian studies in the online and professional studies division at California Baptist University.
Impeccable Solomon? A Study of Solomon's Faults in Chronicles
Author: Yong Ho Jeon
Publisher: Wipf & Stock
Publication Date: 2013
Pages: 332
Solomon's faults, which are bluntly presented in Kings, are omitted in Chronicles. Is King Solomon presented as impeccable in Chronicles, in stark contrast to his portrayal in Kings? Many say "Yes." However, Yong Ho Jeon takes a different route, maintaining that the Chronicler's portrait of Solomon is more nuanced than many suppose.
This is an important book challenging the fashionable view that Chronicles whitewashes the character of Solomon. It is carefully and thoroughly argued, and future students of Chronicles will have to take it very seriously.
—Gordon Wenham, Trinity College, Bristol
With careful attention to the author's actual statements (and silences) about Solomon, a new reading of Abijah's speech in 2 Chronicles 13 on the division of the kingdom, and a close study of the author's communicative methods, Jeon convincingly shows the Chronicler's Solomon is more complex than conventionally thought, and certainly far from faultless.
—Brian E. Kelly, author of Retribution and Eschatology in Chronicles
Yong Ho Jeon is international chaplain and lecturer at Trinity College in Bristol, United Kingdom. He is also the pastor of Reading Korean Church.
Rereading the Biblical Text: Searching for Meaning and Understanding
Author: Claude F. Mariottini
Publisher: Wipf & Stock
Publication Date: 2013
Pages: 198
Rereading the Biblical Text: Searching for Meaning and Understanding deals with problems scholars face in translating Hebrew words and sentences into contemporary English. Modern readers have many choices when selecting a translation of the Bible for personal use. Translators seek to convey to today's readers the message the biblical writers tried to communicate to their original readers. At times, however, what the original authors tried to convey to their audience was not clear. Claude Mariottini has selected several difficult passages from the Old Testament and compared how different translations have dealt with these difficult texts. Pastors, seminary students, and serious students of the Bible will be challenged to reread the biblical text and understand the message of the biblical writers in a new perspective.
Claude F. Mariottini is professor of Old Testament at Northern Baptist Seminary. He is the author of Paso a Paso por el Antiguo Testamento, "1 and 2 Chronicles," in the Mercer Commentary on the Bible, "Deuteronomio," in the Comentario Biblico Mundo Hispano, Perspectives on the Old Testament and Hebrew, and "1 and 2 Kings," in The New Interpreter's Study Bible. Mariottini has published more than 200 articles and book reviews in English, Spanish, and Russian.
Seven Congregations in a Roman Crucible: A Commentary on Revelation 1–3
Author: Richard E. Oster, Jr.
Publisher: Wipf & Stock
Publication Date: 2013
Pages: 290
While commentaries continue to be published on the book of Revelation, few, if any, attempt to interpret the Apocalypse in light of the political, historical, and cultural setting of John's original audience. The purpose of Seven Congregations in a Roman Crucibile is to provide fresh and illuminating exegesis of Revelation that utilizes ancient literary and archaeological evidence. This book seeks to bring the reader into the world of John's Apocalypse with pictures of numerous sites and artifacts from the first and early second centuries AD. Moreover, author Richard E. Oster, Jr. also attempts to interpret John and his message through the lens of the Jewish prophetic tradition of Isaiah, Jeremiah, Daniel, Ezekiel, and other pertinent Second Temple works. Thus, John stands in the prophetic heritage of Israel in his attempt to challenge, threaten, admonish, and praise the seven churches of Roman Asia whose members are suffering at the hands of the Graeco-Roman culture in which they reside.
Richard Oster is one of the few scholars capable of competently interpreting Revelation within its historical setting. Oster's comments are judiciously based on his thorough knowledge of John's Old Testament heritage and his astounding grasp of relevant Graeco-Roman and Jewish backgrounds, including not only literary sources, but also material remains (nonliterary papyri, inscriptions, coins, temples, monuments, etc.).
—Allen Black, professor of New Testament, Harding School of Theology
This commentary will be a valuable resource for specialists and non-specialists alike. Its accessible style commends it to a wide audience, and the evidence from primary sources makes the book a valuable addition to the scholar's library. The abundant evidence from archaeological artifacts in Asia Minor illuminates the setting of the ancient readers in a way that is without parallel among commentaries on Revelation.
—James W. Thompson, professor of New Testament, Abilene Christian University
Richard E. Oster, Jr. (PhD, Princeton Theological Seminary) is professor of New Testament at Harding School of Theology. He has written a commentary on 1 Corinthians and participated in a commentary on the Acts of the Apostles.
A Transformative Reading of the Bible: Explorations of Holistic Human Transformation
Authors: Yung Suk Kim
Publisher: Wipf & Stock
Publication Date: 2013
Pages: 114
In A Transformative Reading of the Bible, Yung Suk Kim raises critical questions about human transformation in biblical studies. What is transformation? How are we transformed when we read biblical stories? Are all transformative aspects equally valid? What kind of relationships exist between self, neighbor, and God if transformation is involved in these three? Who or what is being changed, or who or what are we changing? What degree of change might be considered "transformative"?
Kim explores a dynamic, cyclical process of human transformation and argues that healthy transformation involves three kinds of transformation: psycho-theological, ontological-theological, and political-theological transformation. With insights gained from phenomenological studies, political theology, and psychotheology, Kim proposes a new model for how to read the Bible transformatively, while illustrating Hannah, Psalm 13, the Gospel of Mark, and Paul as stories of transformation. He invites Christian readers, theological educators, and scholars to reexamine the idea of transformation and to engage biblical stories from the perspective of holistic human transformation.
This book offers a rare contribution. Many biblical scholars dabble in theology or spirituality, but Yung Suk Kim sets forth a holistic understanding of human transformation along with a series of focused studies that embody his approach in enlightening ways.
—Greg Carey, professor of New Testament, Lancaster Theological Seminary
Transformation has become a buzzword in Christian discourse. We are sure we are in favor of it, but we are not altogether sure what 'it' is. Yung Suk Kim not only gives clear content to the familiar term, he shows us how an imaginative reading of the Bible can be an instrument of positive transformation.
—David Bartlett, professor emeritus, Columbia Theological Seminary and Yale Divinity School
A Transformative Reading of the Bible is an insightful and intriguing interdisciplinary study about human transformation theory and how it can contribute to biblical interpretation. True transformation is circular and perpetual and impacts every aspect of one's existence. Kim's holistic approach considers the complexity of human experience. This little-but-impactful book should be read by biblical scholars, graduate students, and anyone interested in a transformative approach to reading Scripture.
—Mitzi J. Smith, associate professor of New Testament and early Christian studies, Ashland Theological Seminary, Detroit Center
Yung Suk Kim is assistant professor of New Testament and early Christianity at Samuel DeWitt Proctor School of Theology, Virginia Union University, Richmond. He is the author of Christ's Body in Corinth: The Politics of a Metaphor (2008) and A Theological Introduction to Paul's Letters (Cascade 2011), and the editor of the Journal of Bible and Human Transformation.
Product Details
Title: Wipf & Stock Topics in Biblical Studies
Authors: Edward A. Beckstrom, Matthew Y. Emerson, Yong Ho Jeon, Claude F. Mariottini, Richard E. Oster, Jr., and Yung Suk Kim
Publisher: Wipf & Stock
Volumes: 6
Pages: 1, 416