Pastorum Live 2013 Conference Videos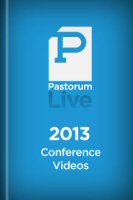 Pastorum Live 2013 Conference Videos
•
Runs on Windows, Mac and mobile.
Your Custom Discount
Reg. Price $34.95
Sale Price $24.95
Your Price $24.95
You Save $10.00 28%
Your Price
What's Pre-Pub?
$24.95
Reg.: $34.95
Print: $49.95
Overview
The Pastorum Live 2013 Conference provided the unique opportunity for 9 internationally-recognized scholars to come together and devote two full days to learning, studying, and speaking about the church's mission.
This year's theme was "The Grand Narrative in Context," which provided speakers like Mark Futato, Ed Stetzer, and Mark Chavalas to guide the audience through the Old and New Testaments and examine how biblical cultures impact today's church. If you missed the conference, or want to revisit the discussion, you can now purchase all 9 sessions to watch whenever you'd like. You'll learn how biblical cultures compare to modern society, how God's plan for his kingdom is communicated throughout the Old and New Testaments, and how to apply academic subjects to your sermons and Bible study.
Not only will you receive video coverage of the complete Pastorum Live 2013 sessions, you will also receive the transcribed text from each session. This means all of the content from Pastorum Live 2013 will now be searchable in your Logos library. You'll be able to highlight, take notes, and easily pull key points into your sermons and presentations.
Get the Pastorum Live 2012 Conference Videos here!
Key Features
Search video content from within your Logos library
Take notes and make highlights in the transcribed text from each session
Learn from speakers who teach in depth on Bible backgrounds, the mission of the church, biblical cultures, and more
Further your study with the "Suggested Readings" list that accompanies each lecture
Speakers
"Ancient Syria and the Bible: New Vistas" by Mark Chavalas
"The Importance of Background Studies for Understanding the Old Testament" by John Walton
"God's Missional Purpose: From Adam to Abraham" by Carol Kaminski
"Blessing for the Nations" by Mark Futato
"God Builds Expectations for a Coming King" by David Palmer
"The Coming of the King: Redemption and the Church's Identity" by Lynn Cohick
"News of the King: The Mission of the Church" by Michael Goheen
"How to Do Justice to All the Gospel Metaphors in Our Calling to Make Disciples and Do Evangelism" by Jonathan Dodson
"Connecting the Dots" by Ed Stetzer
Product Details
Title: Pastorum Live 2013
Conference date: April 11–12, 2013
Format: Download