The James Orr Collection (21 vols.)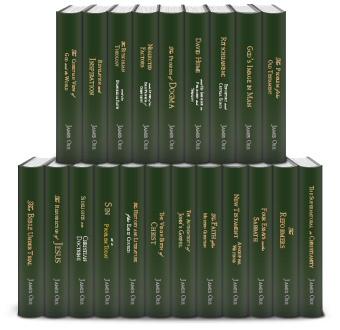 Overview
The James Orr Collection contains 21 volumes from one of Scotland's most prominent nineteenth-century conservative theologians. A friend and peer of B. B. Warfield and R. A. Torrey, Orr, through his lectures and writings, criticized the modernist theology then gaining popularity. Orr's articulate defense and authoritative view of the Bible gained him international prestige, and he lectured and preached all over the world.
The James Orr Collection contains his most influential works, including The Christian View of God and the World, Orr's lectures on the incarnation of Christ, and Sidelights on Christian Doctrine, Orr's popular handbook of Christian doctrine. Several works examine the problems associated with liberal theology, including two works on the Ritschlian school of thought, and numerous essays and lectures cover such issues as the Bible's inspiration and infallibility, Christ's virgin birth, the Gospels' authenticity, and more.
In the Logos Bible Software edition, all Scripture passages in The James Orr Collection are tagged to appear on mouse-over. For scholarly work or personal Bible study, this makes these resources more powerful and easier to access than ever before. Perform powerful searches by topic or Scripture reference—finding, for example, every mention of "resurrection" or "Mark 9:2."
Key Features
21 volumes by celebrated author, minister, and professor James Orr
Dozens of sermons, lectures, addresses, and more
Completely searchable and linked to the other resources in your Logos library
Praise for James Orr
Professor Orr is one of the most prominent of the conservative theologians of Scotland. He has genuine scholarship, a reverential spirit, and critical ability.
—Auburn Seminary Review
Doctor Orr is one of the most vigorous and indefatigable defenders of conservative positions in theology.
—The Standard
Product Details
Title: The James Orr Collection
Author: James Orr
Volumes: 21
Pages: 6,231
Individual Titles
About James Orr
James Orr (1844–1913) was minister of the East Bank United Presbyterian Church in Hawick, Scotland, from 1874–1891, and professor of church history in the Theological College of the United Presbyterian Church of Scotland from 1874–1901. From 1901, he was professor of apologetics and theology at Glasgow College of the United Free Church. He was among the chief promoters for the union between the Free and United Presbyterian Churches in Scotland. He lectured at seminaries all over the world and was a prolific writer and editor.
Orr served as the editor for the International Standard Bible Encyclopedia, 1915 Edition, contributed four volumes to the The Pulpit Commentary, and is featured in The Fundamentals (4 vols.).