The Pulpit Commentary (77 vols.)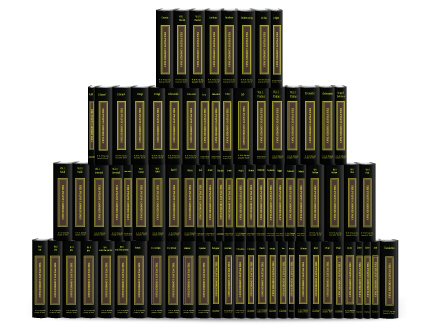 Overview
Veteran preachers already know the value of this best-selling commentary set, but it's also perfect for lay leaders. Far more than just a simple commentary, it provides an unrivalled range of homiletic helps that go a long way toward presenting the biblical text in a Sunday school lesson, sermon, or Bible study.
The Pulpit Commentary covers every book of the Bible, with at least three treatments of every verse. For each biblical chapter, the commentary includes an Exposition, Homiletics, and various sample Homilies.
Exposition
Commentary on the passage, with exegetical, interpretive, theological, historical, and geographical observations. Written by the author of that volume.
Homiletics
A guide for preaching or teaching through the passage, with personal application, devotional insights, and observations about the rhetorical structure of the passage. Written by the author of that volume.
Homilies
Actual sermons from various contributors, covering a couple of verses or a pericope. Typically, a brief introduction followed by 2-5 "points" with a number of references to other passages that provide biblical context.
Taken together, the three treatments of each passage provide a detailed outline of key concepts in the passage, while imparting a rich sense of biblical context--context of both the immediate book and the larger themes of Scripture.
NOTE: The version of The Pulpit Commentary available for Logos Bible Software is the Public Domain edition, not the Hendrickson Publishers edition.
Praise for the Print Edition
I have used the paper version of the Pulpit Commentary for over 20 years. It is and continues to be my primary commentary for all my messages. I appreciate its scholarly work and the simplicity and power of its commentaries. I have also been an avid user of Logos since its inception and often wished that this commentary would find its way into the [digital] library.
—Hilton Garcia, Patuxent River Assembly of God, California, Maryland
Product Details
Title: The Pulpit Commentary
General Editors: H. D. M. Spence, Joseph S. Exell
Publisher: Logos Research Systems
Volumes: 77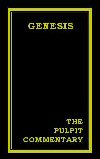 The Pulpit Commentary: Genesis
Editors: H. D. M. Spence, Joseph S. Exell
Publisher: Logos Research Systems
Publication Date: 2004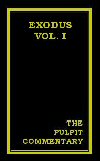 The Pulpit Commentary: Exodus Vol. I
Editors: H. D. M. Spence, Joseph S. Exell
Publisher: Logos Research Systems
Publication Date: 2004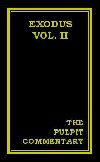 The Pulpit Commentary: Exodus Vol. II
Editors: H. D. M. Spence, Joseph S. Exell
Publisher: Logos Research Systems
Publication Date: 2004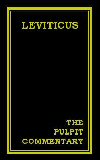 The Pulpit Commentary: Leviticus
Editors: H. D. M. Spence, Joseph S. Exell
Publisher: Logos Research Systems
Publication Date: 2004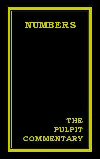 The Pulpit Commentary: Numbers
Editors: H. D. M. Spence, Joseph S. Exell
Publisher: Logos Research Systems
Publication Date: 2004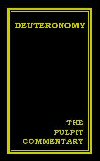 The Pulpit Commentary: Deuteronomy
Editors: H. D. M. Spence, Joseph S. Exell
Publisher: Logos Research Systems
Publication Date: 2004
The Pulpit Commentary: Joshua
Editors: H. D. M. Spence, Joseph S. Exell
Publisher: Logos Research Systems
Publication Date: 2004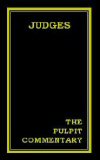 The Pulpit Commentary: Judges
Editors: H. D. M. Spence, Joseph S. Exell
Publisher: Logos Research Systems
Publication Date: 2004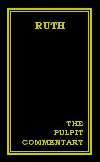 The Pulpit Commentary: Ruth
Editors: H. D. M. Spence, Joseph S. Exell
Publisher: Logos Research Systems
Publication Date: 2004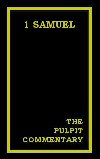 The Pulpit Commentary: 1 Samuel
Editors: H. D. M. Spence, Joseph S. Exell
Publisher: Logos Research Systems
Publication Date: 2004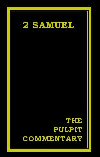 The Pulpit Commentary: 2 Samuel
Editors: H. D. M. Spence, Joseph S. Exell
Publisher: Logos Research Systems
Publication Date: 2004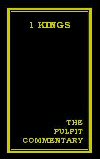 The Pulpit Commentary: 1 Kings
Editors: H. D. M. Spence, Joseph S. Exell
Publisher: Logos Research Systems
Publication Date: 2004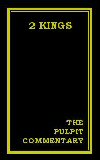 The Pulpit Commentary: 2 Kings
Editors: H. D. M. Spence, Joseph S. Exell
Publisher: Logos Research Systems
Publication Date: 2004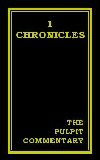 The Pulpit Commentary: 1 Chronicles
Editors: H. D. M. Spence, Joseph S. Exell
Publisher: Logos Research Systems
Publication Date: 2004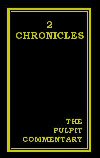 The Pulpit Commentary: 2 Chronicles
Editors: H. D. M. Spence, Joseph S. Exell
Publisher: Logos Research Systems
Publication Date: 2004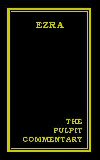 The Pulpit Commentary: Ezra
Editors: H. D. M. Spence, Joseph S. Exell
Publisher: Logos Research Systems
Publication Date: 2004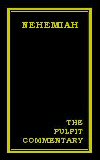 The Pulpit Commentary: Nehemiah
Editors: H. D. M. Spence, Joseph S. Exell
Publisher: Logos Research Systems
Publication Date: 2004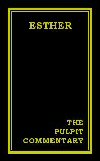 The Pulpit Commentary: Esther
Editors: H. D. M. Spence, Joseph S. Exell
Publisher: Logos Research Systems
Publication Date: 2004
The Pulpit Commentary: Job
Editors: H. D. M. Spence, Joseph S. Exell
Publisher: Logos Research Systems
Publication Date: 2004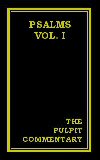 The Pulpit Commentary: Psalms Vol. 1
Editors: H. D. M. Spence, Joseph S. Exell
Publisher: Logos Research Systems
Publication Date: 2004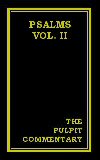 The Pulpit Commentary: Psalms Vol. 2
Editors: H. D. M. Spence, Joseph S. Exell
Publisher: Logos Research Systems
Publication Date: 2004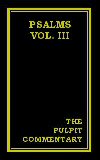 The Pulpit Commentary: Psalms Vol. 3
Editors: H. D. M. Spence, Joseph S. Exell
Publisher: Logos Research Systems
Publication Date: 2004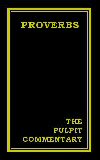 The Pulpit Commentary: Proverbs
Editors: H. D. M. Spence, Joseph S. Exell
Publisher: Logos Research Systems
Publication Date: 2004
The Pulpit Commentary: Ecclesiastes
Editors: H. D. M. Spence, Joseph S. Exell
Publisher: Logos Research Systems
Publication Date: 2004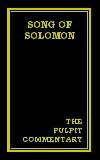 The Pulpit Commentary: Song of Solomon
Editors: H. D. M. Spence, Joseph S. Exell
Publisher: Logos Research Systems
Publication Date: 2004
The Pulpit Commentary: Isaiah Vol. I
Editors: H. D. M. Spence, Joseph S. Exell
Publisher: Logos Research Systems
Publication Date: 2004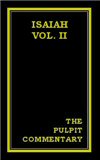 The Pulpit Commentary: Isaiah Vol. II
Editors: H. D. M. Spence, Joseph S. Exell
Publisher: Logos Research Systems
Publication Date: 2004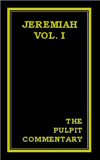 The Pulpit Commentary: Jeremiah Vol. I
Editors: H. D. M. Spence, Joseph S. Exell
Publisher: Logos Research Systems
Publication Date: 2004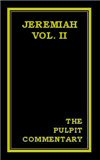 The Pulpit Commentary: Jeremiah Vol. II
Editors: H. D. M. Spence, Joseph S. Exell
Publisher: Logos Research Systems
Publication Date: 2004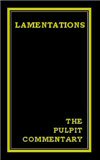 The Pulpit Commentary: Lamentations
Editors: H. D. M. Spence, Joseph S. Exell
Publisher: Logos Research Systems
Publication Date: 2004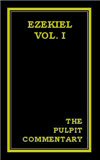 The Pulpit Commentary: Ezekiel Vol. I
Editors: H. D. M. Spence, Joseph S. Exell
Publisher: Logos Research Systems
Publication Date: 2004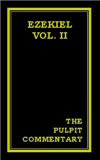 The Pulpit Commentary: Ezekiel Vol. II
Editors: H. D. M. Spence, Joseph S. Exell
Publisher: Logos Research Systems
Publication Date: 2004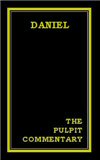 The Pulpit Commentary: Daniel
Editors: H. D. M. Spence, Joseph S. Exell
Publisher: Logos Research Systems
Publication Date: 2004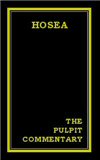 The Pulpit Commentary: Hosea
Editors: H. D. M. Spence, Joseph S. Exell
Publisher: Logos Research Systems
Publication Date: 2004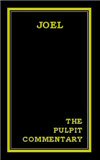 The Pulpit Commentary: Joel
Editors: H. D. M. Spence, Joseph S. Exell
Publisher: Logos Research Systems
Publication Date: 2004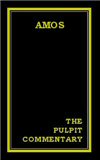 The Pulpit Commentary: Amos
Editors: H. D. M. Spence, Joseph S. Exell
Publisher: Logos Research Systems
Publication Date: 2004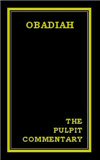 The Pulpit Commentary: Obadiah
Editors: H. D. M. Spence, Joseph S. Exell
Publisher: Logos Research Systems
Publication Date: 2004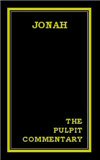 The Pulpit Commentary: Jonah
Editors: H. D. M. Spence, Joseph S. Exell
Publisher: Logos Research Systems
Publication Date: 2004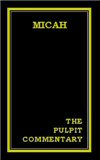 The Pulpit Commentary: Micah
Editors: H. D. M. Spence, Joseph S. Exell
Publisher: Logos Research Systems
Publication Date: 2004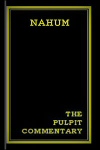 The Pulpit Commentary: Nahum
Editors: H. D. M. Spence, Joseph S. Exell
Publisher: Logos Research Systems
Publication Date: 2004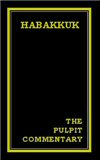 The Pulpit Commentary: Habakkuk
Editors: H. D. M. Spence, Joseph S. Exell
Publisher: Logos Research Systems
Publication Date: 2004
The Pulpit Commentary: Zephaniah
Editors: H. D. M. Spence, Joseph S. Exell
Publisher: Logos Research Systems
Publication Date: 2004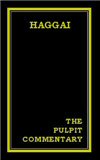 The Pulpit Commentary: Haggai
Editors: H. D. M. Spence, Joseph S. Exell
Publisher: Logos Research Systems
Publication Date: 2004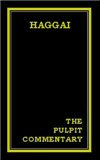 The Pulpit Commentary: Zechariah
Editors: H. D. M. Spence, Joseph S. Exell
Publisher: Logos Research Systems
Publication Date: 2004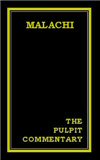 The Pulpit Commentary: Malachi
Editors: H. D. M. Spence, Joseph S. Exell
Publisher: Logos Research Systems
Publication Date: 2004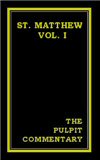 The Pulpit Commentary: St. Matthew Vol. I
Editors: H. D. M. Spence, Joseph S. Exell
Publisher: Logos Research Systems
Publication Date: 2004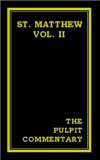 The Pulpit Commentary: St. Matthew Vol. II
Editors: H. D. M. Spence, Joseph S. Exell
Publisher: Logos Research Systems
Publication Date: 2004
The Pulpit Commentary: St. Mark Vol. I
Editors: H. D. M. Spence, Joseph S. Exell
Publisher: Logos Research Systems
Publication Date: 2004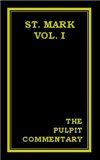 The Pulpit Commentary: St. Mark Vol. II
Editors: H. D. M. Spence, Joseph S. Exell
Publisher: Logos Research Systems
Publication Date: 2004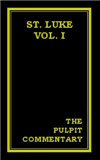 The Pulpit Commentary: St. Luke Vol. I
Editors: H. D. M. Spence, Joseph S. Exell
Publisher: Logos Research Systems
Publication Date: 2004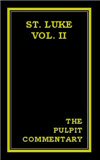 The Pulpit Commentary: St. Luke Vol. II
Editors: H. D. M. Spence, Joseph S. Exell
Publisher: Logos Research Systems
Publication Date: 2004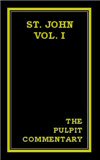 The Pulpit Commentary: St. John Vol. I
Editors: H. D. M. Spence, Joseph S. Exell
Publisher: Logos Research Systems
Publication Date: 2004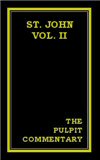 The Pulpit Commentary: St. John Vol. II
Editors: H. D. M. Spence, Joseph S. Exell
Publisher: Logos Research Systems
Publication Date: 2004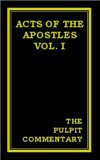 The Pulpit Commentary: Acts of the Apostles Vol. I
Editors: H. D. M. Spence, Joseph S. Exell
Publisher: Logos Research Systems
Publication Date: 2004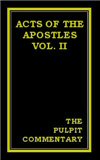 The Pulpit Commentary: Acts of the Apostles Vol. II
Editors: H. D. M. Spence, Joseph S. Exell
Publisher: Logos Research Systems
Publication Date: 2004
The Pulpit Commentary: Romans
Editors: H. D. M. Spence, Joseph S. Exell
Publisher: Logos Research Systems
Publication Date: 2004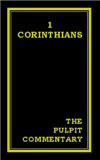 The Pulpit Commentary: 1 Corinthians
Editors: H. D. M. Spence, Joseph S. Exell
Publisher: Logos Research Systems
Publication Date: 2004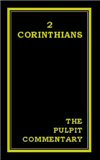 The Pulpit Commentary: 2 Corinthians
Editors: H. D. M. Spence, Joseph S. Exell
Publisher: Logos Research Systems
Publication Date: 2004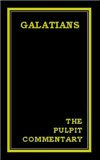 The Pulpit Commentary: Galatians
Editors: H. D. M. Spence, Joseph S. Exell
Publisher: Logos Research Systems
Publication Date: 2004
The Pulpit Commentary: Ephesians
Editors: H. D. M. Spence, Joseph S. Exell
Publisher: Logos Research Systems
Publication Date: 2004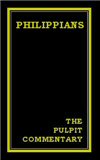 The Pulpit Commentary: Philippians
Editors: H. D. M. Spence, Joseph S. Exell
Publisher: Logos Research Systems
Publication Date: 2004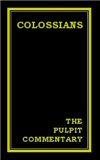 The Pulpit Commentary: Colossians
Editors: H. D. M. Spence, Joseph S. Exell
Publisher: Logos Research Systems
Publication Date: 2004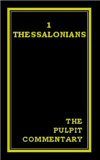 The Pulpit Commentary: 1 Thessalonians
Editors: H. D. M. Spence, Joseph S. Exell
Publisher: Logos Research Systems
Publication Date: 2004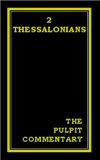 The Pulpit Commentary: 2 Thessalonians
Editors: H. D. M. Spence, Joseph S. Exell
Publisher: Logos Research Systems
Publication Date: 2004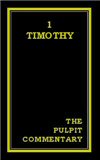 The Pulpit Commentary: 1 Timothy
Editors: H. D. M. Spence, Joseph S. Exell
Publisher: Logos Research Systems
Publication Date: 2004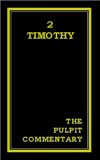 The Pulpit Commentary: 2 Timothy
Editors: H. D. M. Spence, Joseph S. Exell
Publisher: Logos Research Systems
Publication Date: 2004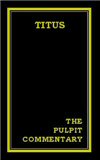 The Pulpit Commentary: Titus
Editors: H. D. M. Spence, Joseph S. Exell
Publisher: Logos Research Systems
Publication Date: 2004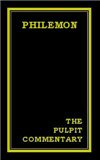 The Pulpit Commentary: Philemon
Editors: H. D. M. Spence, Joseph S. Exell
Publisher: Logos Research Systems
Publication Date: 2004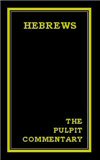 The Pulpit Commentary: Hebrews
Editors: H. D. M. Spence, Joseph S. Exell
Publisher: Logos Research Systems
Publication Date: 2004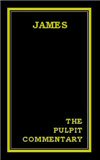 The Pulpit Commentary: James
Editors: H. D. M. Spence, Joseph S. Exell
Publisher: Logos Research Systems
Publication Date: 2004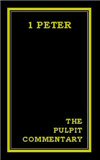 The Pulpit Commentary: 1 Peter
Editors: H. D. M. Spence, Joseph S. Exell
Publisher: Logos Research Systems
Publication Date: 2004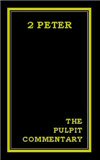 The Pulpit Commentary: 2 Peter
Editors: H. D. M. Spence, Joseph S. Exell
Publisher: Logos Research Systems
Publication Date: 2004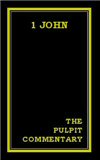 The Pulpit Commentary: 1 John
Editors: H. D. M. Spence, Joseph S. Exell
Publisher: Logos Research Systems
Publication Date: 2004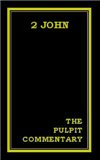 The Pulpit Commentary: 2 John
Editors: H. D. M. Spence, Joseph S. Exell
Publisher: Logos Research Systems
Publication Date: 2004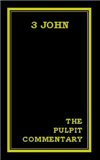 The Pulpit Commentary: 3 John
Editors: H. D. M. Spence, Joseph S. Exell
Publisher: Logos Research Systems
Publication Date: 2004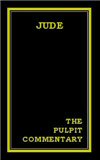 The Pulpit Commentary: Jude
Editors: H. D. M. Spence, Joseph S. Exell
Publisher: Logos Research Systems
Publication Date: 2004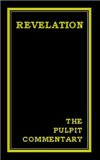 The Pulpit Commentary: Revelation
Editors: H. D. M. Spence, Joseph S. Exell
Publisher: Logos Research Systems
Publication Date: 2004
More details about these resources
Show More