John Huss Collection (7 vols.)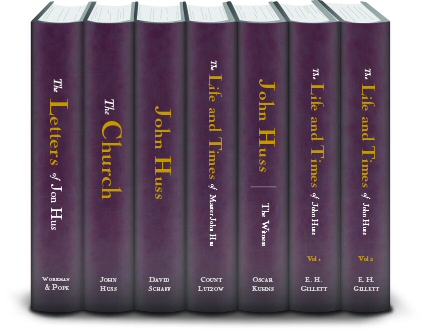 Overview
John Huss (also known as Jan Hus or John Hus): Bohemian priest, reformer, and martyr. Influenced by the teachings of Wycliffe and supported by fellow theologians at the University of Prague, Huss was an early advocate of church reform. He preached Wycliffe's ideas, championing doctrines such as justification by grace through faith alone, full communion for laypeople, and adoption of the liturgy to the common language of the people. A precursor to the Reformation of the sixteenth century, Huss is perhaps best represented in an early Moravian hymnbook picture showing Wycliffe seizing a torch, Huss lighting it, and Luther holding it on high.
The John Huss Collection contains seven volumes dedicated to the life and work of John Huss and the impact he had on Christendom. The Letters of Jon Hus contains 82 annotated letters by Huss, including letters written just before his execution in 1415. The Church is considered his most important work; from its pages the charges were drawn upon which he was pronounced a heretic at the Council of Constance.
This collection also contains Count Lützow's The Life and Times of Master John Hus, E. H. Gillett's two-volume The Life and Times of John Huss; or, the Bohemian Reformation of the Fifteenth Century, David S. Schaff's John Huss: His Life, Teachings, and Death after Five Hundred Years, and more.
The history of Bohemia and the influence of John Huss are vital to understanding the pre-Reformation atmosphere. Find out why Martin Luther stated, "In my opinion John Huss bought with his own blood the gospel which we now possess." In the Logos edition of the John Huss Collection, all Scripture passages are tagged and appear on mouse-over. For scholarly work or personal Bible study, this makes these texts more powerful and easier to access than ever before. With the advanced search features of Logos Bible Software, you can perform powerful searches by topic or Scripture reference—finding, for example, every mention of "grace" or "Romans 5:1."
Key Features
82 letters written by John Huss
David S. Schaff's translation of The Church, as well as his biography John Huss: His Life, Teachings, and Death after Five Hundred Years
In-depth comparisons of Huss' and Wycliffe's teachings
Product Details
Title: John Huss Collection
Volumes: 7
Pages: 2,800
Individual Titles
About John Huss
John Huss (also known as Jan Hus or John Hus) (1369–1415) was born in Husinec, a town in the South Bohemian region of the Czech Republic. He graduated from the University of Prague with a master's degree in 1396, and in 1400 he was ordained as a priest. During his university studies, Huss read John Wycliffe's works, which had a significant impact on his theological beliefs. From the pulpit, Huss began preaching Wycliffe's ideas and calling for reforms to the Church. In 1413, he penned De Ecclesia, or The Church, which reiterated some of Wycliffe's ideas and advanced Huss' own calls for reform. In 1414, Huss was invited to the Council of Constance to advocate his position of church reform. He was under the impression that he was officially protected. After a few weeks, he was imprisoned and put on trial for heresy. After refusing to recant his positions, he was burned at the stake on July 6, 1415.