Ed. Móvil: NT311 El mundo de Jesús y los Evangelios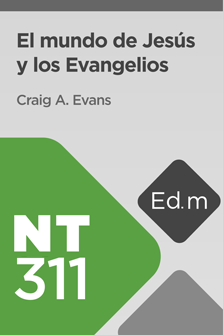 Ed. Móvil: NT311 El mundo de Jesús y los Evangelios
•
Runs on Windows, Mac and mobile.
Reseña
El mundo de Jesús y los Evangelios (NT311) examina el período intertestamentario. La caída del Imperio persa, el surgimiento de Alejandro Magno, los acuerdos militares y los movimientos religiosos de Israel. Los acontecimientos entre el último libro del Antiguo Testamento y el primer Evangelio son un telón de fondo para la aparición de Cristo y el desarrollo del cristianismo. La historia intertestamentaria clarifica el contexto del Nuevo Testamento para una comprensión profunda, más robusta de la Escritura.
Resultados del curso
Al completar con éxito el curso, podrás:
Enunciar e ilustrar de qué modo el conocimiento del período intertestamentario nos ayuda a entender mejor el NT
Enunciar la sucesión y el carácter de los poderes dominantes que gobernaron sobre Palestina durante el período intertestamentario
Identificar y caracterizar las principales fuentes escritas intertestamentarias
Identificar y caracterizar los diversos partidos judíos influyentes durante el período intertestamentario
Bosquejo del curso
Unidad 1: Mundo socio-religioso intertestamentario
Cronología
Sucesión de poderes imperiales
Uso de la Cronología para trazar la historia del período intertestamentario
Antíoco Epífanes
Asmoneos
Uso de Explorador de Temas en Búsqueda Completa para investigar Antíoco IV
Intervención romana
Historia de Roma
Herodes el Grande
Uso de la herramienta Favoritos para guardar y organizar la búsqueda
Prefectos y procuradores romanos
Uso de la función Enciclopedia Bíblica para distinguir entre los Herodes
Agitadores judíos: «Mesías»
Agitadores judíos: «Profetas»
Búsqueda de los escritos de Josefo para encontrar menciones de Cristo
Época de Jesús: Trasfondo religioso y cultural
Época de Jesús: Trasfondo social y económico
Templo
Hallar y exportar imágenes con la función Enciclopedia Bíblica
Sinagogas
Cuestionario de la Unidad 1
Unidad 2: Conceptos intertestamentarios
Interpretación de la Escritura
Uso de búsqueda de proximidad para hallar imágenes de la sinagoga en Capernaúm
Literatura intertestamentaria
Ideas extracanónicas: Parábola de la viña
Ideas extracanónicas: Dudas mesiánicas de Juan el Bautista
Ideas extracanónicas: Prólogo de Juan
Desarrollo intertestamentario de ideas del Antiguo Testamento
Filosofías grecorromanas
Resumen y conclusiones
Cuestionario de la Unidad 2
Examen final
Detalles de producto
Título: NT311 El mundo de Jesús y los Evangelios
Instructor: Craig A. Evans
Editorial: Lexham Press y Editorial Tesoro Bíblico
Fecha de publicación: 2017
Tipo de producto: Educación Móvil Logos
Formato: Curso en video, audio y texto
Cursos: 1
Horas de video: 3
Acerca de Craig A. Evans
Craig A. Evans es el distinguido profesor Payzant de los estudios del Nuevo Testamento y director del programa graduado en Acadia Divintiy College en Wolfville, Nova Scotia. Ha escrito extensamente en la figura histórica de Jesús y el fondo judío del periodo del Nuevo Testamento. Sus libro incluyen: Jesus and His Contemporaries: Comparative Studies, un comentario de Marcos en el Word Biblical Commentary, Jesus and the Ossuaries, y Ancient Texts for New Testament Studies. Recientemente ha servido en el gabinete de asesores del Evangelio de Judas del National Geographic Society y ha aparecido con frecuencia como comentarista experto en programas de la televisión en cadena, por ejemplo Dateline, y en diversos documentales en BBC, Discovery Channel y History Channel.
Aprovechar Educación Móvil
Educación Móvil es una herramienta poderosa y eficaz del aprendizaje móvil que incorpora las herramientas del estudio que se encuentran en el software Bíblico Logos.
Con todas las bibliotecas Logos, podrás ver las lecciones y interactuar con las transcripciones. Para la mejor experiencia de aprendizaje, te recomendamos la biblioteca Premier o superior.
More details about these resources