Best Resources on Song of Solomon
The Song of Songs is the first of the five Megilloth—the Festival Scrolls—and is associated with the celebration of Passover in Jewish tradition. The title "The Song of Songs" is a translation of the first two words (שִׁיר הַשִּׁירִים, shir hashshirim) from the book's superscription in the Hebrew Bible. This construction expresses a superlative and declares this "song" to be the greatest song, unequaled by any other. The book bears the name "Song of Solomon" in most English versions and "Canticles" in Catholic versions.

The Song is unique from other biblical texts because it contains no explicit reference to God. A possible exception is found in Song 8:6, where "Yah" (יָה, yah) is suffixed to the word "flame" (שַׁלְהֶבֶת, shalheveth). However, this use of the short form of the divine name is more likely a superlative (i.e. "a mighty flame"; Joüon and Muraoka, Grammar of Biblical Hebrew, 492).
—The Lexham Bible Dictionary, Lexham Press
Everything You Need to Study & Teach Song of Solomon
Expository Preaching Kits are curated resources all focused on helping you teach a single book of the Bible—keeping you prepared without weighing you down.
Best Commentaries on Song of Solomon
Tremper Longman III, New International Commentary on the Old Testament (NICOT), Eerdmans, 2001, 254 pp.
Longman's superb study begins with a thorough introduction to the Song of Songs and its background. Longman discusses the book's title, authorship, date, literary style, language, structure, cultural milieu, and theological content. He also canvasses the long history of interpretation of the Song of Songs, a history too often characterized by repression of the text. In the commentary itself, Longman structures the Song of Songs according to its 23 poetic units and explains its message verse by verse. The exposition is made clearer by Longman's adoption of an anthropological approach to the text and by his frequent comparisons of the Song of Songs with other ancient Near Eastern literature.
Level: Intermediate
Type: Expository
Richard S. Hess, Baker Commentary on the Old Testament: Wisdom and Psalms (BCOTWP), Baker, 2005, 288 pp.
Richard Hess has written an insightful commentary on one of the most intriguing books of the Bible, which celebrates God's gift of love. Following an introduction to the biblical book and a history of its interpretation, Hess divides his discussion into seven major sections. Each section begins with a fresh translation, followed by paragraph-by-paragraph commentary, and concludes with a summary of the passage's theological implications. Technical questions related to the Hebrew text or scholarly debate are addressed in the footnotes.
Level: Intermediate
Type: Expository
Duane A. Garrett, Word Biblical Commentary (WBC), Thomas Nelson, 2004, 496 pp.
Join Duane Garrett as he examines one of the Bible's most unusual and compelling books. He examines the textual history, historical context, literary structure, and authorship, of Song of Songs, providing extensive notes and bibliographic references.
Level: Advanced
Type: Technical
Tom Gledhill, Bible Speaks Today (BST), InterVarsity Press, 1994, 254 pp.
Tom Gledhill maintains that the Song of Songs is a literary, poetic exploration of human love that strongly affirms loyalty, beauty, and sexuality in all their variety. With tender metaphor and extravagant imagery, the Song of Songs writer spins a tale of human love into the cadence of verse, innocent of our quest for historical persons behind the text.
Level: Basic
Type: Devotional
G. Lloyd Carr, Tyndale Old Testament Commentaries (TOTC), InterVarsity Press, 1984, 192 pp.
In the Song of Solomon, "the best of songs," we hear the passionate melody of romantic love—but whose love is described? Is it a couple's love for each other, God's love for Israel, or Christ's love for the Church? This Old Testament book has fascinated and perplexed interpreters for centuries. They have felt uncomfortable—even embarrassed—when confronted with its strange and erotic imagery. With his own unique style, Lloyd Carr skilfully explains the meaning of this ancient love story in a way that can be clearly grasped and applied by Christians living in today's world.
Level: Basic
Type: Devotional
Best Books on Song of Solomon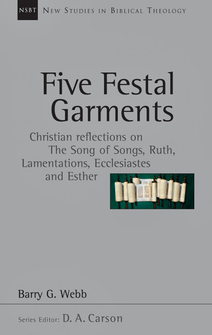 These five Old Testament books, traditionally known simply as "the Scrolls," are among the most neglected parts of the Christian Bible. In Judaism, the Song of Songs, Ruth, Lamentations, Ecclesiastes, and Esther were eventually adopted as lectionary readings for five of the major festivals. In Christian tradition, however, no consensus has emerged about their proper use. Each book presents particular difficulties regarding how it relates to the rest of Scripture and how it should be understood as the Word of God for us today.
Learn more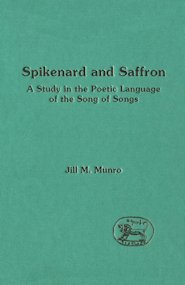 This study focuses upon the language of the Song of Songs in an attempt to see how individual images work together in the constitution of a poetic unity. The perception of certain "imaginative fields," each of which organizes a range of related imagery, is helpful to an appreciation of the symbolic density that certain images acquire in the course of the Song's movement—and to an acknowledgment of their capacity for narrativity.
Learn more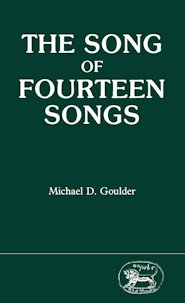 Michael D. Goulder argues for a literal reading of the Song of Solomon in this critical interpretation. He presents a new translation of the text and sees it as a narrative written by one author—outlining the courtship, marriage, and consummation of a king and his bride. The Song of Fourteen Songs seeks the original intent of the text and uses a literary and contextual approach. Goulder outlines the various sections and offers a commentary throughout, ending with an overall discussion on the date of the writing, love and sex, and Hebrew culture.
Learn more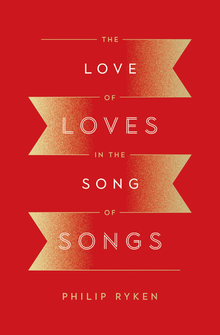 The Song of Songs is an often confusing and controversial book of the Bible—but rich with meaning for those who understand the unfolding story of Scripture. How does this collection of love poems fit in with the rest of God's Word, and what does it mean for us today? Guiding readers through the Song of Songs verse by verse, this fresh, practical explanation of a fascinating yet often misunderstood portion of the Bible will reveal important insights into romance, marriage, friendship, and human sexuality that are relevant today. This book speaks not only to those navigating romantic relationships but also to those seeking deeper intimacy with Jesus, because it reveals how the story of love and marriage depicted in the Bible is a living picture of a Christian's relationship with God himself.
Learn more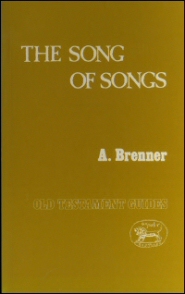 This volume about The Song of Songs was written by one of the foremost Hebrew experts on this subject, Althayla Brenner. She graciously and gratefully delivered this complete and insightful guide, and her expertise made for a unique treatment of this special canon. She presents her analysis in chapters entitled, "The Title and the Place of the Book in the Hebrew Canon," "The Text: Matter and Form, Unity and Sequence, or an Anthology?" and "Daily Life: Settings, Contexts, the Environment." The author further explores the authorship of The Song of Songs, its intertextual connections within the biblical context, and ways in which it has become part of Jewish and Christian Liturgies as well as music and the visual arts.
Learn more
Best Courses on Song of Solomon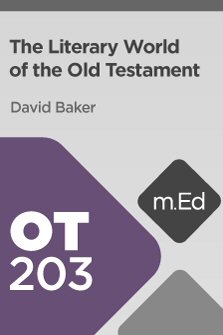 Join David W. Baker on a whirlwind tour to explore the Old Testament from many different angles and how it relates to ancient Near Eastern literature. From creation accounts and stories of destruction to Wisdom Literature, discover different biblical literary genres that have parallels in ancient Near Eastern literature. Explore extrabiblical historical texts that mention key events and figures from the Old Testament. Understand how Israel fits into and is impacted by its ancient Near Eastern environment but also how it is separate and unique, mainly on a theological level but also by its distinct worldview.
Learn more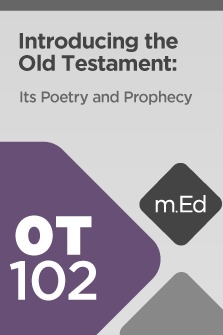 This course provides a practical foundation for reading the poetry and prophecy of the Old Testament. Dr. David Baker begins by discussing poetic writing in general, then the elements specific to both Hebrew and English poetry. Applying these elements to the text, he examines the content, structure, and themes of the Psalms, Proverbs, Lamentations, Job, Ecclesiastes, and the Song of Songs. Dr. Baker then turns to the prophetic books, providing historical background, theological motifs, and the structure and content of specific books. He shows that these ancient messages remain relevant in modern life.
Learn more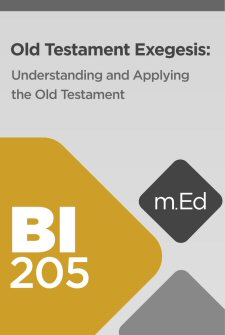 Embark on a journey of Old Testament Hebrew exegesis with Jason DeRouchie. The books of the Old Testament were the only Scriptures Jesus had. It was books like Genesis, Deuteronomy, Isaiah, and Psalms that shaped Jesus' upbringing and that guided his life in ministry as the Jewish Messiah. It was these Scriptures that Jesus identified as God's Word and that he considered to be authoritative; it was these Scriptures he believed called people to know and believe in God and guarded them against doctrinal error and hell. This course will give you the tools you need to access meaning in the Old Testament, then apply it to your life. It will help you to grow in reading God's living Word for depth and not just distance.
Learn more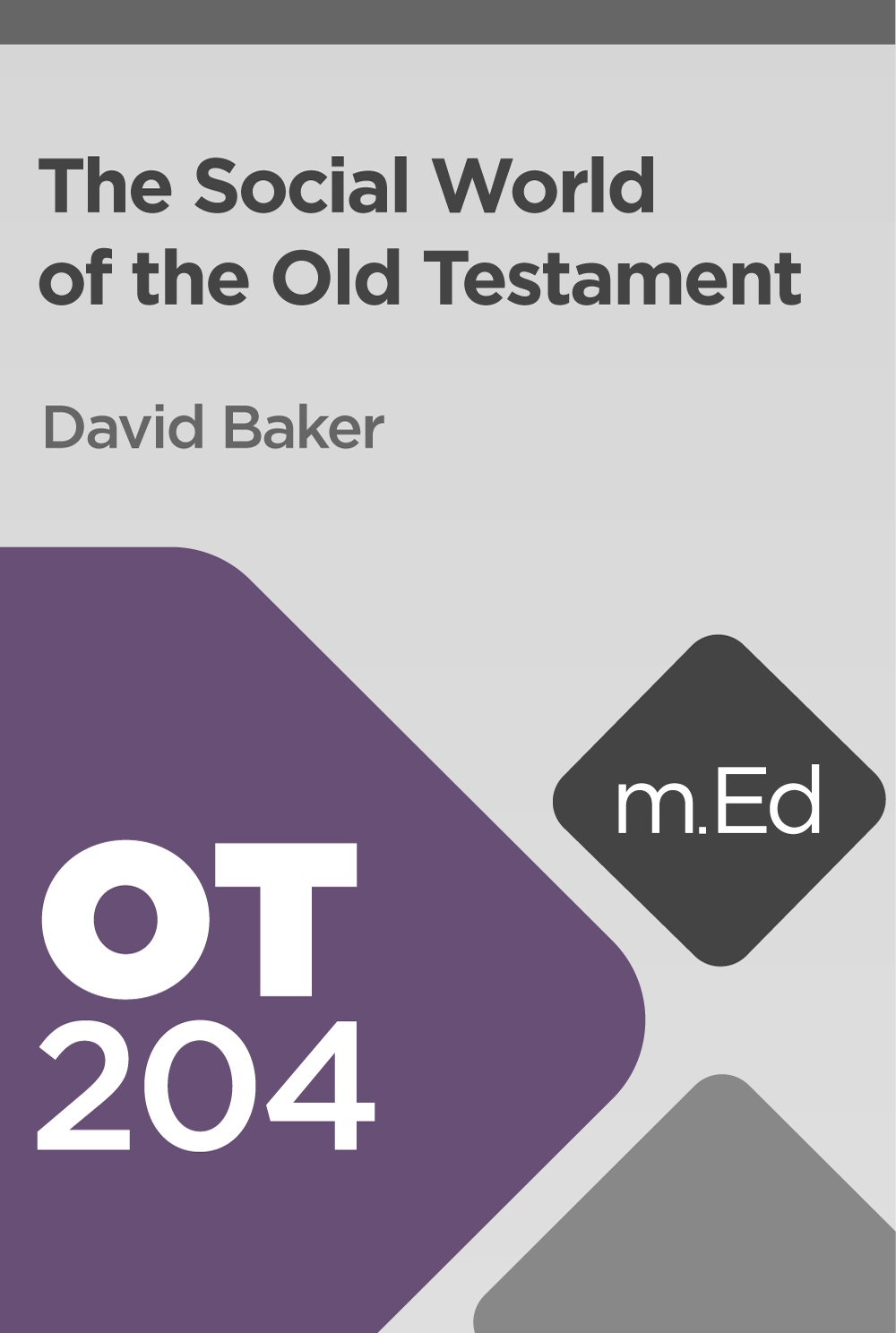 In an age of international travel and migration, we're familiar with people who look, sound, eat, and believe differently than we do. To become friends, it's helpful to understand where they come from and how they do things differently, or the same, as we do. In the same way it is necessary to understand someone who comes from a different place than we do, how much more necessary is it to understand someone who is from not only a different geographical place but also a different time than we are? The Old Testament starts at the beginning of the world. This course will undertake the task of crossing the bridges of geography, climate, time, and a landscape unknown to us: ancient Israel. Throughout the course, David W. Baker will address aspects of life from our own culture and time, as well as family structure and societal systems from ancient Israelite life. As you learn more about the social world of the Old Testament, you will be struck not only by our differences but also our common humanity and that we share the same dreams, hopes, and fears as they did.
Learn more