Visual Filters
Marking up the biblical text is a tried and true method for making observations and uncovering the meaning of Scripture. Visual Filters allow you to easily and systematically highlight words and phrases in Bibles and other texts.
Because Visual Filters are a toggle feature, you can decide what filters you want applied to a text and whether or not you want a particular filter to be active.
Get more Visual Filters training
A Library That Marks Itself Up
Read the Bible as a manuscript without distractions
Use Visual Filters to customize what you see in the biblical text, allowing you to read and study the Bible in an uninterrupted flow. Remove textual markings like section headings, footnotes, and chapters and verses by unchecking the corresponding boxes in the Visual Filter.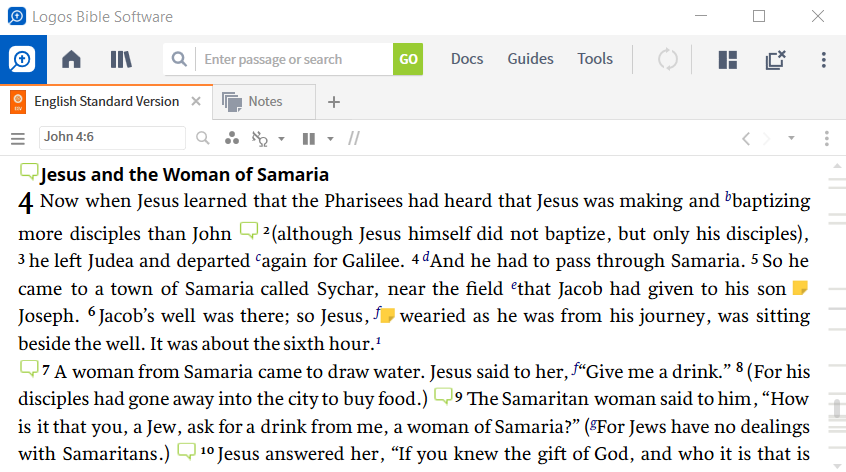 See your notes or your group's notes
When you anchor your notes to a biblical text or other resource, Logos enables you to see these places in text with a Visual Filter. You can even see where others in your Faithlife groups have added notes by selecting Community Notes or Notes and Highlights from the Visual Filters menu.
Want to See a Few Visual Filters?
Corresponding Notes and Highlights
With Corresponding Notes, you can see all the note files you've attached to specific biblical texts in one version in all Bibles with accompanying interlinears. Take a note on the Greek word Εὐχαριστοῦμεν (eucharistoumen) in your Greek New Testament, and with the Corresponding Notes feature, you'll immediately see that same note attached to the equivalent translation in your ESV, NIV, NASB, and many other translations.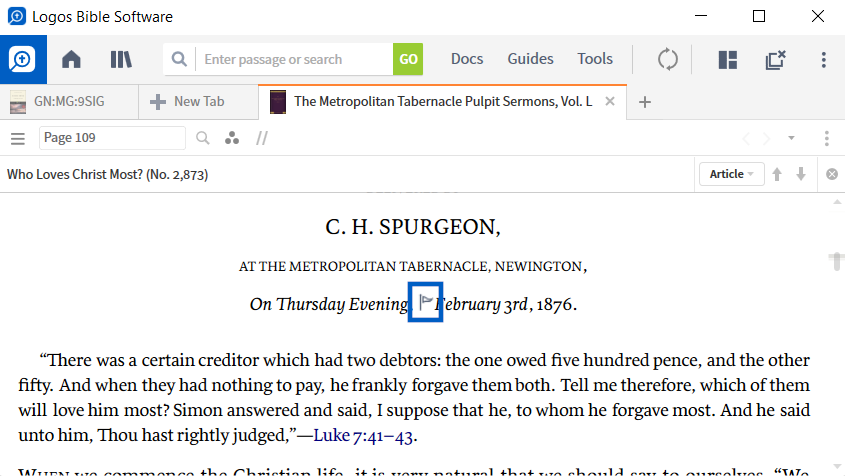 Corresponding Search Results
The Corresponding Search Results Visual Filter allows you to instantly identify search results in all open Bibles. Search in original-language texts, and read the results in their context in the English text. With the Corresponding Search Results Visual Filter, your inline and regular search results are highlighted in any Bible with reverse interlinear functionality.
Corresponding Words
The Corresponding Words Visual Filter instantly identifies everywhere repetition occurs within any of your resources. With the Corresponding Words Visual Filter you can hover over a word and instantly view related words in the resource, discover all the places a specific lemma, root, or sense occurs in a text, and explore key themes and ideas in the biblical text.
Discourse Datasets and Visual Filters
The Discourse Datasets and Visual Filters allow you to quickly identify and search the discourse devices in the Old and New Testaments. Discourse Analysis is the study of how authors use linguistic devices to effectively communicate their message. Drs. Runge and Westbury have painstakingly analyzed the discourse of Old and New Testament and annotated it with 20 devices that are common to all languages. These annotations are searchable, so you can find every occurrence of a specific discourse device like direct address or changed reference. And with the use of our reverse interlinear data, you can use the Discourse visual filters to view these annotations in several different English, Greek, or Hebrew bibles. Explore the biblical texts with these datasets and visual filters to provide you with greater insight into the thought and rhetorical strategy of the biblical authors.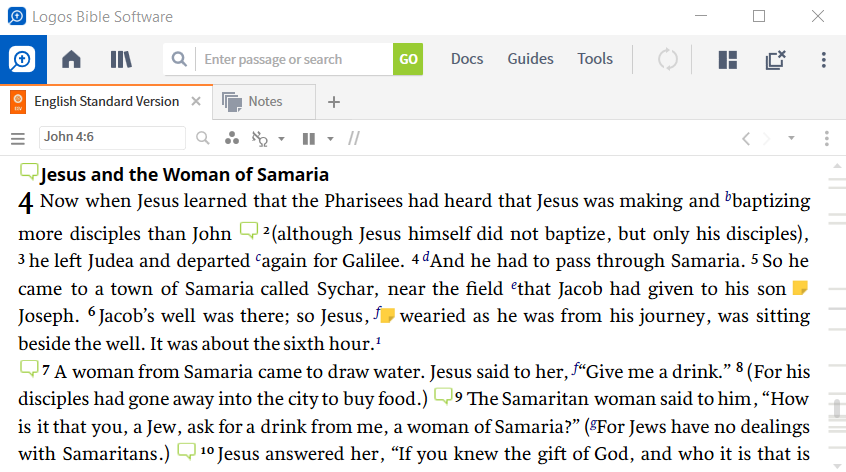 Emphasize Active Lemmas Visual Filter
The Emphasize Active Lemmas Visual Filter identifies every time a selected lemma appears in an English Bible with the interlinear option (such as the NKJV, NASB, LEB, or ESV). The Emphasize Active Lemmas Visual Filter empowers you to see where repeated words appear in the original languages, even if you've never studied them. Included in Logos Bronze and above
Passage List
The Passage List Visual Filter transforms your static search results into a dynamic text that lets you study only the passages you want to investigate—even if they aren't a part of the same biblical book. Open all the cross-references to John 1:1 in your favorite version, or create your own custom list of verses to compare all the epistolary prescripts in Paul's letters. You'll get the full functionality of Logos right within the filtered text.
Availability
Included in
---
Logos Starter and up
Works best in
---
Logos Starter and up
Available on
---

Desktop
Full functionality

Logos web app
Full functionality
Learn How to Use This Feature
Videos
Logos Help Center
Logos Forums
Logos Wiki