Sermon Builder
Incorporate content from your Logos resources into your presentation seamlessly and instantly transform your study into a message you can share with others with the Logos Sermon Builder. This powerful tool also simplifies creating slides, handouts, and discussion guides. Elevate your sermon with suggestions for popular quotes. When you're ready to speak, engage Preaching Mode for a fluid transition to a dynamic presentation platform.
Get more Sermon Builder training

Craft Your Message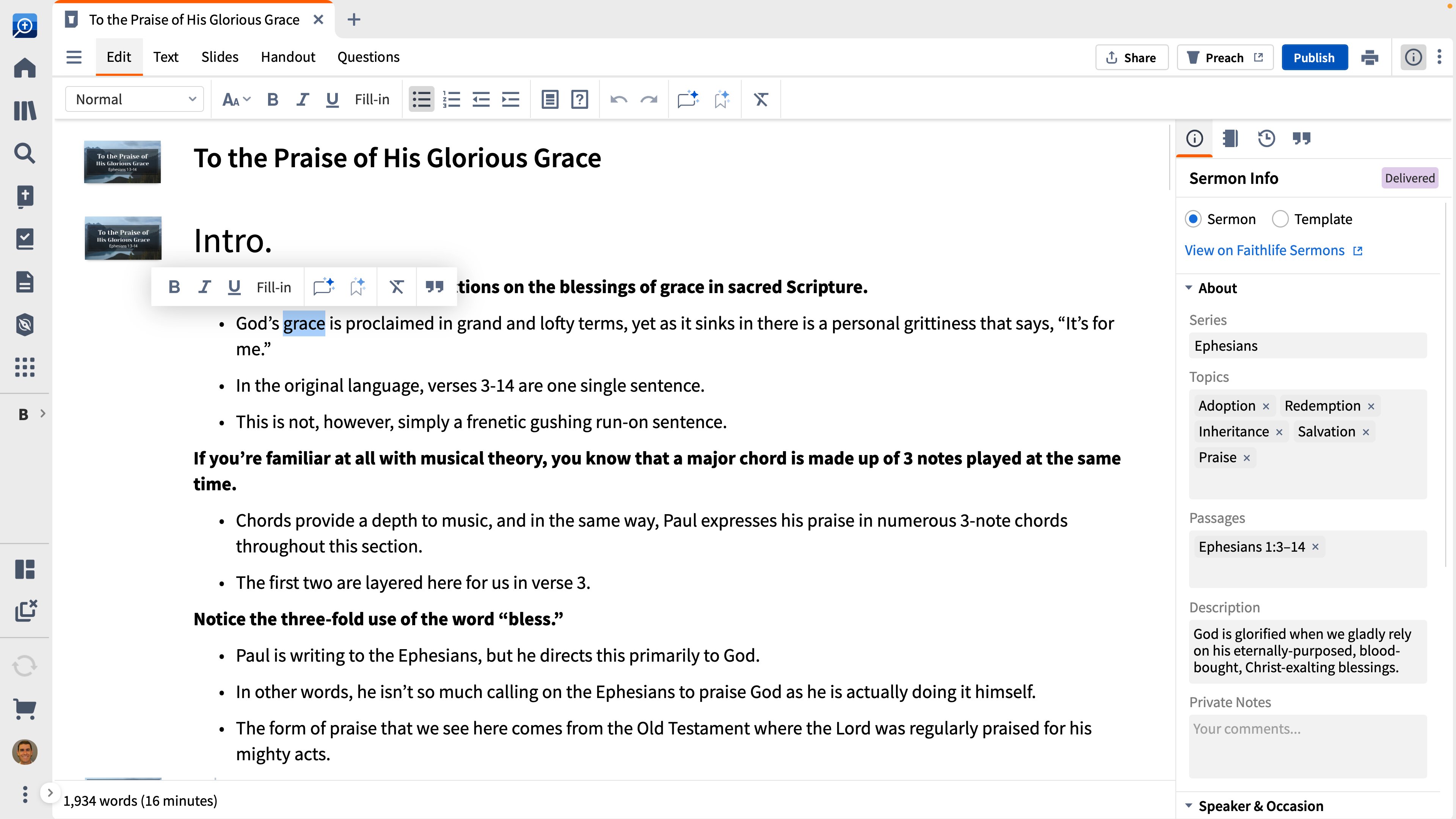 Format your presentation
Format your main points and subpoints in a snap. Bring attention to key words or quotes to make them easier to read as you present. With the Sermon Builder feature, you can simply select a quote or word you want to emphasize and choose a font size or highlight color from the palette under the Speaker drop-down menu. In just a few steps, your study notes become a finished sermon.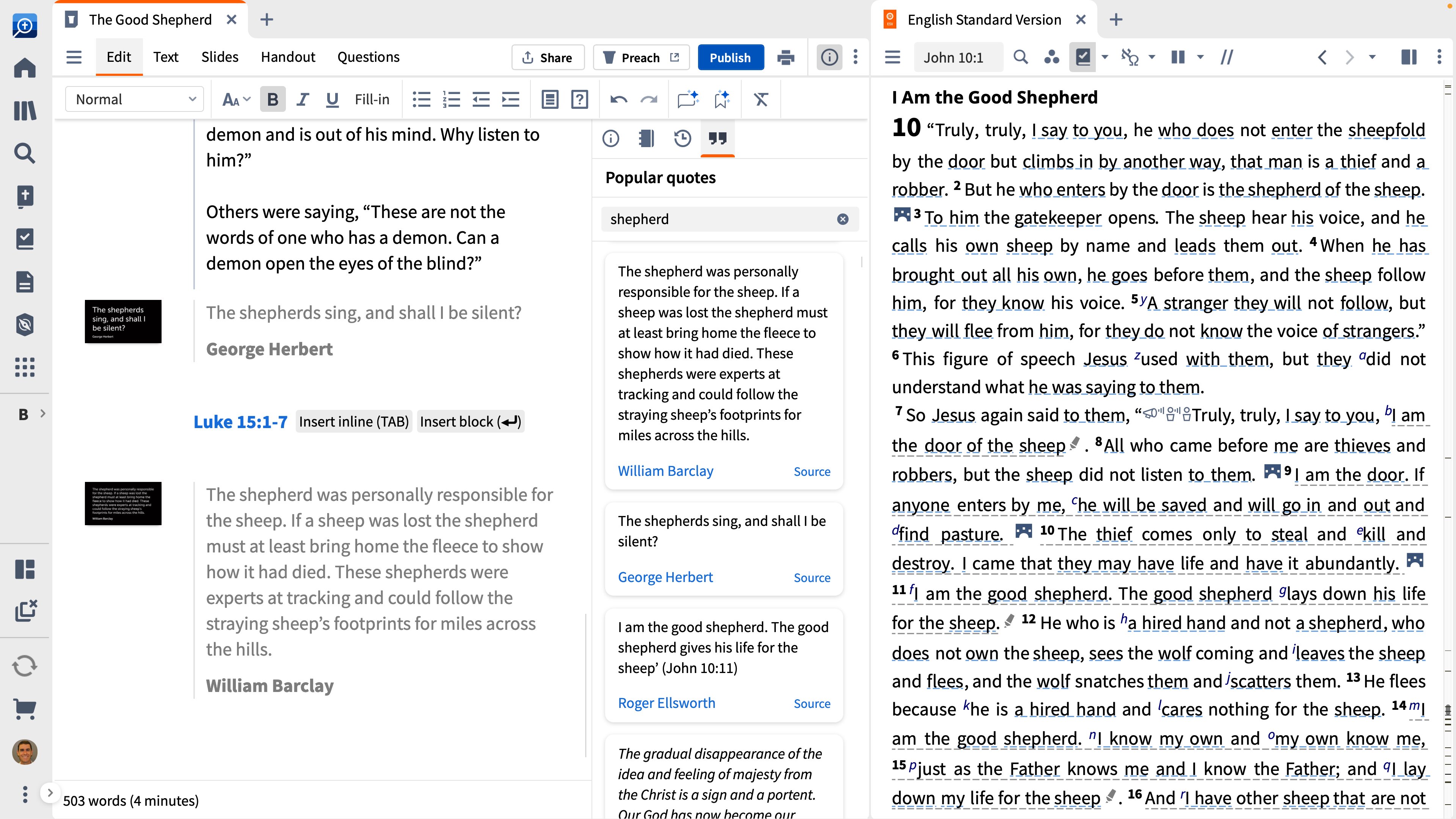 Add Scripture and quotes in no time
The Sermon Builder recognizes Scripture references and automatically inserts the corresponding text. If you are preaching on Jesus as the Good Shepherd from John 10, you can quickly add the parable of the lost sheep from Luke 15. Simply enter Luke 15:1–7 into your sermon document, and Logos automatically inserts the passage. The Popular Quotes sidebar allows you to quickly find quotes related to sermon text or topics and then drag and drop them into your sermon.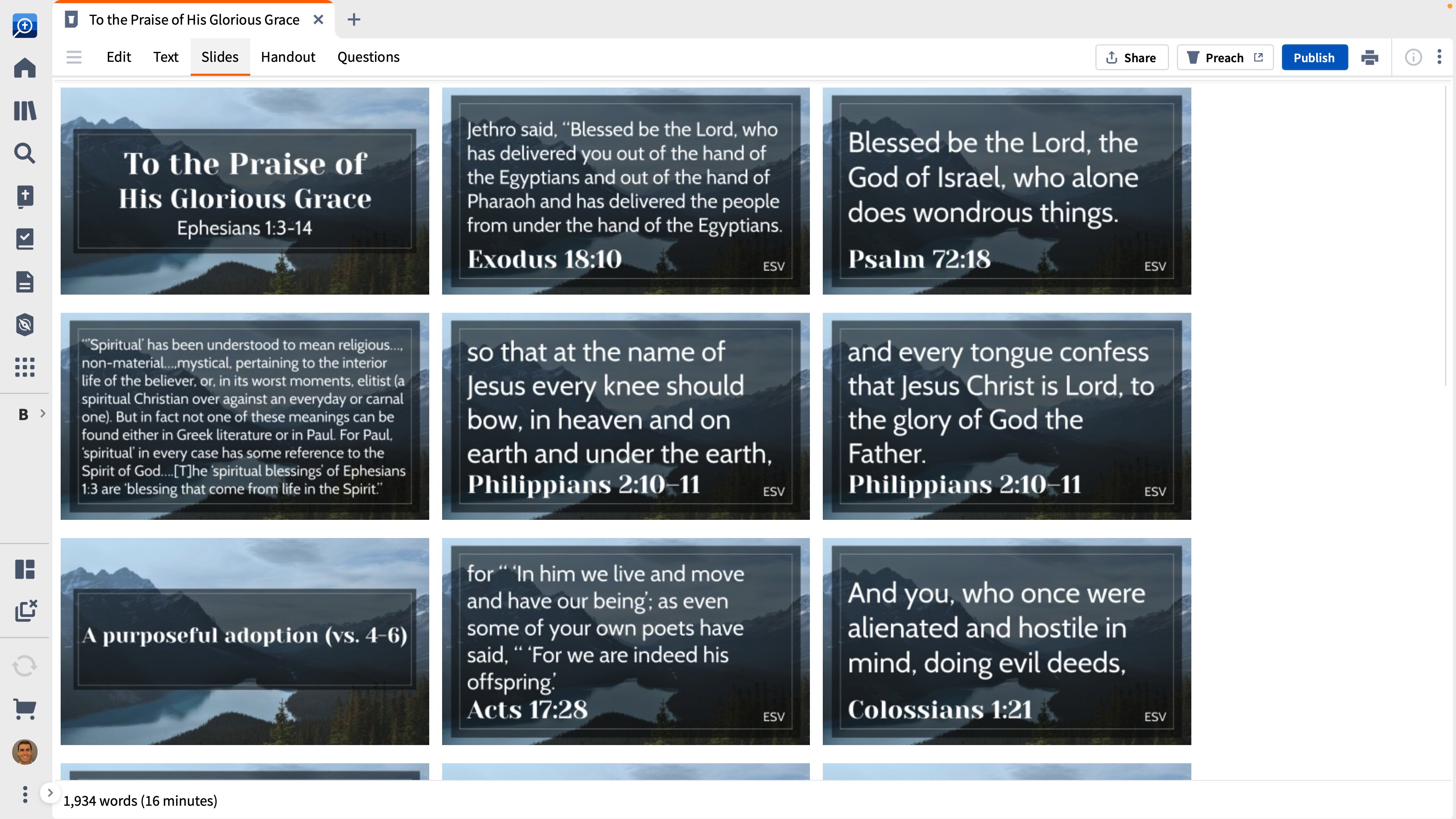 Build your presentation as you write
The Sermon Builder automatically creates slides for your main headings, but you can add slides for your Scripture text with a simple click. Do you want your audience to follow along by filling in the blanks? Highlight words and phrases, and select Fill-in-the-blank. The Sermon Builder creates the handout for you and, if you like, a discussion guide too.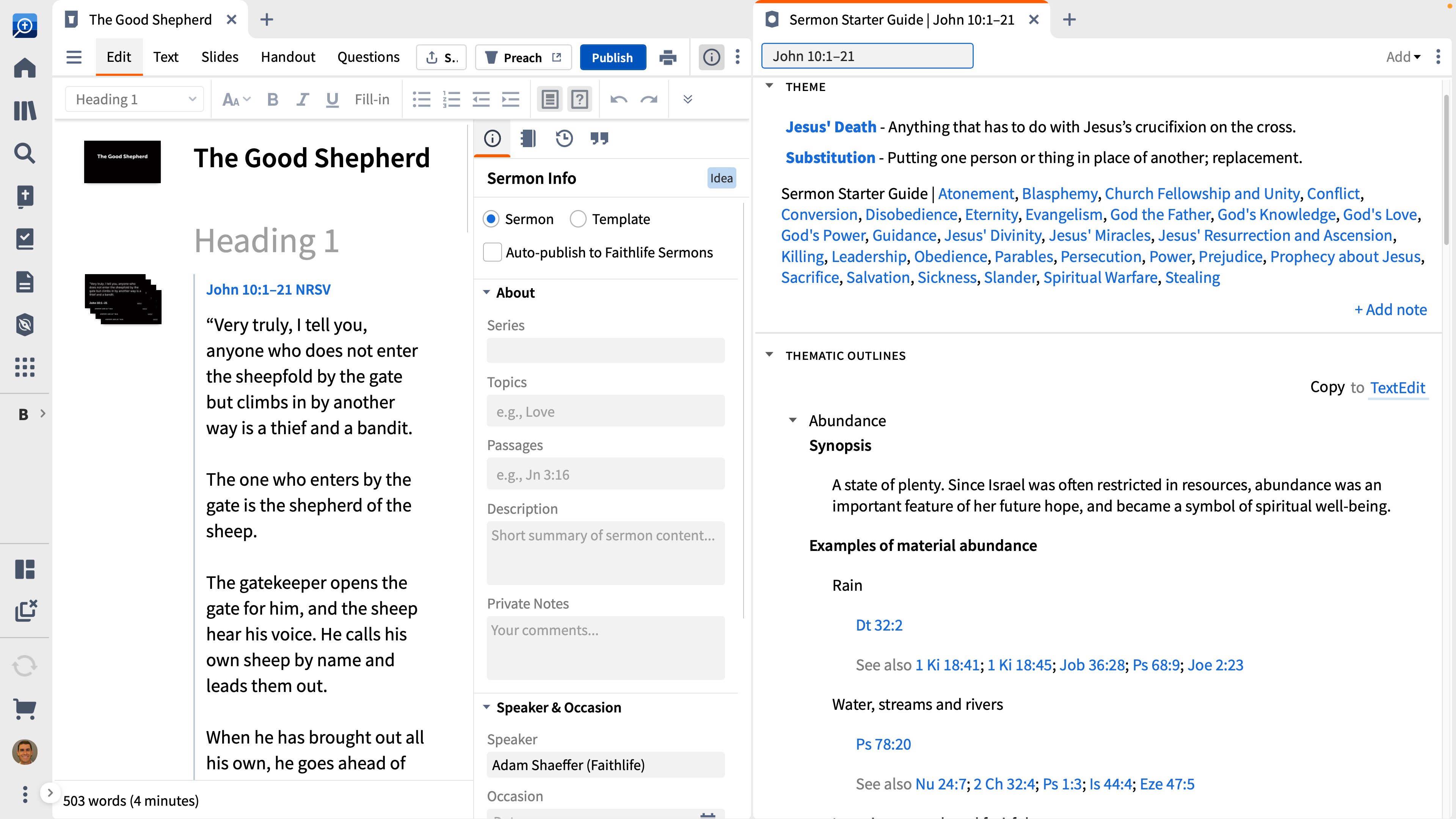 No need to reinvent the wheel . . . or outline
Modify a thematic outline from the Sermon Starter Guide or another sermon outline from your library. Just copy an outline to the Sermon Builder with a single click. Logos opens a new document using the outline, and you can add or delete content to tailor the outline to your purposes.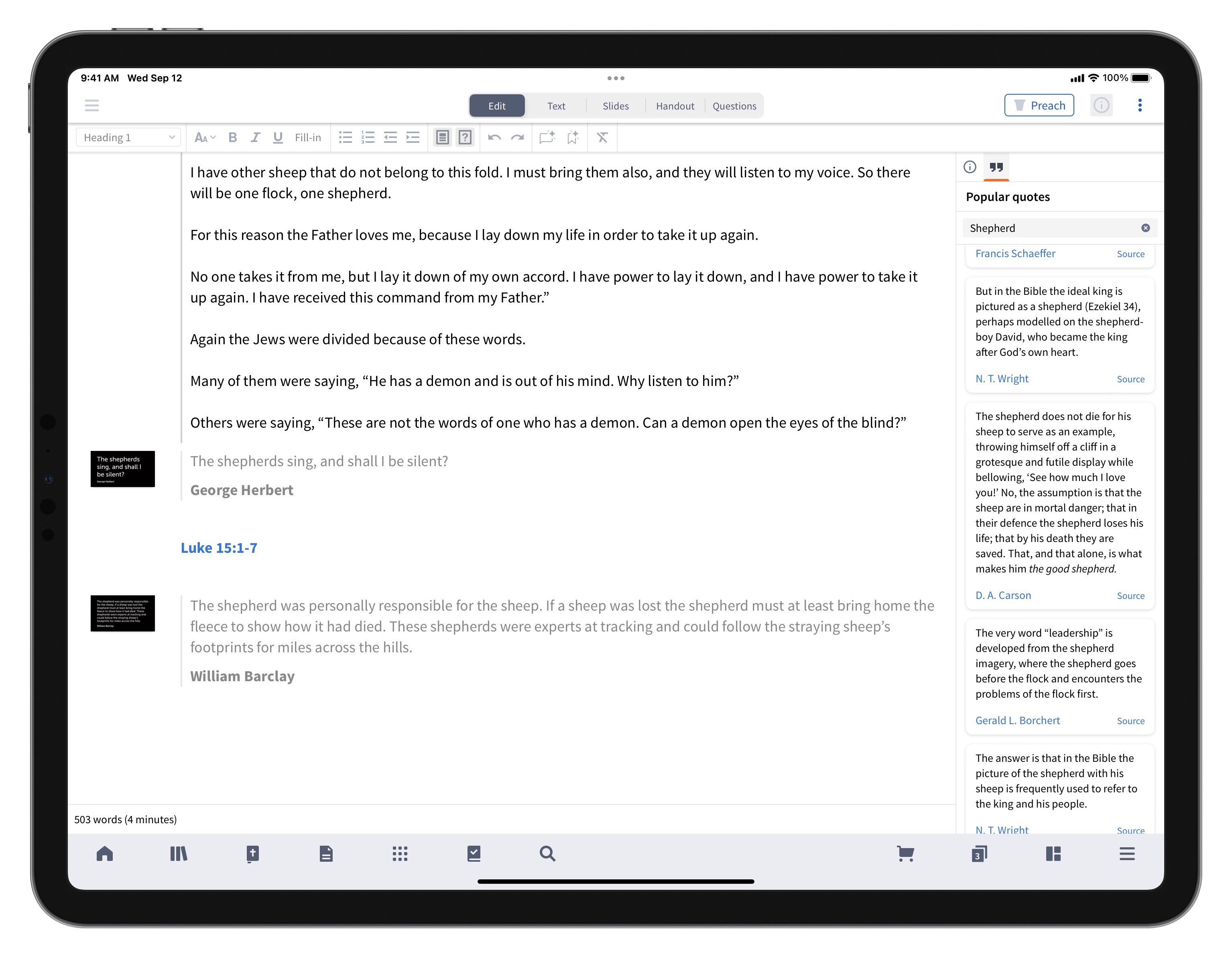 Prefer to work on a tablet?
We all know that your computer's not always handy when great ideas hit you. Good thing you can use Sermon Builder on your tablet to capture those thoughts in a sermon document! And best of all, any sermons you create in the Logos mobile app will be available in your desktop app, and vice versa.

Present Your Message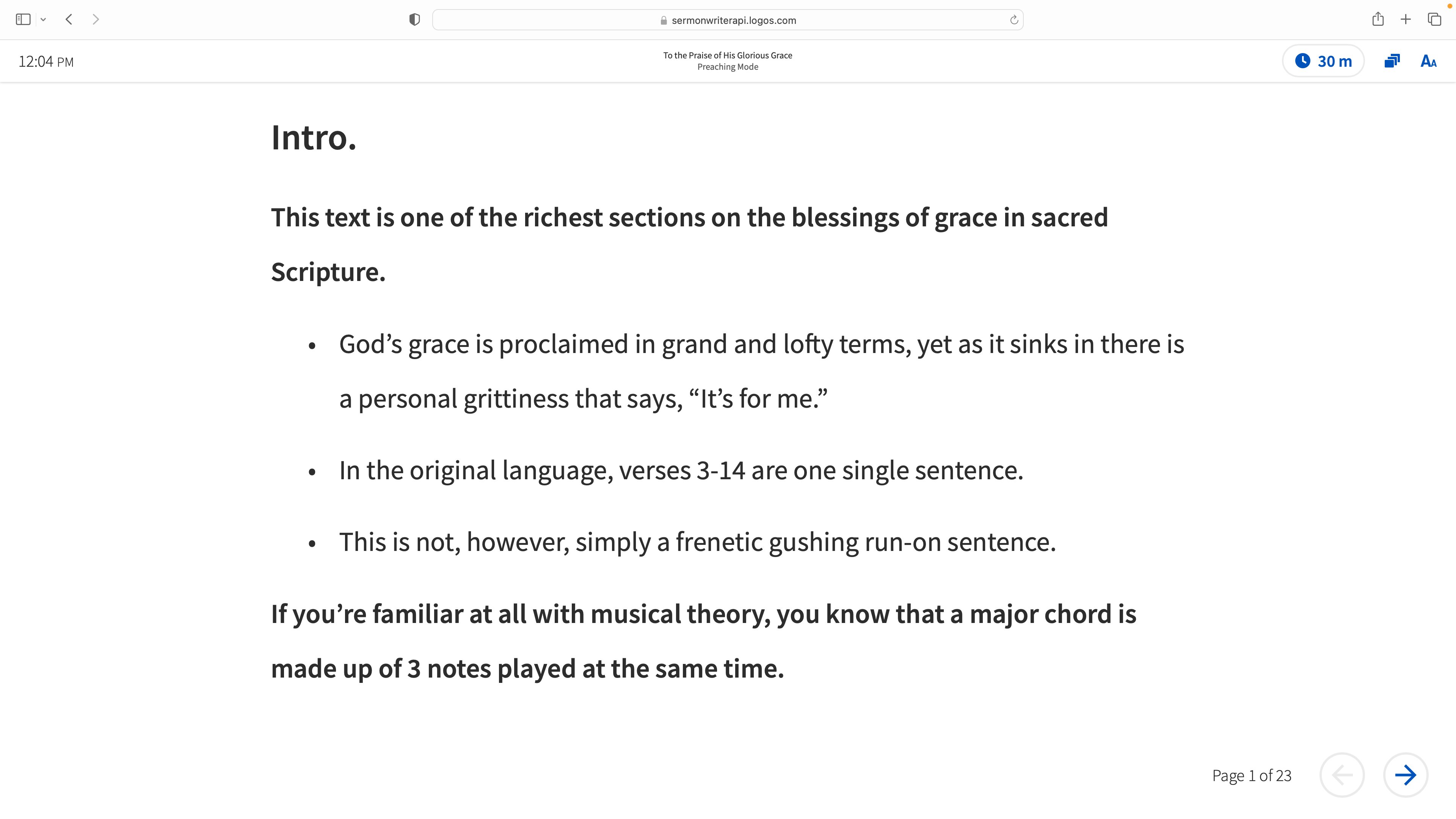 From prepping to preaching in a single tap
Now that you've finished your hours of study and preparation, you don't have to waste another minute with printing. Just tap the Present button on your computer or mobile device to enter Preaching Mode, and Logos converts your manuscript to a presentation you can smoothly navigate page by page or in a continuously scrolling fashion.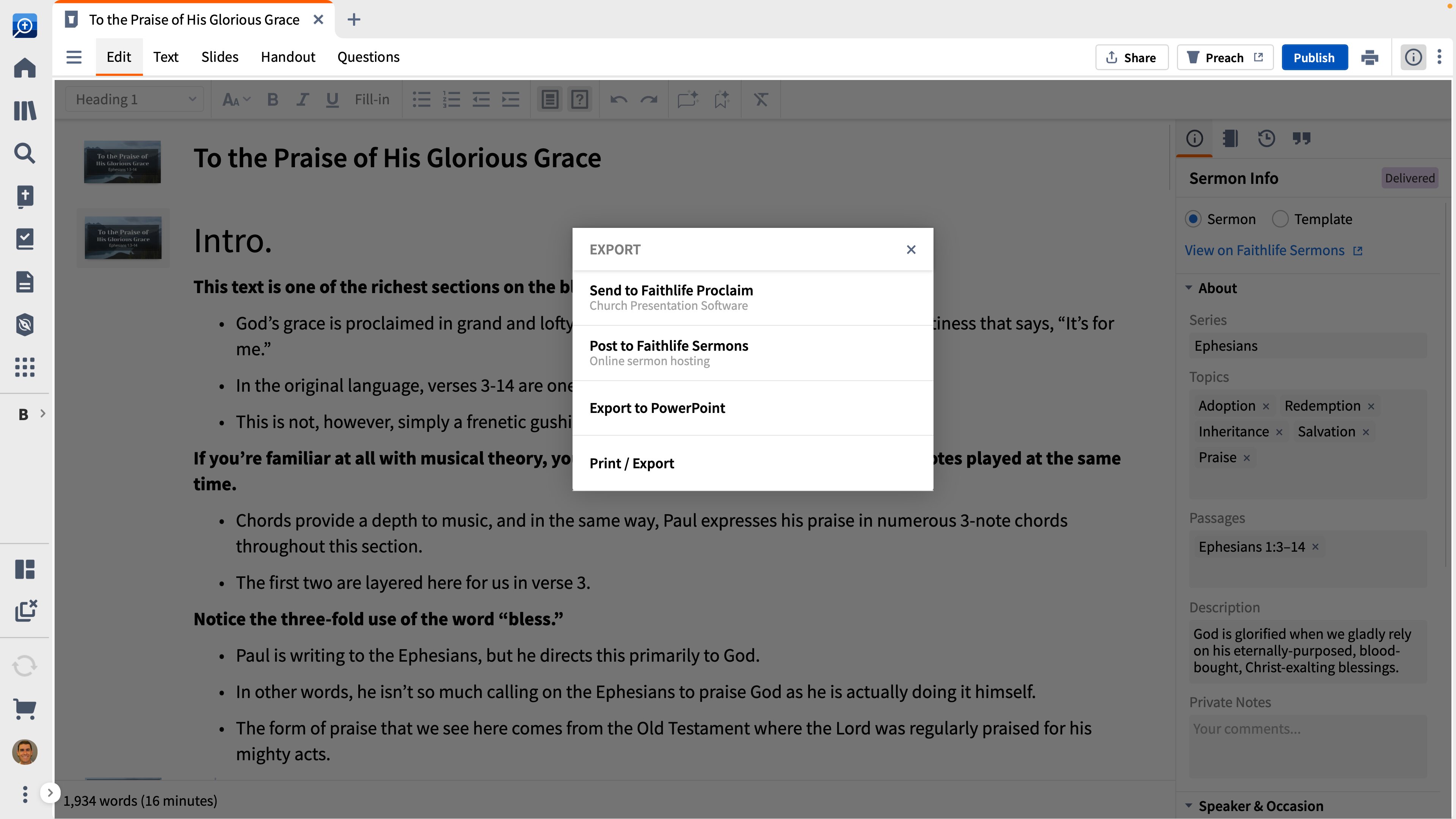 Extend your sermon's impact
Share your sermon with your Faithlife group, publish it to Faithlife Sermons, or print a copy with a few clicks. Just enter some basic sermon info and relevant tags. When you include Scripture reference and topic tags, Logos adds your sermon to the various Guides for the corresponding Scripture passage(s) or topic(s). For example, if you are preparing a message on the incarnation, add reference tags for John 1:1–18, 1 John 3:4–10, and Romans 5:1–11. The next time you search for any of these references in a Passage Guide, your sermon appears among the resources.
Availability
Included in
---
Logos Silver and up

Works best in
---
Logos Silver and up

Available on
---

Desktop

Full functionality

iPad

Full functionality

Mobile

Partial functionality

Logos web app

Full functionality
Learn How to Use This Feature