Joseph Ratzinger/Pope Benedict XVI Collection (14 vols.)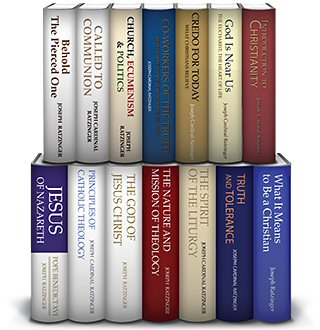 Joseph Ratzinger/Pope Benedict XVI Collection (14 vols.)
•
Runs on Windows, Mac and mobile.
Overview
Joseph Ratzinger, now Pope Benedict XVI, is one of the most revered Catholic scholars, theologians, teachers, and authors of our time. His profound treatment of Christianity's basic truths combines a spiritual outlook with a deep knowledge of Scripture, history, and theology. The Joseph Ratzinger/Pope Benedict XVI Collection contains fourteen volumes that explore Catholic theology, dogma, and practice. Though some of the volumes were written prior to his papacy, they are still equally as significant and relevant to the Christian faith today. Ratzinger's works will give you a better understanding of the:
Importance of Christian unity
Nature of the church
Relationship of Christianity with politics and the secular world
Foundations of Christianity: faith, hope, and charity
Beauty and mystery of God
Problem of truth, tolerance, religion, and culture in the modern world
The Joseph Ratzinger/Pope Benedict XVI Collection is not just an important collection because its works are written by the current leader of the worldwide Catholic Church. It is significant because it contains rich wisdom and insight to the Christian faith that are both timeless and true.
With the Logos Bible Software edition of Joseph Ratzinger/Pope Benedict XVI Collection, the reader has an abundance of resources that offer applicable and insightful material for their study. You can easily search the subject of Christian unity and access an assortment of useful resources and perspectives from a variety of pastors and theologians.
Key Features
Essential works of Catholic theology and dogma
Ideal for clergy, students, and laity
Logos edition provides integrated access to Scripture references
Product Details
Title: Joseph Ratzinger/Pope Benedict XVI Collection
Author: Joseph Ratzinger
Publisher: Ignatius
Volumes: 14
Pages: 3,291

God is—and the Christian faith adds: God is as Father, Son, and Holy Spirit, three and one. This is the very heart of Christianity, but it is so often shrouded in a silence born of perplexity. Has the church perhaps gone one step too far here? Ought we not rather leave something so great and inaccessible as God in His inaccessibility? Can something like the Trinity have any real meaning for us? It is certainly true that the proposition that "God is three and God is one" is and remains the expression of His otherness, which is infinitely greater than us and transcends all our thinking and our existence. But, as Joseph Ratzinger shows, if this proposition meant nothing to us, it would not have been revealed! And as a matter of fact, it could be clothed in human language only because it had already penetrated human thinking and living to some extent.
In this book of meditations, based on a series of homilies and meditations presented and compiled by the author shortly before he became Archbishop of Munich-Freising, in 1977, theologian Joseph Ratzinger (now Pope Benedict XVI) presents his profound thoughts on the nature and person of God. Building a bridge between theology and spirituality, he makes wide use of the sacred scriptures to reveal the beauty and mystery of who God is. He writes about each of the three persons in the Holy Trinity, showing the different attributes of each person, and that "God is three and God is one."
In this profound series of meditations, Ratzinger shows the enduring core of his theology. The future pope begins with an ancient Jewish story: The prophet Jeremiah and his son one day succeeded in creating a living man, through the correct combination of words and letters. 'Now that you are able to create a man, God is dead. My life is the death of God,' the man says. Ratzinger then shows that man's knowledge of God depends on the relationship that a man establishes between himself and the world and his life; that the question of whether God exists can be answered only in terms of some image of who or what God is, of some sense of how he shapes the whole of our existence.
—David L. Schindler, John Paul II Institute

As Cardinal, Joseph Ratzinger wrote this book in response to the dialogue going on today concerning theology and the clarification of its methods, its mission, and its limits which he thinks has become urgent. Ratzinger states: "To do theology—as the Magisterium understands theology—it is not sufficient merely to calculate how much religion can reasonably be expected of man and to utilize bits and pieces of the Christian tradition accordingly. Theology is born when the arbitrary judgment of reason encounters a limit, in that we discover something which we have not excogitated ourselves but which has been revealed to us. For this reason, not every religious theory has the right to label itself as Christian or Catholic theology simply because it wishes to do so; whoever would lay claim to this title is obligated to accept as meaningful the prior given which goes along with it."

Considered by Ratzinger devotees as his greatest work on the liturgy, this profound and beautifully written treatment of the "great prayer of the church" will help readers rediscover the liturgy in all its hidden spiritual wealth and transcendent grandeur as the very center of our Christian life.

Is truth knowable? If we know the truth, must we hide it in the name of tolerance? Cardinal Ratzinger engages the problem of truth, tolerance, religion, and culture in the modern world. Describing the vast array of world religions, Ratzinger embraces the difficult challenge of meeting diverse understandings of spiritual truth while defending the Catholic teaching of salvation through Jesus Christ. "But what if it is true?" is the question that he poses to cultures that decry the Christian position on man's redemption. Upholding the notion of religious truth while asserting the right of religious freedom, Cardinal Ratzinger outlines the timeless teaching of the Magisterium in language that resonates with our embattled culture. A work of extreme sensitivity, understanding, and spiritual maturity, this book is an invaluable asset to those who struggle to hear the voice of truth in the modern religious world.

Joseph Ratzinger, now Pope Benedict XVI, writes eloquently and persuasively about how one can live as a serious Christian in today's secular world. He talks in-depth about the true meaning of faith, hope, and love—the love of God and the love of neighbor. He also discusses at length the crucial importance of a lived faith, for the believer himself as well as being a witness for our age, and striving to bring faith in line with the present age that has veered off into rampant secularism and materialism. He passionately encourages the reader to practice a deep, abiding Christian faith that seeks to be at the service of humanity.
As Joseph Ratzinger mentions in the preface, "the book presents in written form three sermons that the author preached in the Cathedral at Muenster to a congregation from the Catholic Student Chaplaincy, December 13–15, 1964." In other words, these are essays derived from sermons preached to college students toward the end of Vatican II. They are remarkable, among other reasons, for their insights into the ongoing Christian struggle to understand and realize in action "what it means to be a Christian."
About Joseph Ratzinger
Joseph Ratzinger is one of the most revered Catholic prelates, scholars, theologians, teachers, and authors of our time. He has spoken on many crucial subjects, including sexual consumerism, roles of men and women today, marriage, the priesthood, and the future of the world. As a teenager, he initiated study of classical languages and entered the minor seminary in Traunstein in 1939. Though he was drafted into the German anti-aircraft corps in 1943, he re-entered the seminary in 1945, when World War II ended. On June 29, 1951, Joseph Ratzinger was ordained to the priesthood in the Cathedral of Freising on the Feast of Saints Peter and Paul. He also received his doctorate in theology in 1953 from the University of Munich. Starting in 1959, Ratzinger taught theology at the University of Bonn.
At age 35, Joseph Ratzinger was appointed chief theological advisor for the Archbishop of Cologne, Cardinal Joseph Frings, and maintained that title for four years. After many years of teaching at several German universities, Ratzinger was appointed by Pope Paul VI as Archbishop of Munich and Freising in March 1977, and was elevated to cardinal in June 1977. In November 1981, Ratzinger was summoned by Pope John Paul II to Rome, where he was named Prefect of the Congregation for the Doctrine of the Faith, President of the Pontifical Biblical Commission, and President of the International Theological Commission.
On April 19, 2005, Joseph Cardinal Ratzinger was elected to be the 265th pope. He took the name Benedict XVI, after St. Benedict of Nursia. Since that time, he has continued to receive worldwide respect and has been a spiritual influence to Christians and non-Christians alike.