Jerry Bridges Collection (15 vols.)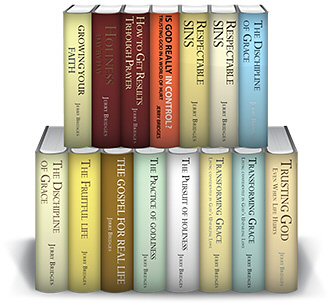 Overview
Jerry Bridges is a renowned author and speaker best known for his book The Pursuit of Holiness which has sold more than one million copies. His ministry has included being on staff for over fifty years with The Navigators, an international, interdenominational Christian ministry focusing on mentoring, discipling, and building relationships. Bridges has authored over fifteen books and study guides. He is able to communicate clear and concise truths as he challenges Christians in their spiritual walk with God.
Explore Jerry Bridges' works to discover insight for your spiritual journey. These books are Bible-focused and cover a variety of topics including holiness, prayer, sin, grace, trust, and God's love. Because he uses examples of his own experience as a Christian disciple, you come away from the books feeling encouraged, not condemned. Jerry Bridges seeks to remind us that we are "accepted by God, not on the basis of our personal performance, but on the basis of the infinitely perfect righteousness of Jesus Christ." That said, we are still called to strive for excellence and these volumes are packed with resources to help you achieve it.
Jerry Bridges not only challenges and educates you through his writing, he also allows you to dig deeper and analyze your own life as a Christian disciple with his study guides. Through chapter overviews, discussion questions, scripture relevant to the reading, and quotes from Christian leaders and theologians, you can begin to grasp new biblical truths and learn how to apply them to your personal circumstances. These six guides can be used for either personal or group study.
The Jerry Bridges Collection (15 vols.) is an essential collection if you are seeking to transform your stagnant spiritual walk to one with purpose. These resources will give you instant tools to take your Bible study to new levels.
Logos Bible Software dramatically improves the value of any resource by enabling you to find what you are looking for with lightning speed and unbelievable precision. As you are reading through the Jerry Bridges Collection (15 vols.), you can easily search and access topics or Scripture references you come across, making your Bible study easier than ever.
Key Features
Six discussion guides that correspond with works by Jerry Bridges
Addresses practical issues Christians face
Valuable guide to Christian living
Praise for the Print Edition
Jerry Bridges continues to be a leading communicator of the truths of God's Word to believers—young and mature. In his clear, concise writing style, he makes spiritual truth easily accessible to everyone.
—Steve Douglass, President, Campus Crusade for Christ
Jerry Bridges charts the path for the development of a dynamic faith that produces rock-solid, dynamic lives.
—Joseph Stowell, President, Cornerstone University
Sanity, realism, authenticity, and personal integrity are the hallmarks of Jerry Bridges' writing.
—Sinclair Ferguson, Senior Pastor, First Presbyterian Church, Columbia, South Carolina
Few modern writers are able to make biblical truth more understandable than Jerry Bridges.
—C. J. Mahaney, President, Sovereign Grace Ministries
Product Details
Title: Jerry Bridges Collection (15 vols.)
Author: Jerry Bridges
Publisher: NavPress
Volumes: 15
Pages: 2,464

When we are gripped by the astonishing fact of Christ's love for us, we desire to draw close to Him. But what can we do to deepen our relationship with Jesus? What does He expect of us? And how can we be more like Him?
In Growing Your Faith, author Jerry Bridges, one of the most respected Bible teachers of our time, presents the essential elements of Christian life in highly readable, surprisingly practical form. Jerry shows us how to:
Feed our spiritual life by taking in the scriptures
Rely on the Holy Spirit in obedience and prayer
Trust God during the trials of life
Contribute our unique gifts to serve others
When we more fully open our hearts to the truth of His gospel and acknowledge the role of the Holy Spirit in our pursuit of holiness, we can make genuine progress in our spiritual lives. And that's a big part of what it means to follow Christ.
For the glory of God and the increase of our joy in God, we Christians all need to grow spiritually. With simple but searching exposition and illustration, veteran teacher Jerry Bridges shows us how. This is a truly wise book. It will enrich all who read it.
—J. I. Packer, Professor of Theology, Regent College

Do you want more substance to your daily devotional? Then you will appreciate this devotional. Free of "fluff" and steeped in scripture, here's a rock-solid 365-day devotional that will stand the test of time. Each entry has been carefully selected from Jerry Bridges' best writings, offering thoughtful daily guidance to help you meditate on God's Word and diligently seek Him. This quick daily read is full of inspiration, commitment, and transformation for men and women to grow in spiritual maturity.
The calorie content of this daily diet of Jerry Bridges is very high.
—J. I. Packer, Professor of Theology, Regent College
When Jerry Bridges speaks, I listen.
—R. C. Sproul, President and Chairman, Ligonier Ministries
Through his wise writings, Jerry Bridges has become a pastor to my soul.
—Philip Ryken, Senior Minister, Tenth Presbyterian Church, Philadelphia, Pennsylvania

How to Get Results Through Prayer
Author: Jerry Bridges
Publisher: NavPress
Publication Date: 1976
Pages: 24
Find out in this booklet the necessary elements to effective prayer. Take your prayer life from hoping to receiving, and go deeper into your spiritual formation.

Whether it's a devastating natural disaster half a world away, or a tragic accident involving a beloved family member, we all face troubles, trials, and tragedies every day. How will we respond? When terrorists strike or storms hit or relationships break down, we all search for the same answers: why? Where is God in all of this? Is God really in control?
Best-selling author Jerry Bridges, one of the most trusted Christian writers of our time, helps you wrestle with these questions in the clear light of the scriptures. As a result, you can learn to understand and trust God's wisdom, love, and sovereignty in the midst of the little disappointments and the big tragedies. And you can experience comfort and hope by exploring the greater purposes of an all-knowing, all-powerful, all-loving God.
Few modern writers are able to make biblical truth more understandable than Jerry Bridges. And few biblical truths are more vital to understand for the Christian life than those covered in this outstanding book. I know of no better introduction to the topics of sovereignty and suffering.
—C. J. Mahaney, President, Sovereign Grace Ministries

What ever happened to sin? Have Christians become so preoccupied with the major sins of our society that we have lost sight of our need to deal with our own more subtle sins? Jerry Bridges returns to his trademark theme of holiness and addresses a dozen clusters of specific "acceptable" sins that we tend to tolerate in ourselves, such as jealousy, anger, pride, unthankfulness, and judgmentalism. Jerry writes not from a height of spiritual accomplishments but from the trenches of his own battles with sin. In his admonitions, Jerry offers a message of hope in the profound mercy of the gospel and the transforming grace of God as the means to overcome our subtle sins.
No one writes more powerfully today about the need for holiness than Jerry Bridges, who carries on the tradition of Tozer and other great saints through the years. In this book, he focuses us on our own failings. You can't read this without coming to grips with the log in your own eye before dealing with the speck in your neighbor's. This book should have a wonderful ministry in the Christian church. I highly recommend it.
—Charles Colson, Founder, Prison Fellowship Ministries
For the believer seriously considering the lordship of Christ in his life, Respectable Sins is must reading!
—Joni Eareckson Tada, Founder and CEO, Joni and Friends International Disability Center
Respectable Sins is just what we need: an exposé of the little sins that are disappointing to God and get in the way of our spiritual growth.
—Philip Graham Ryken, Senior Minister, Tenth Presbyterian Church, Philadelphia, Pennsylvania

If you lead a small group or Bible class, don't miss this companion discussion guide to Respectable Sins: Confronting Sins We Tolerate. In just eight sessions, you and your group will enjoy lively interaction as you discuss and apply the key principles. Through probing discussion questions, this guide helps you work through anger, jealousy, pride, and more while looking to God for His grace and forgiveness. The Respectable Sins Discussion Guide stimulates personal reflection and application, as group members are asked to respond in writing to meaningful prompts and questions.

Your worst days are never so bad that you are beyond the reach of God's grace. And your best days are never so good that you are beyond the need of God's grace. We know we need grace. Without it we'd never come to Christ in the first place. But being a Christian is more than just coming to Christ. It's about growing and becoming more like Jesus—it's about pursuing holiness. The pursuit of holiness is hard work, and that's where we turn from grace to discipline—and often make a big mistake. In The Discipline of Grace Jerry Bridges offers a clear and thorough explanation of the gospel and what it means to the believer. Explore how the same grace that brings us to faith in Christ also disciplines us in Christ.
If you've ever struggled with what your roles is and what role God takes in your growth as a Christian, this book will comfort and challenge you as you learn to rest in Christ while vigorously pursuing a life of holiness.
The Discipline of Grace offers a clear and thorough explanation of the gospel and what it means to the believer, and how the same grace that brings us to faith in Christ also disciplines us in Christ, and how we learn to discipline ourselves in the areas of commitment, convictions, choices, watchfulness, and adversity. The Discipline of Grace is highly recommended reading for anyone struggling to overcome the world in Christ.
—Midwest Book Review
I found this to be an excellent book. Bridges balances the ideas of grace, the need for real personal discipline, and the part God plays in the pursuit of holiness. . . . This is a book worth reading. It will encourage your heart and breath new life into your struggle to become more like Christ.
—Steven H. Sanchez, Emmaus Journal, Volume 4, 1995

God won't do your job in the pursuit of holiness. Are you trying to do His? We never outgrow our need for grace. Grace is every bit as important for growing as a Christian as it is for becoming a Christian. But what role does grace play when you are working out your faith? How does it fit in with striving after holiness?
The Discipline of Grace Study Guide (designed to be used with the book or by itself) will help you unlock the mystery of what God does in bringing you to maturity in Christ and help you understand what your responsibility is. Each session in the study guide contains an excerpt from the book, along with probing questions for personal study and group discussion.
If you've ever struggled with what your roles is and what role God takes in your growth as a Christian, this study guide will provide comfort and insight as you learn to rest in Christ while vigorously pursuing a life of holiness.

As we become serious followers of Christ, we want to live loving, joyful, anxiety-free lives. Yet loving our enemies seems impossible. Even being patient with our family is often difficult. How can we put on the gentle garments of grace when we're so busy battling our old behavior patterns?
In The Fruitful Life, beloved author Jerry Bridges explores the nine aspects of the "fruit of the Spirit" described in Galatians 5:22–23: love, joy, peace, patience, kindness, goodness, faithfulness, gentleness, and self-control. He clarifies the cultivation process by showing us how to practice the fruit in real life. Bridges says these qualities of character can truly mark our lives if we devote ourselves to a twofold pursuit: God-centeredness and God-likeness. This book will guide you on that quest by focusing on God's nature as revealed in scripture and by helping you cultivate the beautiful fruit given by the Holy Spirit.

The gospel of Jesus Christ is the door to eternal life, but what difference does it make once we're inside God's kingdom? Jerry Bridges says the gospel is the very lifeblood of our walk with God. It is the key to our salvation, for sure, but it is also the power for our daily progress in holiness. The Gospel for Real Life will help you:
Experience freedom from the grip of sin and know the joy of pursuing holiness
Revel in God's acceptance of you and participate in His grace as a daily reality
Expose the subtle acids of legalism in your life and enjoy the liberty of the cross
Discover how to "preach the gospel to yourself daily" and so partake of its continuous transforming power
Carry the true fullness of the gospel to a desperately needy world around you
This volume also includes a study guide to help you experience every day "the unsearchable riches of Christ" that are available to us in the gospel.
The Gospel for Real Life is in reality nothing more than a clear, scriptural unpacking of the gospel—just what it is, all of the benefits it entails, all of the wonderful and various things that Christ accomplished in his work of redemption. It is heavy on the 'gospel' part, and hence, the 'real life' applications cannot but follow naturally. For when I really understand the gospel, there is no area of my life that is not dramatically impacted.
—Nathan Pitchford, Reformed Books.net

"Godliness is more than a character trait," writes Jerry Bridges. "It is a foundational spiritual quality that makes the entire Christian life dynamic, effective, and pleasing to God." Growing in godliness is a twofold process. It involves an ever-deepening devotion to God and developing a character that is steadily transformed into His likeness.
This companion discussion guide to Jerry Bridges' book The Practice of Godliness will help you grow in your fear of, love of, and devotion to God—the three essentials to a godly life. As you learn how to take on God's character, you'll explore how to let the Holy Spirit cultivate the fruit of God's character traits in your life.

The Bible exhorts us to pursue a life of holiness. But what does that look like in everyday life? We struggle with our sinful nature within and with a morally polluted world around us. How do we live holy lives? In this companion study guide to The Pursuit of Holiness you can discover the Bible's guidelines for holy living. This guide includes 12 lessons in which you will carefully look at many of the same Scripture passages Jerry Bridges studied to glean the principles he presents in The Pursuit of Holiness.

Funny how the exceeding riches of God's grace seem to run out the moment we're saved. From then on, we tend to base our relationship with Him on our performance rather than on His grace. Of course, God continues to deal with us on the basis of His grace, whether or not we understand it. It's just that when we don't, we forgo the abundant freedoms that come from not having to measure up.
The product of more than ten years of Bible study, Transforming Grace is a fountainhead of inspiration and renewal that will show you just how inexhaustible and generous God's grace really is. You'll never be able to ask for too much, need too much, hope for too much, or even sin too much. Like a never-ending stream of ocean waves crashing on the shore, His grace "superabounds" toward you without a measure.
This is an honest, gentle, searching book on a great theme by a wise teacher who knows what he is talking about. I highly recommend it.
—J. I. Packer, Professor of Theology, Regent College
In his latest book, Transforming Grace, Jerry Bridges offers his readers a truly appealing look at this matter of Free Grace. Within its pages, the reader will find an attractive portrait of the God who makes the only bona fide offer of real freedom to anyone who will take it-with no strings attached. This is must reading for all those truly seeking to know the Lord as He wants to be known.
—Barry V. Goodgion, Journal of the Grace Evangelical Society, Volume 05, 1992
In a very readable style, Bridges brings his readers along with him on a journey to a better understanding of God's grace. . . . In an age when man's goodness is emphasized and self-help books proliferate, this book is soul-refreshing. . . . I recommend it for sheer reading pleasure and for growth in the grace and knowledge of our Lord Jesus Christ.
—Gary Vet, Pastor, Reformation and Revival Volume 3, 1994

Tired of the performance treadmill? Once we commit our lives to Christ, most of us find it easy to trust God for our eternal salvation. But to live daily by His grace is often a different matter. We naturally drift into patterns of working hard for God's approval. Yet what we really need is to trust God for His daily transforming grace and the wonderful freedom from performance that grace gives.
A companion to the best-selling book Transforming Grace, this practical discussion guide offers you the opportunity to find that freedom—on your own or in the supportive community of your small group. In just eight sessions, you'll discover release into the inexhaustible, transforming grace of God.

All of us experience adversity at different times in our lives. It comes in many forms—sudden pain, traumatic experiences, devastating losses—and we seldom understand what's happening at the time. That's why learning to trust God can be such a slow and difficult process. When everything we're going through suggests that God can't help us or doesn't care, it seems unwise to place our confidence in Him. But nothing could be farther from the truth.
As Jerry Bridges illustrates in his best-selling book Trusting God, God is more than worthy of our trust. His complete sovereignty, infinite wisdom, and perfect love are always at work on our behalf—even when we don't understand the things we see. Now you can draw strength from the life-changing principles of Trusting God with this inspiring and application-oriented study guide. By enhancing the fundamental principles of the book for personal or group study, the Trusting God Study Guide can show you how to trust God in your own particular situation.
As you and your friends begin to discover the scope of God's power, you'll not only benefit from each other's support, but you'll be equipped to rely on Him more completely. Not just in the tough times, but the rest of the time too.
About Jerry Bridges
Dr. Jerry Bridges (1929–2016) was an evangelical Christian author, speaker, and staff member of The Navigators, an international, interdenominational Christian ministry focusing on mentoring, discipling, and building relationships. Bridges earned his undergraduate degree in engineering at the University of Oklahoma before serving as an officer in the United States Navy during the Korean War. He joined the Christian discipleship organization The Navigators in 1955, where he served as an administrative assistant to the Europe Director, office manager for the headquarters office, Secretary-Treasurer of the organization, and as Vice President for Corporate Affairs before moving to a staff development position with the Collegiate Mission.