Day One Counseling Collection (3 vols.)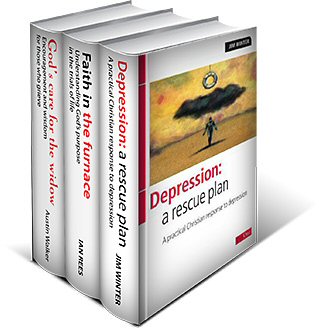 Overview
Modern Christians are not exempt from experiencing suffering and great trials. Though suffering is normal, we should feel comforted that God has a plan and purpose amidst our trials. The Day One Counseling Collection (3 vols.) helps encourage and strengthen your faith while providing sound, biblical principles and illustrations of men and women of God that have withstood numerous trials. These three volumes will take you through the struggle of suffering from a Christian perspective and give you insight on how to handle the trials of depression, death, and other crises you may face.
With the Logos Bible Software edition, you have unprecedented access to resources that offer relatable and insightful material to encourage your spiritual walk with God. The powerful search tools in your digital library help you locate the specific material relevant to your study. Hours of biblical research can be accomplished with the simple click of a mouse. With lightning-speed searching, instantly-viewable Scripture references, a vast library of resources, and much more, Logos is the perfect software to expand you understanding of the Word.
Key Features
Biblical principles and illustrations
Refreshing insight for counseling today's Christians
All Scripture references link directly to the Bibles in your library
Individual Titles

It is a staggering fact that according to the World Health Organization, 100 million people are depressed at any one time. Between 1990 and 2000, the number of people in the United Kingdom consulting their doctors complaining of depression more than doubled. Winston Churchill referred to depression as his 'black dog', and Samuel Johnson called it, 'this vile melancholy'. When in its grip, Abraham Lincoln described himself as, 'the most miserable man living'.
The word 'depression' is used to describe a wide range of emotions and conditions ranging from momentary unhappiness to suicidal despair. To complicate matters, its cause and effect encompass every area of our being. The fact that it is so common place means that sufferers need not feel ashamed.
But what is depression? We could argue that many people are depressed because their present has lost its meaning and purpose, and their future holds no hope. Yet the Christian—despite having a living relationship with God in Jesus Christ, and the glorious anticipation of heaven—is not immune from depression! The lives of some of God's greatest servants clearly demonstrate that! This practical guide is the result of the author's twenty years experience as a local church pastor. Without medical jargon, it deals sensitively with the difficult area of depression; its causes and treatments, and offers a step by step guide to coping.
This book has helped me enormously. . . . It has also given me an insight into my own moods and spiritual and psychological conditions. If you want help, and want to be a helper, read this book.
— Cheah Fook Men, Pastor, Covenant Evangelical Reformed Church, Singapore
Well-rounded—a very useful book.
—The Monthly Record
Jim Winter has been in the pastoral ministry for over twenty years. He holds a PhD in pastoral psychotherapy and has lectured on Christian counseling. He is committed to the inerancy and sufficiency of the Bible.

Is it possible for us today to rejoice when we face disappointments, tragedies, persecutions, bereavements and setbacks? In an engaging and highly readable style, Ian Rees shows us that suffering is a normal part of the Christian experience, and that Christians down the ages, from believers in Old Testament times right up to the present day, have often had the experience of their faith being put through the furnace, and that there is a plan and a purpose in our trials, even when we feel God has forgotten us. This is a book that is full of sound biblical teaching, richly illustrated from church history, missionary work, church life and contemporary culture and written sensitively and in a deeply pastoral manner.
This book will equip you for the trials that come your way. It is easy to read, very well illustrated, and most of all, opens up the Scriptures on the massive problems we all face from time to time. Seldom have modern writers displayed such ability to make their work so easy to read, practical and, at the same time, utterly faithful to the Word of God. Those who read this book will thank God for it and those who preach will soon be quoting from it.
—Chris Kelly, Minister, Lansdowne Baptist Church, Bournemouth, England
This is an ideal book to give to new disciples who are familiar with the pop-culture of today, but who need grounding in sound biblical principles. Yet it would also be of great benefit to disciples of a few years' maturity who need to understand afresh the experiences and changing scenes of the life they pass through. With solid and deep exegesis from the biblical text, here is a theology of discipleship based on the Bible, rather than just on the themes of the Bible.
—Paul Pease, Pastor, Hook Evangelical Church, Surbiton, Surrey, England
Ian Rees became a Christian at university, converted from solid atheism, and soon entered the ministry, having studied at London Theological Seminary. He was a minister at a church in Somerset, subsequently worked with European Christian Mission, and is now Associate Pastor of a church near Northampton, England.

This book is written for widows to comfort them in their various troubles. Throughout the Bible God makes himself known as the one who defends, comforts and provides for the widow. From the days of Moses and the prophets, to the time of the Lord Jesus Christ and the early church, widows have been the object of his fatherly care. Written under the conviction that the church of Christ is responsible for relieving the distress of widows this book seeks to draw out God's wisdom for the widow. Naomi, Ruth, the widows of Zarephath and Nain, the Jerusalem widows, and Mary, the mother of the Lord Jesus Christ are among those considered.
James 1:27 is very clear on some of the deeds that need to emanate from a converted heart: a life separated from the corruption of the world and the taking care of orphans and widows. In recent days much has been written about adopting orphans, but little is written specifically for widows and their needs. Here is considerable help and encouragement for widows, as well as important insights for those who minister to them. May Austin Walker's much-needed and welcome application of the numerous passages on widows have a wide circulation!
—Dr. Michael A. G. Haykin, Professor of Church History and Biblical Spirituality, The Southern Baptist Theological Seminary
This book will help widows. There is nothing better than the counsels to be found here.
—Geoff Thomas, Pastor, Alfred Place Baptist Church, Aberystwyth, Wales
Austin Walker was born in Enfield, North London in 1946 and became a Christian at the age of 15. He graduated from Aberystwyth University, and then qualified as a secondary school teacher. In 1971 he graduated from Westminster Theological Seminary, Philadelphia. On returning to England in 1971 he taught geography in a comprehensive school and also began preaching the gospel, helping to plant a Reformed Baptist Church in Crawley, Sussex, about 20 miles south of London. In 1975 he was invited to become one of the pastors, becoming full-time in 1979, and has continued in that role until the present day.
Product Details
Title: Day One Counseling Collection (3 vols.)
Publisher: Day One
Volumes: 3
Pages: 488
More details about these resources