Wisconsin Lutheran Quarterly, 1990–2010 (84 Issues)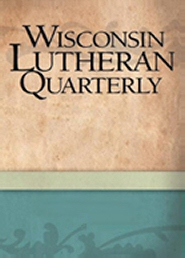 Wisconsin Lutheran Quarterly, 1990–2010 (84 Issues)
•
Runs on Windows, Mac and mobile.
Overview
Since 1904, the Wisconsin Evangelical Lutheran Synod has published a theological journal, originally called Theologische Quartalschrift, now the Wisconsin Lutheran Quarterly. This journal is issued by Wisconsin Lutheran Seminary as a testimony of its theological convictions, as a public witness to the saving truths of Holy Scripture, and in the interest of the theological and professional growth of those whom the seminary is training for the public ministry and of those already active in this ministry.
With the Logos Bible Software edition all Scripture passages in Wisconsin Lutheran Quarterly are tagged and appear on mouse-over. What's more, Scripture references are linked to the wealth of language resources in your digital library. This makes all 84 issues more powerful and easier to access than ever before for scholarly work or personal Bible study. With the advanced search features of Logos Bible Software, you can perform powerful searches by topic or Scripture reference—finding, for example, every mention of "justification" or "Paul."
Key Features
Articles, book reviews, news, and comments
Topic searches
Automatic footnotes when referenced
20 years, 84 issues of this premier academic journal (vols. 87–107)
Sample Articles
"Pastor am I Baptized?"—The Validity of Baptism
Pastoral Leadership from the Perspective of Church History
The Lutheran Doctrine of Sanctification and Its Rivals
Seventeenth Century Exegetical Brief: 1 Timothy 1:9
Seventeenth Century Pastoral Theology: Cases Concerning the Lord's Supper
"I Desire Mercy, Not Sacrifice"—Hosea 6:6
Exegetical Brief: Luke 15:7—Who Are the Ninety-Nine?
Doctrinal Challenges Facing Lutheranism in the 21st Century
Memories of Lent: An Ash Wednesday Sermon
Technology in Worship—Useful Tool or a Clanging Cymbal?
Whatever Happened to Evangelicalism?
Postmodernism among Evangelicals
Current Thinking on John's Gospel
Resurgence of Postmillennialism
Pastors and Plagiarism: Some Thoughts
Is American Catholicism in Decline?
"Christian America"—Fact or Fiction?
The Death Penalty and Biblical Morality
Contributors Include
John F. Brug
John M. Brenner
Paul E. Zell
E. Allen Sorum
Richard D. Balge
Armin J. Panning
Neal Schroeder
James F. Korthals
John D. Schuetze
Philip B. Strackbein
Alan H. Siggelkow
George König
Frederick Balduin
David J. Valleskey
Paul E. Eickmann
Richard Gurgel
Daniel P. Leyrer
and more!
Product Details
Title: Wisconsin Lutheran Quarterly, 1990–2010 (84 Issues)
Managing Editor: John F. Brug
Publisher: Northwestern Publishing House
Publication Date: 1990–2010
Pages: 6,720
About Northwestern Publishing House
The mission of Northwestern Publishing House is to deliver biblically sound Christ-centered resources within the Wisconsin Evangelical Lutheran Synod and beyond. The vision of Northwestern Publishing House is to be the premier resource for quality Lutheran materials faithful to the Scriptures and Lutheran confessions. NPH publishes materials for worship, vacation Bible school, Sunday school, and several other ministries. The NPH headquarters are located in Milwaukee, Wisconsin.
Sample Pages from the Print Edition
More details about these resources
Show More