Harry Angus Alexander Kennedy Collection (6 vols.)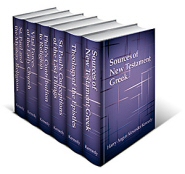 Harry Angus Alexander Kennedy Collection (6 vols.)
•
Runs on Windows, Mac and mobile.
Overview
A seminal theological scholar in the history of early Christianity, Harry Angus Alexander Kennedy's body of work is an indispensible contribution to Biblical exegesis. Beginning with the history behind the linguistic framework adopted by early Christian writers to convey their new ideas, Kennedy's fascinating research then vividly chronicles the lives of these writers as they traverse through uncertain terrain with their newfound knowledge.
Primarily centered on Paul, this 6-volume collection brings together some of the most exciting erudition on the beginnings of Christianity.
Key Features
Perfect for students, professors, and pastors
Each volume has a detailed table of contents and index
Each book is prefaced by the author
Product Details
Title: Harry Angus Alexander Kennedy Collection (6 vols.)
Author: Harry Angus Alexander Kennedy
Volumes: 6
Pages: 1,558
About Harry Angus Alexander Kennedy
Harry Angus Alexander Kennedy was born in Dornoch, Sutherland in 1866. He was a minister in the town of Callander, Scotland for eight years after studying theology at the University of Edinburgh. He went on to lecture at several universities before returning to Edinburgh to take up the chair of New Testament language and literature at New College. He published a number of critical theological books before his death in 1934.
More details about these resources