Cambridge Greek Testament for Schools and Colleges (21 vols.)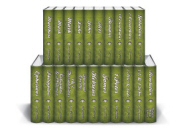 Cambridge Greek Testament for Schools and Colleges (21 vols.)
•
Runs on Windows, Mac and mobile.
Overview
Featuring 16 distinguished scholars of the New Testament, the Cambridge Greek Testament for Schools and Colleges (21 vols.) is an indispensable collection of references for studying the New Testament in its original language. Each volume contains a selected New Testament book in Greek, followed by a detailed and insightful commentary. These commentaries include outlines, verse-by-verse interpretation, historical facts, doctrinal discussions, word studies, and more. Written in an easy-to-understand style but still rich with biblical exegesis, this collection is perfect for anyone studying the New Testament in the Greek language.
A remarkable set of commentaries, this collection features well known scholars from the late 19th and early 20th centuries such as Alfred Plummer, Handley C. G. Moule, and Arthur Carr. Their recognized authority on biblical Greek leads readers to a fuller understanding of the Scriptures. Each volume also includes an in-depth introduction to the text, providing the reader with a complete overview and history of each Book of the New Testament—their authorship, their canonicity, where and why they were written, their literary history, and more. The goal may have been to produce these books for students in "schools and colleges," but these volumes are ideal for anyone studying the New Testament in the Greek language, even if your school days are long behind you!
With Logos Bible Software, the Cambridge Greek Testament for Schools and Colleges (21 vols.) are completely searchable and linked to the Greek dictionaries and English translations in your digital library. This makes these resources more powerful and easier to access than ever before for scholarly work or personal Bible study.
Please note: The Greek text will be downloaded as a separate resource from the commentaries. Link each commentary to the Greek text for side-by-side comparison and study!
Key Features
Complete New Testament in Greek
Each volume features a general and Greek index
Detailed introductions by the authors
Praise for the Print Edition
We could not point out better handbooks for the student of the Greek.
—Expository Times
One of the most popular and useful literary enterprises of the nineteenth century.
—Baptist Magazine
The value of the work as an aid to biblical study, not merely in schools, but among people of all classes who are desirous to have intelligent knowledge of the Scriptures, cannot easily be over-estimated.
—The Scotsman
The books are scholarly without being pretentious, and information is so given as to be easily understood.
—Sword and Trowel
Product Details
Title: Cambridge Greek Testament for Schools and Colleges (21 vols.)
Publisher: Cambridge University Press
Volumes: 21
Pages: 5,928