Lexham Greek-English Interlinear New Testament: SBL Edition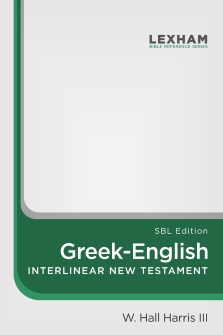 Lexham Greek-English Interlinear New Testament: SBL Edition
•
Overview
Following the model of the Lexham Hebrew-English Interlinear Bible, the Lexham Greek-English Interlinear New Testament will present two levels of interlinear translation. The first is the lexical value, which is a gloss of the lexical or dictionary form of the word. The second is the English literal translation, a contextually sensitive gloss of the inflected form of the word. The difference in these glosses is subtle, but powerful. The first gloss answers the question, "What does this word mean?" The second gloss answers the question, "What does this word mean here?"
The Greek text behind the interlinear is The Greek New Testament: SBL Edition (SBLGNT). In addition to the interlinear translations, direct links to Louw and Nida's Greek-English Lexicon of the New Testament based on Semantic Domains are provided for every Greek word. These links are context-sensitive and connect directly to the appropriate Louw and Nida article. Those familiar with Louw and Nida's lexicon know that one Greek word may have many different entries in the lexicon, one for each semantic sense. These Louw-Nida references jump to the appropriate article when there is more than one option—providing a contextually-appropriate lexicon definition for the word under study. These links will also allow for searching the New Testament text by Louw-Nida domain and article information.
Product Details
Title: Lexham Greek-English Interlinear New Testament: SBL Edition
Editor(s): W. Hall Harris III
Series: Lexham Bible Reference Series (LBRS)
Publisher: Logos Research System, Inc., 2010
Publication Date: 2010
About the Author
W. Hall Harris III received his B.A. from North Carolina State University, a Th.M from Dallas Theological Seminary, and his Ph.D. from University of Sheffield. Dr. Harris is a professor in the Department of New Testament Studies at Dallas Theological Seminary. He has traveled and ministered extensively in Western Europe, particularly in Germany and Italy. He has close ties to the German Bible Society, including work as editor of the New English Translation—Novum Testamentum Graece Diglot. Dr. Harris served as project director and managing editor of the NET Bible and has recently published a commentary on the letters of John, 1, 2, 3 John: Comfort and Counsel for a Church in Crisis. Dr. Harris teaches computer classes to utilize Internet resources for biblical study and exegesis. His current ambition is to create a syntactic database for the Greek New Testament. He remains active in local church ministry and, as an ordained minister, has served as a pastor of single adults, as an elder, and as an adult Sunday school teacher.
More details about this resource