Mobile Ed: NT146 The Arrival of Christ and His Kingdom (2 hour course)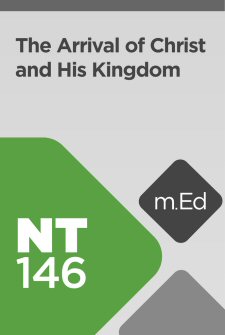 Mobile Ed: NT146 The Arrival of Christ and His Kingdom (2 hour course)
•
Runs on Windows, Mac and mobile.
Overview
This insightful course on the arrival of Christ and his kingdom is presented by a team of respected Christian theologians, including Craig A. Evans, Michael W. Goheen, Jeannine K. Brown, Mark L. Strauss, Joel Willitts, and Gerry Breshears. These scholars are well published in biblical interpretation, biblical theology, and the New Testament, and their combined expertise will allow students to gain the clearest insight as they study the New Testament. This course covers new perspectives on the eschatological expectations of first-century Judaism, the birth of the Messiah in each Gospel, and Christ's kingdom mission.
The activities resource is still under production and will be downloaded once it is completed.
Learning Objectives
Upon successful completion you should be able to:
Better understand first-century Jewish eschatological expectations amid different Jewish groups
Relate the birth of the Messiah to the arrival of the kingdom of God and the fulfillment of Old Testament passages
Explain key thematic words and theological ideas in the prologue of John's Gospel
Relate Jesus' titles of "Immanuel" and "Messiah" to Jesus' life and kingdom mission
Course Outline
Introduction
Unit 1: Messianic Expectations
The Unfolding Story of the Intertestamental Period (from BI201)
Expectations within First-Century Judaism (from BI271)
Time of Jesus: Religious and Cultural Background (from NT311)
The Royal Messiah (from BI271)
Unit 2: The Birth of the Messiah (from BI201)
The Kingdom of God (from NT315)
"The Beginning of the Gospel of Jesus the Messiah" (from NT314)
Fulfillment Formula 1 (from NT314)
Fulfillment Formula 2 (from NT314)
Fulfillment Formula 3 (from NT314)
Fulfillment Formulas 4 and 5 (from NT314)
Background of Luke 2 (from BI103)
Wisdom's Way into the World (from NT221)
Prologue: Theological Ideas (from NT323)
Unit 3: The Person of the Messiah
Jesus' Kingdom Mission: A New Way (from BI201)
Immanuel (from TH241)
Messiah (from NT305)
Gospel of John's Christology (from NT323)
Gospels as Bios:Particular Aspects in the Gospels (from NT301)
Proclaiming the Kingdom (from NT315)
Philippians 2:6–11 (from TH241)
Christ Our Peace (from NT343)
Product Details
Title: NT146 The Arrival of Christ and His Kingdom
Instructors: Craig S. Keener, Michael W. Goheen, Jeannine K. Brown, Ben Witherington III, Jonathan Pennington, Douglas Moo, Craig A. Evans, Mark L. Strauss, Joel Willitts, Lynn Cohick, Gerry Breshears
Publisher: Lexham Press
Publication Date: 2016
Product Type: Logos Mobile Education
Resource Type: Courseware, including transcripts, audio, and video resources
Courses: 1
Video Hours: 2
Getting the most out of Mobile Ed
Logos Mobile Education is a highly effective cross-platform learning environment that integrates world class teaching with the powerful study tools and theological libraries available in Logos Bible Software. Every course provides links to additional resources and suggested readings that supplement the lecture material at the end of every transcript segment.
This course was produced with screencast videos. These videos provide tutorials showing you how to use Logos Bible Software in ways that are tied directly into the content of the course. We are now producing Activities resources as a replacement for screencast videos. We plan on updating this course to include this additional Activities resource in the future for no extra charge.
More details about these resources