Mobile Ed: NT316 Book Study: The Gospel of Luke (13 hour course)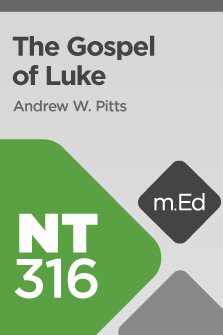 Mobile Ed: NT316 Book Study: The Gospel of Luke (13 hour course)
•
Runs on Windows, Mac and mobile.
Overview
In this course, Dr. Andrew W. Pitts works through the Gospel of Luke in short segments. He answers questions such as: What did Luke intend the reader to know? How should we read this Gospel? Who was Luke? And what message can modern readers take from this important book?
Learning Objectives
Upon successful completion you should be able to:
Take a narrative approach in explaining the gospel of Luke
Identify authorial intent when examining the record of Jesus life in Luke's gospel
Relate the stages of Jesus' life and ministry to the message and emphases found within Luke's account
Course Outline
Background Information
Preface and Origins of the Jesus Movement: Luke 1:5–52
Jesus' Preparation for Ministry: Luke 3:1–4:13
The Healing and Teaching Ministry of Jesus in Galilee: Luke 4:14–19:44
Jesus Crucified and Resurrected in Jerusalem: Luke 19:45–24:53
Product Details
Title: NT316 Book Study: The Gospel of Luke
Instructor: Andrew W. Pitts
Publisher: Lexham Press
Publication Date: 2015
Product Type: Logos Mobile Education
Resource Type: Courseware, including transcripts, audio, and video resources
Courses: 1
Video Hours: 13
About the Instructor
Dr. Andrew W. Pitts is the chair of the biblical studies department and assistant professor of biblical studies and Christian ministries at Arizona Christian University. He is editor of the Brill Exegetical Commentary and is coauthor of Fundamentals of New Testament Textual Criticism. He is also coeditor of three recently released books on early Christianity and has published articles in multiple peer-reviewed journals.
Getting the most out of Mobile Ed
Logos Mobile Education is a highly effective cross-platform learning environment that integrates world class teaching with the powerful study tools and theological libraries available in Logos Bible Software. Every course provides links to additional resources and suggested readings that supplement the lecture material at the end of every transcript segment.
This course was produced with screencast videos. These videos provide tutorials showing you how to use Logos Bible Software in ways that are tied directly into the content of the course. We are now producing Activities resources as a replacement for screencast videos. We plan on updating this course to include this additional Activities resource in the future for no extra charge.
More details about these resources