Mobile Ed: NT315 Book Study: The Gospel of Mark (8 hour course)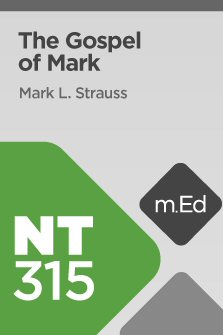 Mobile Ed: NT315 Book Study: The Gospel of Mark (8 hour course)
•
Runs on Windows, Mac and mobile.
Overview
Enjoy an in-depth study of Mark's Gospel from New Testament expert Dr. Mark Strauss. In this course, Dr. Strauss focuses on the words of Mark and the themes, theology, and purpose of the book. He describes the context of the Gospel as a whole and then examines the text passage by passage.
Grow your understanding in the New Testament. Earn a Mobile Ed Certificate of Completion when you invest in your education. Learn more about the New Testament Certificate Programs.
Learning Objectives
Upon successful completion you should be able to:
Identify how themes support the overarching theological message of Mark's gospel
Relate the life and ministry of John the Baptist to Jesus the Messiah
Understand the office of Jesus in relation to the Kingdom of God
Course Outline
Background and Introduction to Mark
Prologue: John the Baptist as the Forerunner of the Messiah
The Kingdom Authority of the Messiah
The Division of Israel
The Expanding Mission of the Messiah
The Revelation of the Messiah's Suffering
The Messiah Confronts Jerusalem
The Passion of the Messiah
The Epilogue: Resurrection and the Endings of Mark
Conclusion
Product Details
Title: NT315 Book Study: The Gospel of Mark
Instructor: Mark L. Strauss
Publisher: Lexham Press
Publication Date: 2015
Product Type: Logos Mobile Education
Resource Type: Courseware, including transcripts, audio, and video resources
Courses: 1
Video Hours: 8
About the Instructor

Dr. Mark L. Strauss is professor of New Testament at Bethel Seminary in San Diego. He has written several books, including The Davidic Messiah in Luke-Acts, Distorting Scripture?, and Luke in the Zondervan Illustrated Bible Background Commentary series.
Getting the most out of Mobile Ed
Logos Mobile Education is a highly effective cross-platform learning environment that integrates world class teaching with the powerful study tools and theological libraries available in Logos Bible Software. Every course provides links to additional resources and suggested readings that supplement the lecture material at the end of every transcript segment.
This course was produced with screencast videos. These videos provide tutorials showing you how to use Logos Bible Software in ways that are tied directly into the content of the course. We are now producing Activities resources as a replacement for screencast videos. We plan on updating this course to include this additional Activities resource in the future for no extra charge.
More details about these resources