Mobile Ed: NT314 Book Study: The Gospel of Matthew in Its Jewish Context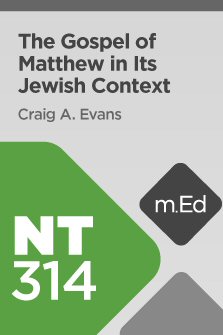 Mobile Ed: NT314 Book Study: The Gospel of Matthew in Its Jewish Context
•
Runs on Windows and Mac.
Overview
This course from distinguished New Testament professor Dr. Craig Evans discusses the original context in which Matthew wrote his Gospel, as well as his purpose for writing. Matthew wrote for those still connected to the synagogue, answering questions based upon their Jewish context. Dr. Evans takes you from the ancient context of Matthew's Gospel to applications for today.
Learning Objectives
Upon successful completion you should be able to:
Identify Jewish elements in the gospel of Matthew
Teach the book of Matthew according to themes found within the text
Relate the questions of the first ethnically Jewish believers to questions asked by modern believers in any setting
Course Outline
Introductory Matters
The Preparation for Ministry
The Sermon on the Mount
The Authority of Jesus
The Kingdom and Its Coming
Life in the New Community
The Consummation of the Age
The End of the Age
Humiliation and Exaltation of the Messiah
Product Details
Title: NT314 Book Study: The Gospel of Matthew in Its Jewish Context
Instructor: Craig A. Evans
Publisher: Lexham Press
Publication Date: 2015
Product Type: Logos Mobile Education
Resource Type: Courseware, including transcripts, audio, and video resources
Courses: 1
Video Hours: 10
About the Instructor
Craig A. Evans is Payzant Distinguished Professor of New Testament and director of the graduate program at Acadia Divinity College in Wolfville, Nova Scotia. He has written extensively on the historical Jesus and the Jewish background of the New Testament era.
Getting the most out of Mobile Ed
Mobile Ed is a highly effective mobile learning environment that incorporates the powerful study tools found in Logos Bible Software.
With any Logos library base package, you will be able to view the lectures and interact with the transcripts. For the best learning experience, we recommend you use Logos Platinum.
Readings for the courses are often tailored to Platinum because the larger library provides access to a wide range of suggested resources and increases search results for further study.
The Platinum collection best matches the resources used in screencasts. It includes a breadth of commentaries, original-language studies, and over 1,400 resources to deepen your study.