Christianity in the Making (3 vols.)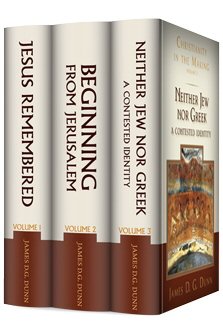 Overview
James D.G. Dunn is one of the most renowned New Testament scholars of the present day. The fruit of a lifetime of scholarship, the now complete Christianity in the Making series is truly Dunn's magnum opus. Through these volumes, Dunn traces the origins of Christianity from the time of Jesus in the New Testament, through its burgeoning with Peter, Paul, and James, to the Christological development of the Early Church Fathers in the first two centuries. Filled with penetrating insights and copious research, Dunn thoroughly explores the issues at the heart of who Jesus is how Christianity got its start.
In the Logos editions, these volumes are enhanced by amazing functionality. Important terms link to dictionaries, encyclopedias, and a wealth of other resources in your digital library. Perform powerful searches to find exactly what you're looking for. Take the discussion with you using tablet and mobile apps. With Logos Bible Software, the most efficient and comprehensive research tools are in one place, so you get the most out of your study.
Key Features
Provides in-depth look at Christianity's formation from the New Testament times through the first two centuries after Christ
Contains a lifetime of insight from a world-class contemporary New Testament scholar
Serves as ideal introduction to the issues surrounding the "quest for the historical Jesus"
Individual Titles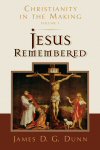 James Dunn is regarded worldwide as one of today's foremost biblical scholars. Having written groundbreaking studies of the New Testament and a standard work on Paul's theology, Dunn here turns his pen to the rise of Christianity itself. Jesus Remembered is the first installment in a monumental three-volume history of the first 120 years of the faith.
Focusing on Jesus, this first volume has several distinct features. It garners the lessons to be learned from the "quest for the historical Jesus" and meets the hermeneutical challenges to a historical and theological assessment of the Jesus tradition. It provides a fresh perspective both on the impact made by Jesus and on the traditions about Jesus as oral tradition—hence the title "Jesus Remembered." And it offers a fresh analysis of the details of that tradition, emphasizing its characteristic (rather than dissimilar) features. Noteworthy too are Dunn's treatments of the source question (particularly Q and the noncanonical Gospels) and of Jesus the Jew in his Galilean context.
In his detailed analysis of the Baptist tradition, the kingdom motif, the call to and character of discipleship, what Jesus' audiences thought of him, what he thought of himself, why he was crucified, and how and why belief in Jesus' resurrection began, Dunn engages wholeheartedly in the contemporary debate, providing many important insights and offering a thoroughly convincing account of how Jesus was remembered from the first, and why.
Written with peerless scholarly acumen yet accessible to a wide range of readers, Dunn's Jesus Remembered, together with its successor volumes, will be a sine qua non for all students of Christianity's beginnings.
This tome takes its place among the equally voluminous and deep contributions of scholars like Crossan, John Meier, N.T. Wright, and Walter Wink. . . Most important for preachers is the way Dunn interprets the words and deeds of Jesus and stories of his life as an unfolding, living tradition of interpretation. It helps us to understand our own work as part of that unfolding, living tradition. . . .
—Homiletic
Dunn is to be commended for his challenging and insightful work. It must be read by all who are interested in the field, and it is destined to become a significant conversation partner in future discussions of the historical Jesus.
—Toronto Journal of Theology
A magnificent achievement. Jesus Remembered is massively thorough and wide-ranging, innovative in its stress on orality, at times provocative, yet also immensely readable and clear. James Dunn's book will undoubtedly shape Jesus study for the next generation and more. This is a 'must' for all those engaged in study of Jesus at whatever level.
—Christopher Tuckett, professor of New Testament studies, University of Oxford
This is not just one more book on Jesus but rather an esteemed scholar's wide-ranging presentation of conclusions arrived at over a lifetime of informed, critical reflection. It is full of good sense and much learning. As always, James Dunn's work is characterized not only by a genuine familiarity with Jesus' first-century Jewish world but also by an unsurpassed knowledge of the vast secondary literature. Especially suggestive is the consistent appeal to continuing oral tradition, which often appears justified.
—Dale C. Allison Jr., professor of New Testament, Princeton Theological Seminary
In this study, one of the most prolific New Testament scholars of today presents an impressive new approach to the old 'quest for the historical Jesus.' James Dunn's central thesis that a hermeneutically informed dialogue with the ancient texts will legitimate an account of the impact of Jesus as it was remembered by his earliest followers convincingly places the oral character of the Jesus tradition at the very center of attention. The book should not only help scholarship to free itself from the prevailing literary paradigm, but also promote a healthy balance between positivistic optimism and postmodern relativism in the search for the so-called historical Jesus.
—Samuel Byrskog, professor of New Testament, University of Lund

Beginning from Jerusalem covers the early formation of the Christian faith from 30 to 70 AD. After outlining the quest for the historical church (parallel to the quest for the historical Jesus) and reviewing the sources, James Dunn follows the course of the movement stemming from Jesus "beginning from Jerusalem."
He opens with a close analysis of what can be said of the earliest Jerusalem community, the Hellenists, the mission of Peter, and the emergence of Paul. Then Dunn focuses solely on Paul—the chronology of his life and mission, his understanding of his call as apostle, and the character of the churches that he founded. The third part traces the final days and literary legacies of the three principal figures of first-generation Christianity: Paul, Peter, and James the brother of Jesus. Each section includes detailed interaction with the vast wealth of secondary literature on the many subjects covered.
Mastery of the primary and secondary sources, creativity balanced by sound judgment, and breadth of treatment based upon thorough attention to the details: this is what we have come to expect from James Dunn, and this is what we have in this book. A magnificent review and evaluation of all the major critical issues regarding the first forty years of the Christian religion.
—Dale C. Allison Jr., professor of New Testament, Princeton Theological Seminary
This mega-study of earliest Christianity combines panoramic scope, attention to specific issues and relevant evidence, familiarity with current scholarship, and a readable style. The vigorous but cordial treatment of disputed matters will not always convince but is invariably stimulating. One can only admire the bold breadth of coverage. This is vintage Dunn, a harvest of his scholarly career.
—Larry W. Hurtado, emeritus professor of New Testament language, literature and theology, University of Edinburgh
James Dunn's Beginning from Jerusalem is a teacher's dream come true. In this sequel volume to Jesus Remembered, Dunn steers his readers through a whirlwind of beginnings in the most formative period of Christianity, 30-70 AD, visiting both New Testament scenes and significant Greco-Roman sites that bring those texts to life. But unlike the usual broad-brush approach to Christianity's origins, Dunn probes into the heartthrob of these texts such that his readers experience the historical surprises and existential mysteries of this emerging 'faith' as it pulsates from within Judaism and courses out into the gentile world. . . . Combining both Dunn's enormous learning and his original insights, this very readable volume will quickly become the preferred textbook of university and seminary classes alike.
—David P. Moessner, University of Dubuque Theological Seminary and University of Pretoria

The third and final installment of James Dunn's magisterial history of Christian origins through 190 AD, Neither Jew nor Greek: A Contested Identity covers the period after the destruction of Jerusalem in 70 AD through the second century, when the still-new Jesus movement firmed up its distinctive identity markers and the structures on which it would establish its growing appeal in the following decades and centuries.
Dunn examines in depth the major factors that shaped first-generation Christianity and beyond, exploring the parting of the ways between Christianity and Judaism, the Hellenization of Christianity, and responses to Gnosticism. He mines all the first- and second-century sources, including the New Testament Gospels, New Testament apocrypha, and such church fathers as Ignatius, Justin Martyr, and Irenaeus, showing how the Jesus tradition and the figures of James, Paul, Peter, and John were still esteemed influences but were also the subject of intense controversy as the early church wrestled with its evolving identity.
Comprehensively covering an important, complex era in Christianity that is often overlooked, this volume is a landmark contribution to the field.
Here we have on full display the distilled fruits of decades of research and engagement by a mature scholar of the first rank. James Dunn engages a vast range of secondary and primary literature in a way that only a senior scholar can do, synthesizing the best insights, critically and meticulously evaluating all sources and hypotheses, and producing a masterpiece of erudition that will be foundational for future work on the subject. While respectfully interacting with a range of scholarship, this work also forges its own noteworthy conclusions, in the process sometimes challenging conventional assumptions from across the spectrum of scholarly opinion.
—Craig S. Keener, professor of New Testament, Asbury Theological Seminary
Calling this substantial book his 'farewell to the large undertakings of my writing career,' James Dunn compellingly engages developments in Christian identity from the destruction of Jerusalem in 70 AD into the late second century. Neither Jew nor Greek is awe-inspiring in scope and majestic in execution. Like a peerless master taking his craft to new heights, Dunn accomplishes his task with the clarity of thought and expression that has been a hallmark of his long-standing career. This is both sweet vintage and astute valediction.
—Bruce Longenecker, professor of religion, Baylor University
In concluding his magnum opus, James Dunn offers a powerful account of how the earliest Jesus tradition and its various renderings by Jesus' first Jewish followers came to shape and be shaped by the movement that developed from 70 to 200 AD. Students and scholars alike will find much to appreciate, argue with, and learn from.
—J.R. Daniel Kirk, associate professor of New Testament, Fuller Theological Seminary
About James D.G. Dunn
James D.G. Dunn (1939–) is emeritus Lightfoot Professor of Divinity at the University of Durham and is a leading British New Testament scholar. Dunn is a significant proponent of the New Perspective on Paul, and coined the term in a 1982 lecture. He received a PhD and DD from the University of Cambridge, and a MA and BD from the University of Glasgow. In 2002 he became only the third British scholar to be made the president of the Studiorum Novi Testamenti Societas.
More details about these resources