Eerdmans Featured Titles Upgrade (3 vols.)
Eerdmans Featured Titles Upgrade (3 vols.)
•
Overview
Featuring D.A. Carson's The Enduring Authority of the Christian Scriptures as well as new additions to the New International Greek Testament Commentary Series (NIGTC) and the New International Commentary on the Old Testament Series (NICOT), the volumes in this collection provide Bible students with exciting new insights on biblical inspiration and cutting-edge biblical scholarship. More than a decade in the making, Richard Longenecker's Romans presents a comprehensive treatment of Paul's grand epistle, interacting with structural and linguistic aspects of Romans while engaging both traditional and "new" perspectives. Mark Boda's Zechariah critically engages a key Old Testament book and illuminates its theological meaning, it's complex relationship to the New Testament, and highlights the books crucial text-critical questions.
Lastly, D.A. Carson leads an interdisciplinary and distinguished team of scholars incluing Henri Blocher, Craig Blomberg, Graham Cole, Paul Helm, Robert Kolb, Anthony Lane, Douglass Moo, Richard Lints, Andy Naselli, Timothy Tennant, Kevin Vanhoozer, Bruce Waltke, Barry Webb, and John Woodbridge as they explore different components of scriptural authority. Contributors present Scripture in relationship to a wide diversity of subjects from epistemology and world religions and linguistic analysis to historical theology.
In the Logos editions, these volumes are enhanced by amazing functionality. Important terms link to dictionaries, encyclopedias, and a wealth of other resources in your digital library. Perform powerful searches to find exactly what you're looking for. Take the discussion with you using tablet and mobile apps. With Logos Bible Software, the most efficient and comprehensive research tools are in one place, so you get the most out of your study.
Key Features
Features the latest volumes in the distinguished NIGTC and NICOT commentary series
Includes the highly anticipated The Enduring Authority of the Christian Scriptures
Provides cutting-edge scholarship that serves both the acadey and the church
In this volume, thirty-seven celebrated evangelical scholars present a thorough study of biblical authority and a full range of issues connected to it.
D.A. Carson serves as editor for this volume. He has assigned the topics based upon a recognition that Scripture and its authority are now being both challenged and defended with renewed vigor. After an introduction by Carson to the many facets of the current discussion, contributors present robust essays on relevant historical, biblical, theological, philosophical, epistemological, and comparative-religion topics. Carson concludes by answering a number of frequently asked questions about the nature of Scripture, cross-referencing these queries to info in preceding chapters.
This comprehensive volume by a team of recognized experts will be an essential reference on the nature and authority of the Bible for years to come. Contributors include Henri Blocher, Craig Blomberg, Graham Cole, Paul Helm, Robert Kolb, Anthony Lane, Douglass Moo, Richard Lints, Andy Naselli, Timothy Tennant, Kevin Vanhoozer, Bruce Waltke, Barry Webb, John Woodbridge, and more!.
D.A. Carson is one of the most respected New Testament scholars in the world. A respected teacher, author, and speaker, he is currently research professor of New Testament at Trinity Evangelical Divinity School, and the president of The Gospel Coalition.
He has served as pastor of Richmond Baptist Church and as the first dean of the seminary of Northwest Baptist Theological College, now known as Northwest Baptist Seminary. Carson lectures in academic and church settings around the world, and is the author of more than 50 books, including Exegetical Fallacies, The Farewell Discourse and Final Prayer of Jesus: An Exposition of John 14–17, and Showing the Spirit: A Theological Exposition of 1 Corinthians 12–14. He is the editor of the Pillar New Testament Commentary series, and was coeditor of the Commentary on the New Testament Use of the Old Testament with G.K. Beale, and the Studies in New Testament Greek series with Stanley Porter.

Over the centuries, the prophetic book of Zechariah has suffered from accusations of obscurity and has frustrated readers seeking to unlock its treasures. This work by Mark Boda provides insightful commentary on Zechariah, with great sensitivity to its historical, literary, and theological dimensions. Including a fresh translation of Zechariah from the original Hebrew, Boda delivers deep and thorough reflection on a too-often-neglected book of the Old Testament.
The book of Zechariah fascinates us and informs us about the postexilic Judean community's relationship with God. Mark Boda, a master of this time period and this genre, opens up the book to readers today. His commentary is clear and profound, informative and illuminating. Everyone who studies Zechariah must read Boda's work, which makes an important contribution to scholarship and to the church.
—Tremper Longman III, Robert H. Gundry Professor of Biblical Studies, Westmont College
A most welcome addition to the excellent NICOT series. Boda is an established expert on this difficult and wonderful book, and here he brings his huge learning to bear on it in such a way as to unfold its many dimensions. His commentary is always accessible and is governed by a deep concern to interpret theologically and pastorally. . . A model for interpreting the Prophets and, indeed, the whole Old Testament.
—Gordon McConville, professor of Old Testament theology, University of Gloucestershire
In this substantial commentary Boda brings to a climax his many years of detailed study of Zechariah, deploying his considerable scholarly strengths in a comprehensive yet clear manner. . . This volume will serve for many years as a standard resource for scholars and laypeople alike.
—H.G.M. Williamson, Regius Professor of Hebrew, University of Oxford
A major and comprehensive commentary on Zechariah. It is replete with a fresh translation, detailed philological and text-critical notes, and commentary using a variety of critical perspectives, with particular attention to intertextual issues. . . Anyone interested in the book of Zechariah will need to consult this volume.
—David L. Petersen, Franklin N. Parker Professor Emeritus of Old Testament, Candler School of Theology
This fine exposition of Zechariah represents a most welcome addition to commentary on this book. Mark Boda has a great eye both for the detail of the text and for its intertextuality.
—Iain Provan, Marshall Sheppard Professor of Biblical Studies, Regent College
Mark J. Boda is chair of Old Testament at McMaster Divinity College in Hamilton, Ontario. He is the author or editor of several works, including the IVP Dictionary of the Old Testament: Prophets and Translating the New Testament: Text, Translation, Theology.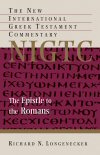 This highly anticipated commentary on the Greek text of Romans by veteran New Testament scholar Richard Longenecker provides solid scholarship and innovative solutions to long-standing interpretive problems. Critical, exegetical, and constructive, yet pastoral in its application, Longenecker's monumental work on Romans sets a course for the future that will promote a better understanding of this most famous of Paul's letters and a more relevant contextualization of its message.
Paul's letter to the Romans is like Mount Everest in its grandeur and beauty. How fitting it is, then, for one of the deans of New Testament scholarship, Richard Longenecker, to present his interpretation of the letter in this magisterial commentary. All the virtues of Longenecker's work are evident here: in-depth exegesis, careful evaluation of the literary and historical setting of the letter, and consideration of the letter's message for readers today. Interpreters of Romans are indebted to Longenecker and will want to consult his work regularly.
—Thomas R. Schreiner, James Buchanan Harrison Professor of New Testament Interpretation and professor of biblical theology, Southern Baptist Theological Seminary
With characteristic care, thoroughness, and insight, Richard Longenecker delivers what he promises: appreciative interaction with the interpretation of Romans over the centuries; critical, exegetical, and pastorally sensitive analysis of the text; and contextual reflections on this most influential of Paul's letters in contemporary terms. All serious students of Paul would do well to read this commentary; it will become a standard resource and guide for many years to come.
—Susan Eastman, associate research professor of New Testament, Duke Divinity School
In every generation two or three commentaries on Romans appear that define the discussion for years to come. This commentary by Richard Longenecker is just such a work. It is clearly and judiciously written and comprehensive in scope. In addition to dealing with all of the relevant ancient and modern literature on Romans, it provides a close reading of the Greek text without losing the reader's attention. Most importantly, it highlights the theological content and continuing importance of Romans for the church today. I enthusiastically recommend Longenecker's work for those who want to engage Romans seriously on an exegetical and theological level.
—Frank J. Matera, professor, Catholic University of America
Richard N. Longenecker is professor emeritus of New Testament at Wycliffe College, University of Toronto. His many other books include The Christology of Early Jewish Christianity, New Testament Social Ethics for Today, Introducing Romans: Critical Issues in Paul's Most Famous Letter, and the New International Greek Testament Commentary volume on Romans.
More details about these resources