Eerdmans New Testament Studies Upgrade (3 vols.)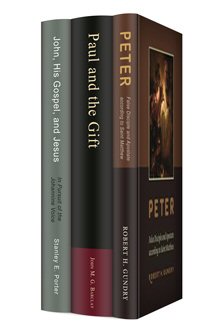 Eerdmans New Testament Studies Upgrade (3 vols.)
•
Runs on Windows, Mac and mobile.
Overview
This collection gathers unique views of several topics in New Testament studies. Authored by some of today's leading New Testament scholars, these works bring fresh insight to John's portrayal of Jesus, examine grace in the Pauline epistles, and contain a thought-provoking interpretation of Peter in Matthew. Full of rigorous scholarship and rich theological perspectives, these texts are both accessible and academically rigorous.
In the Logos editions, these volumes are enhanced by amazing functionality. Important terms link to dictionaries, encyclopedias, and a wealth of other resources in your digital library. Perform powerful searches to find exactly what you're looking for. Take the discussion with you using tablet and mobile apps. With Logos Bible Software, the most efficient and comprehensive research tools are in one place, so you get the most out of your study.
Key Features
Highlights John's unique contribution to the portrayal of Jesus
Brings a game-changing perspective into the discussion of grace in Paul's letters
Provides a thought-provoking interpretation of Peter
Product Details
Title: Eerdmans New Testament Studies Upgrade
Publisher: Eerdmans
Publication Date: 2015
Volumes: 3
Pages: 1,120
Resource Type: Monographs
Topic: New Testament
Individual Titles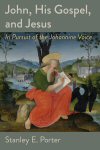 In this volume, Stanley Porter tackles a variety of important and often highly contentious topics within the Gospel of John as a means of defining and capturing the distinctive Johannine voice. Subjects discussed include John in relation to competing Gospels, the public proclamation of Jesus in John, the sources of John's Gospel, John's prologue, the "I Am" sayings, the notion of truth, the Passover theme, and the ending of the book.
Each chapter puts forward new and insightful proposals regarding the topics concerned. Porter does not shy away from matters that have often perplexed Johannine scholars, and he confronts some of the viewpoints that have led to confusion in the field. In exploring John's unique perspective and voice, Porter makes a significant contribution to the wider fields of Jesus studies and New Testament investigation.
In this bold and insightful book on John, Stanley Porter plies the same rigorous scholarship he has demonstrated in Synoptic studies toward discerning the authentic voice of the Fourth Gospel. . . . Refusing to relegate the Johannine Gospel to the product of a backwater, sectarian community, Porter restores it to its rightful place at the table—at the center of Gospel and Jesus studies alike.
—Paul N. Anderson, professor of biblical and Quaker studies, George Fox University
Stanley Porter's studies on the Gospel of John are rich with grammatical, textual, and exegetical insights. Readers will especially appreciate how he integrates John's prologue, the 'I am' statements, and chapter 21 into the Gospel as a whole, in welcome contrast to scholarship that historically has tended to interpret these elements as in various ways alien or supplemental.
—Craig A. Evans, professor of New Testament, Acadia Divinity College
Stanley E. Porter is a respected expert in Greek and New Testament studies best known for his works on verbal aspects in New Testament Greek. He is a respected expert in Greek and New Testament studies worldwide, and is actively involved in OpenText.org and the Linguistics Institute of Ancient and Biblical Greek. He is also a regular columnist for Christian Week.
Porter currently serves as president, dean, and professor of New Testament at McMaster Divinity College. He is the author or editor of numerous studies in the New Testament and Greek language, including Idioms of the Greek New Testament, 2nd ed., Discourse Analysis and the New Testament: Approaches and Results, and Dictionary of New Testament Background.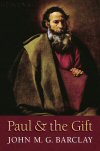 In this book esteemed Pauline scholar John Barclay presents a strikingly fresh reading of grace in Paul's theology, studying it in view of ancient notions of "gift" and shining new light on Paul's relationship to Second Temple Judaism. Paul and the Gift centers on divine gift-giving, which for Paul, Barclay says, is focused and fulfilled in the gift of Christ. He offers a new appraisal of Paul's theology of the Christ-event as gift expressed in Galatians and Romans, and he presents a nuanced and detailed discussion of the history of reception of Paul. This theologically-informed and hermeneutically-useful book shows that a respectful, though not uncritical, reading of Paul contains resources that remain important for Christians today.
What else can possibly be said about 'grace' in the letters of Paul? Quite a lot, as it turns out. John Barclay reveals just how little we have grasped the multitude of ways in which grace—'the gift'—was parsed among Paul's contemporaries, including questions of reciprocity and the worth of recipients. The resulting bold proposal for reorienting Pauline theology is a landmark in New Testament scholarship.
—Beverly Roberts Gaventa, professor of New Testament, Baylor University
We have come to expect superb work from John Barclay, but that should not lessen our appreciation when it appears! Barclay's magisterial analysis results in a powerful and compelling new understanding of Paul's theology of grace that cuts across traditional debates and disciplinary categorizations, remaps Paul's location among his fellow Jews, and manages to be both historically sensitive and theologically rich. This major work should—and no doubt will—be very widely discussed.
—David G. Horrell, professor of New Testament studies, University of Exeter
John M.G. Barclay is Lightfoot Professor of Divinity at the University of Durham, succeeding the position held by James D.G. Dunn. He is the author of Jews in the Mediterranean Diaspora, Negotiating Diaspora: Jewish Strategies in the Roman Empire, and Colossians and Philemon, part of the T & T Clark Bible Guides Collection.
After surveying various wide-ranging assessments of Matthew's portrayal of Peter, Robert Gundry offers a brand-new analysis, examining every Matthean passage where Peter's name occurs as well as passages where Matthew apparently omitted the name though it occurs in his sources. Gundry places Matthew's portrayal of Peter within the framework of two major, distinctive themes in the First Gospel—the church as a mixed body of true and false disciples and persecution as exposing false discipleship. Gundry uses this investigation to support his claim that Matthew portrays Peter as a false disciple and apostate, like Judas Iscariot, and that Peter's denials of Jesus rule him out of God's kingdom.
In this highly controversial work on Peter, Robert Gundry's intellectual gifts and remarkable powers of analysis are displayed to an even higher degree than in his previous publications. . . . Those who pay close attention to this brief but unusually weighty book will not be able to read Matthew in quite the same way that they did before.
—Moisés Silva, professor emeritus of New Testament, Gordon-Conwell Theological Seminary
Peter, long thought to be 'prince of the apostles' and one of the heroes of the Gospel of Matthew, is shown here to be neither. This extraordinarily closely-argued volume by Robert Gundry offers a compelling case that Matthew constructs the figure of Peter as a failed disciple and an apostate. . . . A courageous book that will require scholars to reassess how the Peter of Matthew came to be, in Gundry's words, 'airbrushed' and turned into a model disciple and central figure in ecclesiastical memory.
—John S. Kloppenborg, professor of religion, University of Toronto
If Bob Gundry is known for anything, it is for his dogged pursuit of the meaning of Scripture. Here he once again provides fresh, penetrating analysis—in the present case, leading to an unsettling conclusion. Provocative, as he can often be, Gundry is never boring but always instructive and well worth a careful reading.
—Donald A. Hagner, professor of New Testament, Fuller Theological Seminary
More details about these resources