James Hope Moulton Greek Studies Collection (5 vols.)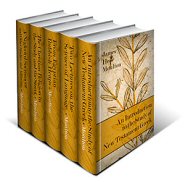 James Hope Moulton Greek Studies Collection (5 vols.)
•
Runs on Windows, Mac and mobile.
Overview
James Hope Moulton dedicated his life to the study of language and to the study of Koine Greek in particular. Though best known for his large reference grammar (Moulton-Howard-Turner) and supplementary lexicon, Vocabulary of the Greek Testament, his contributions to the study of Greek papyri more generally and his experience as a linguist and missionary are equally important. The James Hope Moulton Greek Studies Collection (5 Vols.) brings together a number more accessible contributions to the study of Scripture, linguistics, New Testament Greek, and even missiology from this noted scholar.
Today, James Hope Moulton is best remembered for his work in the study of New Testament grammar and lexicography. Yet at the same time, his passion for Biblical studies and the gospel message and mission cannot be overlooked. This five volume collection of his works covers as broad a range of topics as Moulton himself did during his career. Though his interest in Hellenistic Greek unifies the collection, each of these works sheds light on his career in the academy and in the church, reflecting the effort he put into balancing academic study with practical ministry.
With these titles now available for Logos Bible Software, Moulton's scholarship is even more accessible. Side discussions about grammar or papyri as they relate to the Biblical text are placed at your fingertips. What's more, Moulton's views on a variety of issues are now completely searchable; with scripture appear on mouse-over, as well as being linked to the Greek and Hebrew texts and English translations in your library.
Key Features
Introductory discussions and explanations of New Testament Greek grammar
Accessible lectures and sermons on a variety of topics related to New Testament study
Popular descriptions of the value of the papyri discoveries in Egypt
Product Details
Title: James Hope Moulton Greek Studies Collection (5 vols.)
Author: James Hope Moulton
Volumes: 5
Pages: 950
About James Hope Moulton
James Hope Moulton was born in 1863. The son of Dr. William F. Moulton, he followed in his father's footsteps as a scholar of Ancient Greek. Moulton attended King's College at Cambridge before becoming a tutor at the Wesleyan College in Didsbury, Manchester in 1902. As his renown grew as a linguist and scholar, he was appointed as the Greenwood Professor of Hellenistic Greek and Indo-European Philology at Manchester University in 1908. During the academic lull caused by World War I, Moulton traveled to India as a missionary in October, 1915. It was on his return home that the ship they were traveling on was torpedoed by a German U-boat in the Gulf of Lion south of France. James Hope Moulton died at sea after three days in a lifeboat on April 9th, 1917. On hearing of the tragedy, Adolf Deissmann wrote to Moulton's brother William, "I received the sad news of the sudden tragic death of your brother, my most intimate friend in England and my deserving colleague."
More details about these resources