Moulton-Howard-Turner Greek Grammar Collection (5 vols.)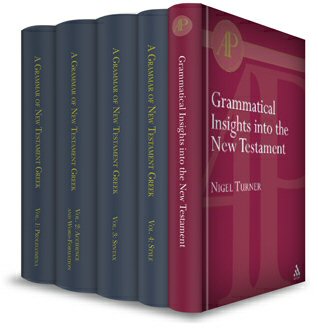 Moulton-Howard-Turner Greek Grammar Collection (5 vols.)
•
Runs on Windows, Mac and mobile.
Overview
At the heart of this collection is the Grammar of New Testament Greek, begun by J.H. Moulton in 1906 and finished by Nigel Turner in 1976. In four volumes the authors have covered every aspect of the Greek language as it applies to the New Testament. Their thought-provoking analysis is supplemented by a multitude of invaluable charts and indices.
Together with the grammar is Turner's Grammatical Insights into the New Testament. This volume covers a number of controversial subjects that were beyond the scope of the grammar. It demonstrates the theologically vital information one can garner by applying knowledge of Greek to the study of the New Testament.
This collection represents over seventy years of New Testament Greek scholarship. Each included work is characterized by solid erudition and innovative thought expressed in enjoyable prose. As compelling as it is comprehensive, the Moulton-Howard-Turner Greek Grammar Collection is an invaluable resource for advanced students of New Testament Greek. As useful as it is readable, it takes its place by the side of Blass-Debrunner-Funk and Robertson as a necessary tool for the exegesis of the Greek New Testament.
Product Details
Title: Moulton-Howard-Turner Greek Grammar Collection (5 vols.)
Authors: James Hope Moulton, Nigel Turner, Wilbert Francis Howard
Publisher: T. & T. Clark
Volumes: 5
Pages: 1,611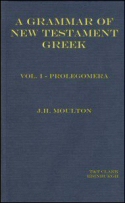 A Grammar of New Testament Greek Vol. 1: Prolegomena
Author: J. H. Moulton
Publisher: T. & T. Clark
Publication Date: 2006
Pages: 289
The Prolegomena introduces foundational principles or premises upon which the subsequent three volumes build. It provides a sketch of the language of the New Testament. Originally published in 1906, its wide-spread success led to a second and third edition being released in the following two years. A hundred years later, A Grammar of New Testament Greek Vol. 1 is still considered an excellent starting point for students of advanced NT Greek.
Prolegomena's lasting popularity stems from its lucid exposition of its subject and its unprecedented position on New Testament Greek. Grammars written prior to Moulton's assessed the NT Greek in terms of the literary style of Greek evidenced in formal writing. Moulton bases his grammar upon recently discovered (at the time) Greek papyri which shows the influence of common Koine Greek on the New Testament authors. These papyri help clarify the grammar and meaning of numerous biblical passages.
Chapters include: General Characteristics of NT Greek, History of the 'Common' Greek, Notes on the Accidence, Syntax: the Noun, Adjectives, Pronouns, Prepositions, The Infinitive, and multiple sections concerning The Verb. Also included are an Index of Quotations, Index of Greek Words and Forms, and Index of Subjects.
Revolutionary in its own time, Prolegomena's lively prose and erudite review of NT Greek continue to enlighten scholars and students today.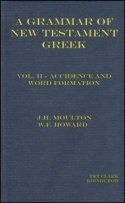 A Grammar of New Testament Greek Vol. 2: Accidence and Word-Formation
Authors: J. H. Moulton, W. F. Moulton
Publisher: T. & T. Clark
Publication Date: 1963
Pages: 541
Originally published in three parts between 1919 and 1929, Accidence and Word-Formation deals with three essential components of New Testament Greek: sounds and writing, accidence (word inflection, noun declension and verb conjugation), and word formation. Although written for the advanced student, the content never fails to be clear, precise and engaging.
Accidence and Word-Formation also includes a substantial essay on the prevalence of Semitisms in the New Testament. Moulton's death in 1917 required his pupil W. F. Howard to finish this volume. However, the intent of the original author to emphasize the influence of common vernacular on NT Greek remains. The purpose of this essay is to reconcile this view with scholarship on Semitic idioms in the New Testament appearing since the Prolegomena's publication.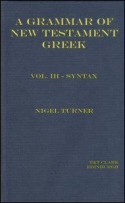 A Grammar of New Testament Greek Vol. 3: Syntax
Authors: J. H. Moulton, N. Turner
Publisher: T. & T. Clark
Publication Date: 1963
Pages: 417
With the death of W. F. Howard in 1952, responsibility to continue Moulton's grammar fell to Nigel Turner. A careful and cogent addition, Turner's Syntax continues the preceding volumes' legacy of exceptional scholarship, with one difference. Turner's analysis suggests that "Biblical Greek is a unique language with a unity and character of its own." Unlike Moulton, Turner emphasizes the originality of the language found in the Greek of the New Testament. The differing viewpoint allows the reader a second look at Biblical Greek, widening the scope of their study.
Though edifying to any student of Greek, Syntax is specially designed for three classes of reader: first, the teacher with an interest in exegesis, or the Bible translator who wishes to know the exact significance of every construction; second, the textual critic for whom characteristic differences in the author's style may help to decide between variants; and lastly, the student of comparative philology concerned with the relationship of Biblical Greek to classical and Hellenistic.
The volume is constructed according to the building up of the Greek sentence. It begins with word-material for sentence-building, moves on through the analysis of word-groups defining nouns or adjectives to word-material defining the verb.
The second part of the grammar concerns the complete sentence and its syntax. It features sections on the ordinary simple sentence and its construction and on different types of sentences and their varying structures.
Additional resources include an abundance of examples, information about the frequency of the occurrence of certain usages, and other fruits of wide reading and research make Syntax ideal for teachers and students of varying interests and requirements.
All who work with the Greek text of the New Testament should find [Syntax] valuable.
—John H. Skilton, Westminster Theological Journal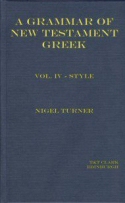 A Grammar of New Testament Greek Vol. 4: Style
Authors: J. H. Moulton, N. Turner
Publisher: T. & T. Clark
Publication Date: 1976
Pages: 166
Seventy years after the first volume's publication, Turner brings the grammar to its conclusion. He has rounded off the set in a fashion that should prove both useful and interesting to all students of the New Testament Greek.
Style is divided up largely by authors, closely analyzing their distinctive grammatical and linguistic features. Turner discusses the lexical and syntactical features of the various writings which are of special interest in each case. The more general categories of word order, rhetoric, parallelism and parenthesis are also examined. Supplemental charts and indices are included as well.
Ample space is given to exploring the ways in which each authors' dialect or variety of Greek is distinctive from the common Koine. Particular attention is given to Semitic influences in the text.
It would not be easy to locate elsewhere the impressive collection of data which has been assembled here.
—Z. C. Hodes, Bibliotheca Sacra
His work is as stimulating as it is sane and scholarly.
—Philip Edgcumbe Hughes, Westminster Theological Journal
Grammatical Insights into the New Testament
Authors: J. H. Moulton, N. Turner
Publisher: T. & T. Clark
Publication Date: 1966
Pages: 198
Grammatical Insights is an extension of Nigel Turner's conclusions in Moulton's Grammar of New Testament Greek. This wide-ranging and illuminating study, invaluable to Greek and non-Greek scholars alike, provides a positive contribution to the permanent meaning of controversial passages in the New Testament.
Here, Turner is concerned as much with the neophyte exegete as he is with the seasoned Greek scholar. For the novice, he offers a series of compelling examples of the effect grammar has on New Testament theology. For the scholar, he offers an expansion of his work in Moulton's Grammar, directing the ideas presented there into territories barred by the grammar's scope.
Chapters include "The Grammar of God," "Jesus of Nazareth," "Saul of Tarsus," "St. Paul's Teaching," "Saint John," and "Other Writers." A concluding chapter deals with a problem to which Turner has been giving much study and thought, "The Language of Jesus and his Disciples."
Many scholars view Moulton's Grammar as one of the pivotal works in New Testament Greek studies produced in the last century. By pairing the scholarly excellence of this work with the language and grammar tools of the Logos Bible Software system, Logos has developed an amazing resource for the study of New Testament Greek.
This title is only one of the premier texts on Greek grammar already a part of the Logos Bible Software library. A Grammar of New Testament Greek contains numerous citations to works such as A.T. Robertson's Grammar of the Greek New Testament in the Light of Historical Research, Max Zerwick's Biblical Greek, and Walter Bauer's A Greek-English Lexicon of the New Testament and Other Early Christian Literature Third Edition. With Libronix's in-text citation keylinking, you can move between grammars, enhancing your study with a diverse range of viewpoints.
By adding Greek language searching, lexicon resources, topical studies, and the standard in-text searching you expect from Logos, adding a five volume set like the Moulton-Howard-Turner Greek Grammar Collection to your Logos Bible Software makes it more accessible and, therefore, easier to study.
In a time when there is insufficient recognition of the large contribution which Greek grammar and syntax can make to our understanding of the New Testament a volume such as Turner's is welcome indeed.
—John H. Skilton, Westminster Theological Journal
About the Authors
James Hope Moulton (1863–1917) was born in Richmond, Surrey. A Wesleyan minister, Moulton held various academic appointments. The most important of which was Greenwood professor of Hellenistic Greek and Indo–European philology at the University of Manchester. He was awarded a number of honorary degrees by leading British and German universities, and published many books and papers on Zoroastrianism and the Greek texts that the Bible is derived from. His main writings are An Introduction to the Study of New Testament Greek, The Science of Language and the Study of the New Testament , Grammar of New Testament Greek Vol. 1, Early Religious Poetry of Persia, Early Zoroastrianism, Religions and Religion, From Egyptian Rubbish Heaps, British and German Scholarship, The Treasure of the Magi, A Neglected Sacrament and Other Studies and Addresses, and The Christian Religion in the Study and the Street. He died of exposure after the ship on which he was returning from a tour of India was torpedoed and sunk.
Nigel Turner (1916- ) was Reader in Theology at the University of Rhodesia. He helped translate the New English Bible. He is also the author of Christian Words, The Art of the Greek Orthodox Church, and contributed to An Index to Aquila, Greek-Hebrew, Hebrew-Greek, Latin-Hebrew, with the Syriac and Armenian Evidence.
Wilbert Francis Howard (1880-1952) authored Christianity According to St. John, The Romance of New Testament Scholarship, and The Fourth Gospel in Recent Criticism and Interpretation.