A History of Christian Doctrine (2 vols.)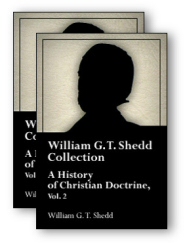 Overview
Shedd's 2-volume History of Christian Doctrine was written after several years of preparation, and offers a comprehensive account of the gradual construction of all the doctrines of Christianity. Shedd believed that the history of Christian doctrine was one of the strongest defenses of the Christian faith, and his History centers on Nicene trinitarianism, Augustine anthropology, and Anselmic soteriology.
Key Features
Two volumes of the historical account of the doctines of Christianity
Overview of philosophical influences
Explores history of Christian anthropology
Ideal or pastors, students, and laity
Praise for the Print Edition
We hold that this is the most important contribution that has been made to our theologicalliterature during the present age.
—Presbyterian Standard
I have often referred to Shedd's History of Christian Doctrine in preperation for class, for personal understanding of difficult issues, and for solid evangelical encouragement.
—Dr. Tom Nettles, Professor of Historical Theology, Southern Baptist Theological Seminary, Louisville, Kentucky
Product Details
Title: A History of Christian Doctrine (2 vols.)
Publisher: Charles Scribner & Co.
Author: William G. T. Shedd
Volumes: 2
Pages: 916
Individual Titles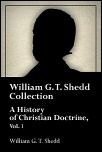 Volume 1 contains an overview of the philosophical influences on the Early Church, including Platonism, Aristotelianism, and other philosophical schools which left the imprint on the development of theology. He also chronicles the relationship between reason and revelation, and provides a history of Trinitarian theology and Christology.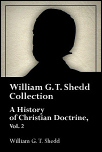 Volume 2 of Shedd's History of Christian Doctrine explores the history of Christian anthropology, including theories of the soul and conceptions of pre-existence. Shedd argues that the influence of Greek anthropology can be seen in the development of theology in the Early Church, and in the doctrine of original sin articulated by Tertullian, Cyprian, Hilary, Ambrose, and Augustine. The history of original sin concludes with Luther, Calvin, Melanchthon, and Zwingli's connection between original sin and regeneration.
Shedd also offers a sweeping history of soteriology from the beginning of the church to the modern era, and surveys Abelard, Bonaventure, Aquinas, Duns Scotus, and others, along with the perennial emergence of Pelagianism and semi-Pelagianism in the church. He concludes with a survey of eschatology, including conceptions of Christ's second coming from various traditions within the church.
About William G. T. Shedd
William G. T. Shedd was born in 1820 in Acton, Massachusetts. He attended the University of Vermont, where he studied under James Marsh and encountered the writings of Samuel Taylor Coleridge. He graduated in 1839 and entered Andover Theological Seminary, where he studied under Leonard Woods. At Andover, he became committed to Calvinism in general and Presbyterianism in particular. Upon graduating in 1843, he became a minister at the congregational church in Brandon, Vermont for two years. He taught at the University of Vermont from 1845 to 1852, at Auburn Theological Seminary from 1852 to 1854, and at Andover Theological Seminary from 1854 to 1862. He began teaching at Union Theological Seminary in 1864, where he remained until his death in 1894. While at Union, he defended the Reformed theology of Old School Presbyterianism against the increasing influence of modernism and higher criticism. In addition to the works included in this collection, he is also well-known for his 7-volume Complete Works of Samuel Taylor Coleridge and his Dogmatic Theology.
More details about these resources