Christian Focus Reformed Heritage Collection (14 vols.)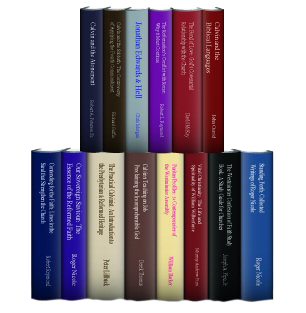 Christian Focus Reformed Heritage Collection (14 vols.)
•
Runs on Windows, Mac and mobile.
Overview
The Christian Focus Reformed Heritage Collection is full of the edifying, challenging, and rigorous discussions that you would expect to find in such a collection. This selection of books contains such varied themes within Reformed tradition as a comprehensive look at Calvin's views on the Sabbath, the atonement, biblical languages and his teaching on the book of Job. This collection also includes an analysis of Jonathan Edwards' theology of Hell in response to a growing interest in annihilationism, collected writings of theologian Roger Nicole, and over 50 profiles of important figures in the Puritan movement. This hand-picked compilation of literature has something for everyone—from those who are looking for an introduction and rudimentary understanding of Reformed theology to those that might be looking to augment an already encyclopedic awareness of Reformed thought.
In a 2006 cover story for Christianity Today, Collin Hansen wrote, "Calvinism is making a comeback—and it is shaking up the church." The September, 2009 issue of Christianity Today features a likeness of Calvin and a cover story entitled "John Calvin: The Comeback Kid." This resurgence in Reformed theology is an exciting time for the Church. No matter what your theology, it is hard to negate the importance of deep thinking and sound doctrine to the body of Christ. The revival of Calvinism is a recovery of the kind of thinking that the Church has been, and should be, known for.
With the Logos Bible Software edition of the Christian Focus Reformed Heritage Collection, all Scripture passages are tagged to original language texts and English Bible translations. That makes your theology books easier to access than ever before for scholarly work or personal study. With the advanced search features of Logos Bible Software, you can perform powerful searches by topic or Scripture reference—finding, for example, everything said in the Westminster and Belgic Confessions, the Heidelberg Catechism and the Canons of Dort about a particular passage of Scripture.
Key Features
A collection of talks given by theologian Roger Nicole to the Philadelphia Conference for Reformed Theology
23 Papers and articles written by Roger Nicole
Analysis of Calvin's views on topics like the Sabbath, atonement, biblical languages, and his teachings on the book of Job
A 26-lesson study of the Westminster Confession of Faith with a section for each lesson specifically for those teaching the confession
A systematic theology of covenantal theology and a look at covenantal theology through the lens of contemporary issues
A historical look at the Reformed heritage
Distinctives of American Presbyterianism
The practical implications of the five points of Calvinism
The complete Westminster Confession of Faith
The Belgic Confession
The Heidelberg Catechism
The Canons of Dort
Product Details
Title: Christian Focus Reformed Heritage Collection
Volumes: 14
Pages: 4,172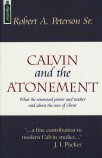 Calvin and the Atonement
Author: Robert A. Peterson Sr.
Publisher: Christian Focus Publications
Publication Date: 2009
Pages: 160
John Calvin had a profound understanding of the atoning work of Christ. In this book, Robert Peterson first examines what Calvin says regarding the love of God, the Incarnation, and Christ's offices of Prophet, Priest and King. He goes on to consider Calvin's comments on other aspects of Christ's work: he is the Second Adam, the Victor, the Substitute, the Sacrifice and the Example.
Calvin dealt with Christ's saving ministry, as with all other biblical themes, in a different way. . . . Dr. Peterson's monograph lays out the elements of this synthesis in a way that Calvin himself would certainly have approved. The task has not been tackled in print before in so adequate a manner, and this essay is something of a milestone. I commend it heartily, both as a fine contribution to modern Calvin studies and as a worthy presentation of insights into a central theme of scripture from one of the greatest Bible expositors of all.
—J. I. Packer, Board of Governors' Professor of Theology, Regent College, Vancouver, Canada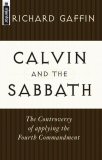 Calvin and the Sabbath: The Controversy of Applying the Fourth Commandment
Author: Richard Gaffin
Publisher: Christian Focus Publications
Publication Date: 2009
Pages: 176
Calvin's views on the Sabbath are the subject of claim and counterclaim. This book brings together two controversial themes: Calvin's ideas on Church/state relationships and on the Sabbath. Richard Gaffin traces the development of Calvin's beliefs through his comments and writings. Gaffin also helps us to understand the relationship between the Ten Commandments and the New Testament. Not only does Gaffin show what Calvin thought, he also critiques his conclusions and compares them to other Reformers and confessional statements of the period. Calvin's conclusions have a much wider implication than on how we honor the Sabbath; Griffin's analysis is both surprising and thought provoking.
This is a most interesting study, and, incidentally, a reminder that no mere man is our ultimate authority for belief or practice.
—David McKay, Reformed Theological College
Richard Gaffin is the Professor of Biblical and Systematic Theology at Westminster Seminary.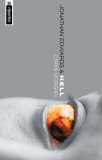 Jonathan Edwards & Hell
Author: Chris Morgan
Publisher: Christian Focus Publication
Publication Date: 2004
Pages: 176
There are many who find the doctrine of Hell disturbing and uncomfortable. It sits uneasily with many Christians, and is a doctrine that for many preachers, gathers dust, filed away somewhere quiet. For those who find Hell a problem, a far more comfortable option has been redeveloped, and has gathered support in recent years. It is annihilationism, an idea that proposes that rather than the lost suffering an endless punishment in Hell they are destroyed. It is not a new idea.
Evangelical authors have penned critiques highlighting the weakness of annihilationism but Chris Morgan goes further, summarizing the strengths and weaknesses of the major protagonists on both sides. He also points to America's most influential theologian, Jonathan Edwards, as an example of how to best answer annihilationism's claims.
Edwards used all the weapons he had at his disposal to present a convincing and effective response to those proposing the doctrine in his day, one that those who seek to respond to annihilationists today will benefit from.
Chris Morgan is Associate Dean and Professor of Theology at California Baptist University. He has taught at Mid-America Baptist Theological Seminary and at Golden Gate Theological Seminary and is Senior Pastor of First Baptist Church of Barstow, California.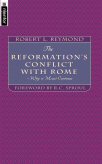 The Reformation's Conflict with Rome: Why it Must Continue
Author: Robert L. Reymond
Publisher: Christian Focus Publication
Publication Date: 2001
Pages: 160
Written in an inoffensive yet honest way, Robert Reymond has studied the essential divisions between Roman Catholics and the Reformed church to find out the real issues and points of conflict.
Reymond looks at historical watersheds of doctrine, the development of Roman Catholic authority and contemporary attempts at rapprochement (including 'Evangelicals and Catholics Together' and Robert Sungenis' 'Not by Faith Alone'). In doing so he helps us understand the great truths of salvation worked out through the sacrifice of Jesus, the Messiah.
Dr. Reymond clearly demonstrates in this monograph that there are several serious doctrinal differences between Roman Catholic teaching and Biblical Christianity . . . I am confident the reader will find this work clear, fair, and accurate. I highly commend its close reading.
Robert Reymond taught for more than 25 years on the faculties of Covenant Theological Seminary and Knox Theological Seminary. He holds B.A., M.A., and Ph.D. degrees from Bob Jones University and did post-doctoral studies at Fuller Seminary, New York University, Union Seminary, Tyndale House, Cambridge, and Rutherford House, Edinburgh. Currently he is the Emeritus Professor of Systematic Theology at Knox Theological Seminary, Ft. Lauderdale, Florida.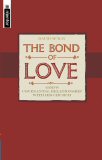 The Bond of Love: God's Covenantal Relationship with the Church
Author: David McKay
Publisher: Christian Focus Publication
Publication Date: 2001
Pages: 352
The Bible is divided, quite literally, into two covenants. With this understanding we should be intent to understand the idea of covenant and its implications for us as believers. David examines the theology of covenant in a way that confirms the consistency of the Scriptures. With a greater revelation of covenant comes a worldview that empowers and informs our relationship with Jesus Christ.
David McKay has accomplished a remarkable goal in this book. He covers the full range of the topics of Christian doctrine from the standpoint of Covenant Theology, showing the relevance of the covenant in all aspects of faith and life. This is, in fact, a covenantal systematic theology. Particularly useful is McKay's treatment of contemporary issues from a covenant perspective: e.g., neo-orthodoxy, the New Age Movement, feminism, evolutionism, the "open view of God," etc. He interacts with an amazing range of Reformed authors, from Calvin to the Puritans to Murray, Van Til, and Reymond. I enthusiastically commend this work, and will use it in my seminary courses.
—Wayne R. Spear, Professor Emeritus of Systematic Theology, Reformed Presbyterian Theological Seminary, Pittsburgh, Pennsylvania
David McKay is professor of Systematic Theology, Ethics and Apologetics at the Reformed Theological College and minister of Cregagh Road Reformed Presbyterian Congregation in Belfast. He is the editor of Covenanter Witness and has contributed to a number of theological journals.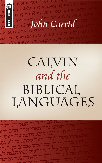 Calvin and the Biblical Languages
Author: John Currid
Publisher: Christian Focus Publication
Publication Date: 2006
Pages: 128
The Church today is built on the Reformation's linguistic heritage yet is in danger of losing that strong foundation. Many seminaries no longer require that their students learn the biblical languages for their divinity degrees—some do not even teach them! Yet these are the basic tools of any study of the Bible, and if we don't teach the Bible, then what is the church teaching?
If we need encouragement as to what can happen to our sermons and Bible study when we develop a knowledge of the languages that the Scriptures are written in then Calvin is an excellent encourager. John Currid shows us how Calvin used a knowledge of the biblical languages to provide richness, depth and accuracy to his understanding of Scripture—and his exposition of it.
If your language skills have become rusty . . . Calvin and the Biblical Languages, by John Currid, provides a good reminder of the importance and usefulness of the biblical languages for pastoral ministry and church life.
—Rev. Gordon Ferguson, British Church Newspaper
John Currid is Carl McMurray Professor of Old Testament at Reformed Theological Seminary, Charlotte, North Carolina.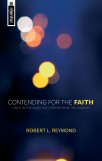 Contending for the Faith: Lines in the Sand that Strengthen the Church
Author: Robert Reymond
Publisher: Christian Focus Publication
Publication Date: 2006
Pages: 448
Contending for the Faith offers a selection of Reymond's papers in the areas of systematic theology and apologetics. The one thing these articles generally have in common is their apologetic flavor—that is to say, each in its own way contends for the biblical and Reformed faith. Many of these papers have never been previously published.
Robert offers them to a broader readership as they address topics that are, in many cases, being debated within the Church at large today. We are given unique insights into a huge range of subjects from creation to Lord's Day observance, from the Trinity to Islam. This is a hugely significant contribution to the defense of the Christian faith that makes points that are difficult to ignore.
Robert Reymond taught for more than 25 years on the faculties of Covenant Theological Seminary and Knox Theological Seminary. He holds B.A., M.A., and Ph.D. degrees from Bob Jones University and did post-doctoral studies at Fuller Seminary, New York University, Union Seminary, Tyndale House, Cambridge, and Rutherford House, Edinburgh. Currently he is the Emeritus Professor of Systematic Theology at Knox Theological Seminary, Ft. Lauderdale, Florida.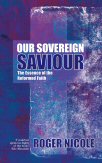 Our Sovereign Saviour: The Essence of the Reformed Faith
Author: Roger Nicole
Publisher: Christian Focus Publication
Publication Date: 2002
Pages: 192
Long regarded as one of the pre-eminent theologians in America, Roger Nicole has devoted a lifetime to defending orthodox Christian doctrines. Here is a collection of his essays on the key doctrine of the sovereignty of Jesus.
In the pages of this book, Roger Nicole brings us into the world of sane and satisfying Calvinism through cogent exposition, colorful illustration and compelling application. It will serve well as a primer for those new to the Reformed faith and as a refresher for those who know it well.
—Mark Johnston, Minister, Grove Chapel, London
Roger Nicole is visiting Professor of Theology at Reformed Theological Seminary in Orlando and professor emeritus of Gordon-Conwell Seminary. A native Swiss Reformed theologian and a Baptist, Dr. Nicole is regarded as one of the pre-eminent theologians in America. He was an associate editor for the New Geneva Study Bible and assisted in the translation of the NIV Bible. He is a past president and founding member of the Evangelical Theological Society, and a founding member of the International Council on Biblical Inerrancy. He has written over one hundred articles and contributed to more than fifty books and reference works.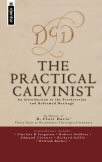 The Practical Calvinist: An Introduction to the Presbyterian & Reformed Heritage
Editor: Peter Lillback
Publisher: Christian Focus Publication
Publication Date: 2002
Pages: 576
For thirty years D. Clair Davis taught Church History at Westminster Theological Seminary in Philadelphia. His influence will not be fully known until the next life, but as a measure of the esteem that he is held, in this remarkable volume has been prepared.
Section 1: consists of 5 articles written by D. Clair Davis himself looking anew at the five points of Calvinism
Section 2: looks at the Reformed heritage through church history
Section 3: is a revealing, charming and often amusing collection of anecdotes by colleagues, students and friends of Dr. Davis
Section 4: is a bibliography of Dr. Davis's wide and varied writings; a useful reference source in itself.
. . . a feast, both appetizing and satisfying, of contemporary reflection on the Presbyterian and Reformed heritage. Articles from a galaxy of scholars lead us into matters historical, theological, homiletical & pastoral.
—Edward Donnelly, Principal of Reformed Theological College, Belfast, Northern Ireland
Peter Lillback is President and Professor of Historical Theology at Westminster Theological Seminary, Philadelphia.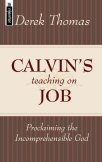 Calvin's Teaching on Job: Proclaiming the Incomprehensible God
Author: Derek Thomas
Publisher: Christian Focus Publication
Publication Date: 2004
Pages: 416
For many of us the book of Job stands directly in the center of one of the most complicated problems of life— the interaction between divine sovereignty and human responsibility. Its implications for a world of suffering and injustice is one that has provoked much tortuous thought for both Calvinists and Arminians.
How Job deals with tremendous suffering—losing most of his earthly possessions, family and health—and how God deals with Job's suffering, does not necessarily make a nicely packaged story. The issues Job faced are ones that all Christians will struggle with to one degree or another. Calvin is still an influential theologian and was an excellent preacher. Derek Thomas uses Calvin's sermons on Job as a model for preachers today.
Derek Thomas is the John E. Richards Professor of Systematic and Practical Theology at the Jackson campus of RTS. After pastoring for 17 years in Belfast, Northern Ireland, Dr. Thomas returned to the USA in 1996 where, in addition to his work at the seminary, he serves as the Minister of Teaching at First Presbyterian Church in Jackson.
Puritan Profiles: 54 Contemporaries of the Westminster Assembly
Author: William Barker
Publisher: Christian Focus Publications
Pages: 320
The history of seventeenth century England was tumultuous. During this period England underwent a civil war, a regicide, an experiment with republican government, a restoration of monarchy and constant upheavals in politics and religion. As the century began, Puritans were poised against Episcopalians, Parliament against the forces of an absolutist monarchy and the question hung in the air—what kind of Christian expression would be the Church of England eventually reflect?
For those who admire the confessional statements of the Westminster Assembly but know little of their origins, this is a wonderful introductory volume. The diversity of the Assembly participants with their immense commonalities is amazing. Also of interest is the enormous energy involved in the debates, the participants' struggles to understand the Bible, and their freedom to vent disagreement at high decibels while maintaining a spirit of unity. The book is well organized and presented in an effective format.
—John D. Hannah, Biblioteca Sacra
William Barker is vice-president for academic affairs and professor of Church History at Westminster Theological Seminary, Philadelphia. He is an ordained minister in the Presbyterian Church in America, of which he is a former moderator.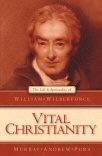 Vital Christianity: The Life and Spirituality of William Wilberforce
Author: Murray Andrew Pura
Publisher: Christian Focus Publications
Publication Date: 2003
Pages: 160
William Wilberforce (1759-1833) was a truly inspiring man. An evangelical Christian, he was the key voice that led to the abolition of slavery in the British Empire, which then led to its ultimate abolition worldwide. Abolishing slavery was, according to Wilberforce's critics, impractical, idealistic and fantastically uneconomic. But Wilberforce was convinced that slavery was an evil that needed to be eradicated, and was finally fulfilled a mere three days before his death.
What would have happened if William Wilberforce had followed the conventional wisdom of today and kept his religious beliefs separate from his political opinions, not tried to impose his beliefs on others, or had allowed the desire to be relevant, tolerant, and popular to outweigh any desire to stand for what was right?
This is a fascinating look at William Wilberforce's life. The energy, persistence, and unashamedly evangelical faith is a shining example to all Christians today. The parallels for the Christian today who holds the unpopular positions that following Christ entails, should be abundantly clear.
Some books, said Bacon, should be tasted (and then left), some swallowed (that is, read casually), and "some few chewed and digested," that is, read through with care and thought. This book flows so smoothly that it could easily be swallowed, but with Christian role-models of stature currently in such short supply I believe it belongs in Bacon's third class; and it is as such that I recommend it to you.
Murray Andrew Pura has earned degrees from Acadia University and Regent College and has published several articles on William Wilberforce. He is also the author of a number of books and pastors a Southern Baptist Church in Pincher Creek, Alberta, Canada.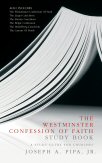 The Westminster Confession of Faith Study Book: A Study Guide for Churches
Author: Joseph A. Pipa, Jr.
Publisher: Christian Focus Publications
Publication Date: 2008
Pages: 416
The Westminster Confession is a foundational document for countless churches worldwide. Churches of all sizes claim it as their confession, and hold to it with varying degrees of closeness. However, how many people actually have any real knowledge of the Confession or feel it is only of relevance to their church leaders?
Joey Pipa's study book is the ideal tool for all Christians who seek to gain a better understanding of their faith through exploring an integral cornerstone of Reformed Christianity. Pipa has produced an accessible, user-friendly study aid, which illuminates the Westminster Confession for all Christians, showing it is not just a document for intellectual theologians, but is as relevant in our own lives today as when it was written.
This study guide also includes:
The Westminster Confession of Faith
The Larger Catechism
The Shorter Catechism
The Belgic Confession
The Heidelberg Catechism
The Canons of Dordt
Joseph A. Pipa, Jr. has been both a church pastor and theological professor. He is currently President of Greenville Presbyterian Theological Seminary in South Carolina and exercises a worldwide expositional ministry.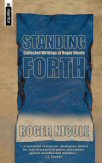 Standing Forth: Collected Writings of Roger Nicole
Author: Roger Nicole
Publisher: Christian Focus Publications
Publication Date: 2002
Pages: 492
Long regarded as one of the pre-eminent theologians in America, Roger Nicole has devoted a lifetime to teaching and defending the orthodox belief on issues under attack, including the inspiration of Scripture, the nature of the atonement, the existence of hell, and more recently the openness of God issue.
As well as his major theological works, Roger Nicole has had a productive ministry writing essays for publication. For the first time, a selection of his best work has been compiled into one volume. In every essay you will find something fresh, something deep, something relevant, or something arresting to take away with you.
Roger Nicole's insight, clarity, patience, thoroughness, geniality and good sense have given him anchor-man status for over a generation.