Mobile Ed: NT345 Book Study: Paul's Letter to the Philippians (6 hour course)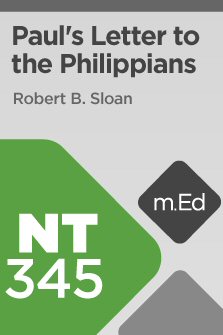 Mobile Ed: NT345 Book Study: Paul's Letter to the Philippians (6 hour course)
•
Runs on Windows, Mac and mobile.
Overview
In this course, Dr. Robert Sloan takes you verse by verse through Philippians. You'll explore themes of fellowship, Christ and the gospel, unity in the church, suffering, death, resurrection, justification, and more. You'll learn the historical background of the city of Philippi and gain context as to why Paul emphasized some things over others in his letter. Dr. Sloan addresses these topics with his engaging presence and clear communication style. If you desire practical, straightforward exposition on Philippians, Dr. Sloan will not disappoint.
Learning Objectives
Upon successful completion you should be able to:
Lead others through a verse-by-verse approach to Philippians
Highlight Paul's emphases based upon original setting
Assist others in unpacking and applying Paul's thematic teaching
Course Outline
Introduction
Introducing the Speaker and the Course
Unit 1: Paul's Letter to the Philippians
The Epistle of Joy
Exploring Themes in Philippians with Louw-Nida and Visual Filters
Cultural Causes of Conflict in Philippi
Paul Responds with a Letter
Stand Unified and Persevere
Hold Fast to the Gospel and Rejoice
Unit 2: Thanksgiving, Petition, and Encouragement
Philippi as a Roman Colony
Unity Is Our Best Defense
To the People of God
Grace and Peace
Paul's Prayer of Thanksgiving
Paul's Justified Confidence in the Philippians
Partnership in Grace and in Defending the Gospel
Love in Suffering
Studying the "Day of Christ" and "Day of the Lord" with the Topic Guide
Unit 3: Nothing Can Stop the Progress of the Gospel
The Gospel Spreads in Rome
The Authority of the Gospel
Deliverance through Prayers and the Spirit of Christ
Either Living or Dying Will Exalt Christ
Both Life and Death Are Journeys
Confidence in the Provision of Christ
Unit 4: Persevere and Follow Christ's Example
Live in a Way Worthy of the Gospel
Defining the Greek Word Politeuomai with BDAG
Don't Be Alarmed by Your Opponents
Be of One Mind with One Another
Have the Mind of Christ
Let Perseverance Result in Salvation
Creating and Searching a Collection of Philippians Commentaries
Overcome Divisiveness
No Matter What Happens, Persevere
Exploring "Drink Offering" with Feasts and Sacrifices Interactive
Unit 5: An Excursus on Timothy and Epaphroditus
Plans to Send Timothy
Honoring Epaphroditus
Unit 6: Stand Firm in the Lord
Overview of Philippians 3:1–4:1
Rejoice in the Lord
What Does It Mean to Be Saved?
Who Are the People of God?
Beware of False Teachers and False Credentials
Understanding How Dogs Were Viewed in the Biblical World
The Authentic Credentials of God's People
Now and Not Yet
Becoming Fully United with Christ
Attaining to the Resurrection
"Pressing On" Is a Mark of God's People
The Mindset of Christ
Suffering with Christ
Studying Paul's Life with Media Search and the Timeline Tool
Our Citizenship in Heaven
Standing Firm in the Lord
Examining Pericope Divisions with the Passage Analysis Tool
Unit 7: Closing Exhortations and Greetings
Euodia and Syntyche
Passing from Anxiety to the Peace of God
Comparing Translations of Philippians 4:5
Living Out Christian Virtues
Paul's Contentment and Christ-Sufficiency
Gratitude for the Philippian Partnership
Benediction, Final Greetings, and a Closing Blessing
Performing a Morphological Search and Adding to a Visual Filter
Conclusion
Product Details
Title: NT345 Book Study: Paul's Letter to the Philippians
Instructor: Robert B. Sloan, Jr.
Publisher: Lexham Press
Publication Date: 2015
Product Type: Logos Mobile Education
Resource Type: Courseware, including transcripts, audio, and video resources
Courses: 1
Video Hours: 6
About the Instructor
Dr. Robert B. Sloan, Jr. is the president of Houston Baptist University and previously served as president and chancellor of Baylor University, where he was a member of the faculty and the founding dean of George W. Truett Theological Seminary. Dr. Sloan has published extensively and has pastored churches throughout Texas and beyond.
Getting the most out of Mobile Ed
Logos Mobile Education is a highly effective cross-platform learning environment that integrates world class teaching with the powerful study tools and theological libraries available in Logos Bible Software. Every course provides links to additional resources and suggested readings that supplement the lecture material at the end of every transcript segment.
This course was produced with screencast videos. These videos provide tutorials showing you how to use Logos Bible Software in ways that are tied directly into the content of the course. We are now producing Activities resources as a replacement for screencast videos. We plan on updating this course to include this additional Activities resource in the future for no extra charge.
More details about these resources