Mobile Ed: NT345 Book Study: Paul's Letter to the Philippians (6 hour course)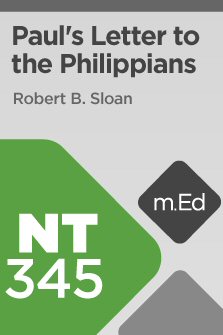 Mobile Ed: NT345 Book Study: Paul's Letter to the Philippians (6 hour course)
•
Runs on Windows, Mac and mobile.
Overview
In this course, Dr. Robert Sloan takes you verse by verse through Philippians. You'll explore themes of fellowship, Christ and the gospel, unity in the church, suffering, death, resurrection, justification, and more. You'll learn the historical background of the city of Philippi and gain context as to why Paul emphasized some things over others in his letter. Dr. Sloan addresses these topics with his engaging presence and clear communication style. If you desire practical, straightforward exposition on Philippians, Dr. Sloan will not disappoint.
Learning Objectives
Upon successful completion you should be able to:
Lead others through a verse-by-verse approach to Philippians
Highlight Paul's emphases based upon original setting
Assist others in unpacking and applying Paul's thematic teaching
Course Outline
Thanksgiving, Petition, and Encouragement (Phil 1:1–11)
Paul's Circumstances and the Progress of the Gospel (Phil 1:12–26)
Foundational Exhortation to Persevere (Phil 1:27–2:18)
Paul and Timothy's Upcoming Travel Plans (Phil 2:19–30)
Stand Firm in the Lord (Phil 3:1–4:1)
Closing Exhortations and Greetings (Phil 4:2–23)
Product Details
Title: NT345 Book Study: Paul's Letter to the Philippians
Instructor: Robert B. Sloan, Jr.
Publisher: Lexham Press
Publication Date: 2015
Product Type: Logos Mobile Education
Resource Type: Courseware, including transcripts, audio, and video resources
Courses: 1
Video Hours: 6
About the Instructor
Dr. Robert B. Sloan, Jr. is the president of Houston Baptist University and previously served as president and chancellor of Baylor University, where he was a member of the faculty and the founding dean of George W. Truett Theological Seminary. Dr. Sloan has published extensively and has pastored churches throughout Texas and beyond.
Getting the most out of Mobile Ed
Logos Mobile Education is a highly effective cross-platform learning environment that integrates world class teaching with the powerful study tools and theological libraries available in Logos Bible Software. Every course provides links to additional resources and suggested readings that supplement the lecture material at the end of every transcript segment.
This course was produced with screencast videos. These videos provide tutorials showing you how to use Logos Bible Software in ways that are tied directly into the content of the course. We are now producing Activities resources as a replacement for screencast videos. We plan on updating this course to include this additional Activities resource in the future for no extra charge.
More details about these resources