Mobile Ed: NT344 Paul's Theology and the Letter to the Philippians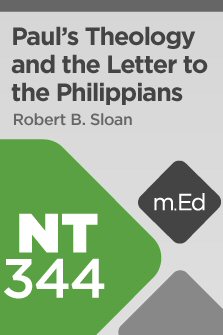 Mobile Ed: NT344 Paul's Theology and the Letter to the Philippians
•
Runs on Windows and Mac.
Overview
What were Paul's core theological beliefs? What framework did he use to organize his beliefs, and how did these beliefs relate to one another? In this course, Dr. Robert Sloan explores the theological concepts and terminology in Philippians and uses these as a window into the mind of Paul. He moves you beyond a book-level understanding to understanding Paul's theology as whole.
Learning Objectives
Upon successful completion you should be able to:
Highlight Paul's overarching message in all of his writings using the book of Philippians
Present a Christological approach to the text
Systematize Paul's theology using the text as a framework
Course Outline
Core Theological Beliefs in Philippians
Christ and the Gospel in Philippians
Other Theological Themes in Philippians
Product Details
Title: NT344 Paul's Theology and the Letter to the Philippians
Instructor: Robert B. Sloan, Jr.
Publisher: Lexham Press
Publication Date: 2015
Product Type: Logos Mobile Education
Resource Type: Courseware, including transcripts, audio, and video resources
Courses: 1
Video Hours: 3
About the Instructor
Dr. Robert B. Sloan, Jr. is the president of Houston Baptist University and previously served as president and chancellor of Baylor University, where he was a member of the faculty and the founding dean of George W. Truett Theological Seminary. Dr. Sloan has published extensively and has pastored churches throughout Texas and beyond.
Getting the most out of Mobile Ed
Mobile Ed is a highly effective mobile learning environment that incorporates the powerful study tools found in Logos Bible Software.
With any Logos library base package, you will be able to view the lectures and interact with the transcripts. For the best learning experience, we recommend you use Logos Platinum.
Readings for the courses are often tailored to Platinum because the larger library provides access to a wide range of suggested resources and increases search results for further study.
The Platinum collection best matches the resources used in screencasts. It includes a breadth of commentaries, original-language studies, and over 1,400 resources to deepen your study.