Zondervan Illustrated Bible Backgrounds Commentary: Old Testament (5 vols.)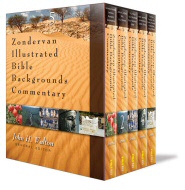 Zondervan Illustrated Bible Backgrounds Commentary: Old Testament (5 vols.)
•
Runs on Windows, Mac and mobile.
Overview
This series brings to life the world of the Old Testament through informative entries and full-color photos and graphics. Here readers find the premier commentary set for connecting with the historical and cultural context of the Old Testament.
Many today find the Old Testament a closed book. The cultural issues seem insurmountable and we are easily baffled by that which seems obscure. Furthermore, without knowledge of the ancient culture we can easily impose our own culture on the text, potentially distorting it. This series invites you to enter the Old Testament with a company of guides, experts that will give new insights into these cherished writings.
Winner of the 2011 Christian Book Award for Bible Reference
Key Features
Over 2,000 photographs, drawings, maps, diagrams, and charts provide a visual feast which breathes fresh life into the text
Passage-by-passage commentary presents archaeological findings, historical explanations, geographic insights, notes on manners and customs, and more
Analysis into the literature of the ancient Near East will open your eyes to new depths of understanding both familiar and unfamiliar passages
The entire collection is searchable by topic or text
All Scripture references are linked directly to the Bibles in your library
Praise for the Print Edition
This is a unique and important commentary. It is a milestone in the collection and comparative interpretation of ancient Near Eastern texts, pictures, and other archaeological materials as well as geographical, historical, and cultural information as they relate to the Old Testament. There is nothing else like it available today. . . . There will always be disagreements between scholars on such matters, but the many comparative and archaeological resources assembled in these volumes make it a veritable gold mine for those who desire to take the ancient context of the Lord's work and word seriously in their study, teaching, and preaching of Holy Scripture.
—Richard E. Averbeck, Ph.D., Professor of Old Testament and Semitic Languages, Trinity Evangelical Divinity School
As a pastor, I am certain that the Zondervan Illustrated Bible Backgrounds Commentary: Old Testament is a deeply valuable tool for ministry. With rock-solid scholarship, relevant commentary, and gripping visual illustrations, this will be a great tool for believers for years to come.
—Kevin G. Harney, pastor and author of Organic Outreach for Ordinary People
To me, every Christian should own these commentaries. I say that very seriously because when you study Scripture without looking into the historical and cultural background of what was happening when each part of the Bible was written, we miss incredibly so much meaning, understanding and depth. Using these commentaries when studying Scripture turns our study into a multi-dimensional and extremely colorful study. You will have so many 'Oh! That's what that means!' or 'Now that makes sense!' moments when studying with this commentary. I cannot imagine doing any study of the Bible without it quite honestly and couldn't recommend a commentary of this type any higher.
—Dan Kimball, pastor and author of They Like Jesus but Not the Church
Product Details
Title: Zondervan Illustrated Bible Backgrounds Commentary: Old Testament
Publisher: Zondervan
General Editor: John H. Walton
Volumes: 5
Pages: 2,928

Volume 1: Genesis, Exodus, Leviticus, Numbers, Deuteronomy
Editor: John H. Walton
Publisher: Zondervan
Publication Date: 2009
Pages: 571

Volume 2: Joshua, Judges, Ruth, 1 & 2 Samuel
Editor: John H. Walton
Publisher: Zondervan
Publication Date: 2009
Pages: 673

Volume 3: 1 & 2 Kings, 1 & 2 Chronicles, Ezra, Nehemiah, Esther
Editor: John H. Walton
Publisher: Zondervan
Publication Date: 2009
Pages: 529

Volume 4: Isaiah, Jeremiah, Lamentations, Ezekiel, Daniel
Editor: John H. Walton
Publisher: Zondervan
Publication Date: 2009
Pages: 598

Volume 5: The Minor Prophets, Psalms, Proverbs, Ecclesiastes, Song of Songs
Editor: John H. Walton
Publisher: Zondervan
Publication Date: 2009
Pages: 557
About John H. Walton
John H. Walton is professor of Old Testament at Wheaton College Graduate School. He is the author or coauthor of several books, including Chronological and Background Charts of the Old Testament; Ancient Israelite Literature in Its Cultural Context; Covenant: God's Purpose, God's Plan; The IVP Bible Background Commentary: Old Testament; and A Survey of the Old Testament.