Christian Focus Christology Collection (6 vols.)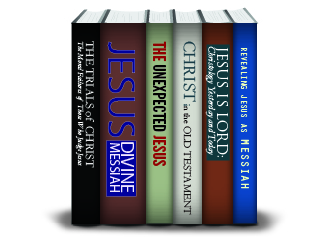 Christian Focus Christology Collection (6 vols.)
•
Runs on Windows, Mac and mobile.
Overview
Christology, or the study of the person and work of Christ, represents the highest study to which we can aspire to. The Christian Focus Christology Collection (6 vols.) provides six informative volumes to help anyone serious about gaining a deeper understanding about Jesus the Messiah. Each book in the collection is written by respected and noted theologians and authors like R.C. Sproul, Robert Reymond, and James A. Borland. The topics included in this collection range from issues regarding Christ's deity, a look into the trial of Jesus, the titles attributed to Jesus, Old Testament theophanies, and a look into the messianic songs of Isaiah. Whether you are preparing for teaching a church or small group or you want to understand Jesus better for your own personal edification the Christian Focus Christology Collection is just what you are looking for.
With the Logos Bible Software all Scripture passages in the Christian Focus Christology Collection are tagged to original language texts and English translation. This makes these resources more powerful and easier to access than ever before for scholarly work or personal Bible study. With the advanced search features of Logos Bible Software, you can perform powerful searches by topic or Scripture reference—finding, for example, everything mention of Christ, Jesus or references to the Trinity.
Key Features
Very strong academic studies into a variety Christological topics
The Trials of Christ includes an appendix discussing perceived anti-Jewishness in the Gospels
Jesus is Lord: Christology Yesterday and Today features in-depth study into the theology of the Scottish regarding the incarnation, as well as the Christologies of both Jurgen Moltmann and Wolfhart Pannenberg
Key words and Scriptures linked to your Logos library
Product Details
Title: Christian Focus Christology Collection
Publisher: Christian Focus Publications
Volumes: 6
Pages: 1,440
Individual Titles
Individual Overviews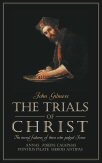 Just who were the people who tried Jesus? Annas' personal fortune from 'skimming' the income from sacrificial animals was over 2.5 billion pieces of silver. His son-in-law, Joseph Caiaphas, broke twelve laws in bringing Jesus before him. Herod Antipas, second son of Herod the Great, was a Roman educated playboy in charge of a small section of a third class imperial province——a man whose rash promise led to the beheading of John the Baptist. And Pontius Pilate? Pilate was an anti-Semitic politician more intent on cash-flow for building projects than justice. John Gilmore's The Trials of Christ takes a thorough look at this questionable group gathered to ensure Jesus got a fair trial.
Dr. Gilmore is not content simply to detail the legal maneuverings. He seeks to pierce through the layers of litigious wrappings to find the core motivations of those who 'tried' Christ. It warms this lawyer's heart that with Gilmore's careful exposition, Christ's trials, bad ones at that, prove a rich source of exhortation.
—Meirwyn I. Walters, Assistant Professor of Law, Gordon College, Massachusetts
Dr. John Gilmore, a second-generation Welsh preacher, has resided in Cincinnati, Ohio, since 1982. He speaks at conferences and church seminars in the areas of eschatology, the passion narratives in the Gospels, and the spiritual concerns of senior citizens.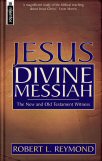 Jesus, Divine Messiah
Author: Robert Reymond
Publisher: Christian Focus Publications
Publication Date: 2003
Pages: 560
Jesus, Divine Messiah a compilation of two of Reymond's previous works: Jesus, Divine Messiah: Old Testament Witness and Jesus, Divine Messiah: New Testament Witness is a stalwart defense of Christ's Messiahship through both the Old and New Testaments. New material was written and added for this compilation to the original material, along with its copious number of citations to original languages, a great number of footnotes and frequent discussions of higher critical theories regarding Christ's diety.
Robert Reymond taught for more than 25 years on the faculties of Covenant Theological Seminary and Knox Theological Seminary. He holds B.A., M.A., and Ph.D. degrees from Bob Jones University and did post-doctoral studies at Fuller Seminary, New York University, Union Seminary, Tyndale House, Cambridge, and Rutherford House, Edinburgh. Currently he is the Emeritus Professor of Systematic Theology at Knox Theological Seminary, Ft. Lauderdale, Florida.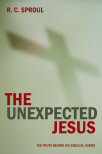 The Unexpected Jesus
Author: R. C. Sproul
Publisher: Christian Focus Publications
Publication Date: 2005
Pages: 144
Jesus evokes the widest polarization of opinion of any historical figure: devotion from some, vitriolic abuse by others and astonishing indifference from many. Today most people just don't know who he really was, or is. There are always people willing to put forth all sorts of interesting ideas regarding Jesus, his role and his identity with books like The Da Vinci Code and The God Delusion proposing that he was only a man. It seems everyone has an opinion whether it is based on fact or fiction.
Those for and against have often resorted to name-calling, and in the Bible Jesus was both called by, and gave himself, unusual names. Noted theologian R. C. Sproul seeks to enlighten us by investigating what those names actually mean. Then, extrapolating from there, Sproul determines what it was that Jesus set out to accomplish.
Dr. R. C. Sproul, is a respected teacher, theologian, pastor, and he is the founder and chairman of Ligonier Ministries. He currently serves as the director of Serve International and as senior minister of preaching and teaching at Saint Andrew's Chapel, Sanford Florida. He can be heard teaching daily on the 'Renewing Your Mind' broadcast throughout sixty countries. He has a real heart for people to hear and live out the Word of God in their lives.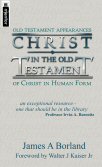 Christ in the Old Testament
Author: James A. Borland
Publisher: Christian Focus Publications
Publication Date: 2003
Pages: 192
This book focuses on God's appearances in human form rather than the Shekinah, the pillar of cloud or other manifestations of God's presence. Rather than simply a defense against erroneous views Borland presents a positive theology of theophanies. It is the most comprehensive book of its type, although not every Christophany is investigated all categories are represented. Borland looks at the characteristics of Christophanies and their use by God.
James A. Borland is Professor of Biblical Studies and Theology at Liberty University, Lynchburg, Virginia. He has been the Secretary-Treasurer of the Evangelical Theological Society for many years.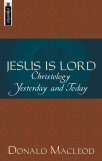 The Expository Times once contained a famous article by Vincent Taylor asking the question "Does the New Testament call Jesus God?" Twenty years before Rudolf Bultmann said, "In describing Christ as God the New Testament still exercises great restraint." Taylor's conclusion was that the only clear statement of Jesus' deity was Thomas' words "My Lord and my God." In a later article in The Expository Times Dr Michael Austin dismissed even this. His conclusion? "The New Testament makes no unambiguous claim to Jesus' divinity." All this will come as a considerable surprise to ordinary readers of the New Testament!
Donald Macleod is recognized as one of the leading theologians alive. He is also able to explain complex thoughts with simplicity and clarity. This is his contribution to the debate on Christology. It builds on his previous writings about the Godhead and is a new work of international academic standing that is a rigorous theological defense of Christ's deity.
[Jesus is Lord is] both intellectually satisfying and spiritually enriching.
—Andy Bathgate, SU, Glasgow, Themelios
Donald Macleod is the Principal of the Free Church of Scotland College, Edinburgh. Regarded as one of Britain's most prominent theologians he has written extensively on a wide range of issues.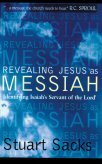 Revealing Jesus as Messiah
Author: Stuart Sacks
Publisher: Christian Focus Publications
Publication Date: 2001
Pages: 160
The Messianic songs of Isaiah have been called the "Fifth Gospel" for their rich insight and illumination of the Christ and His mission. Stuart Sacks, Jewish believer, musician, author, and broadcaster shows us how these fascinating sections of the prophecy of Isaiah point to one person as the Jewish Messiah.
Every generation needs good guides to key portions of the scripture, and the Servant Songs of Isaiah, often referred to as the 'fifth gospel', are surely fundamental to our understanding of the person and work of the Messiah. Stuart Sacks, a Jewish believer, has provided a very accessible guide to the significance and application of these crucial passages. His Jewish insights are woven into the text of the book in an easy manner, I heartily recommend it.
—Walter Riggans, Church's Ministry among Jewish People
More details about these resources