Mobile Ed: BI301 A Biblical Theology of the Kingdom of God (9 hour course)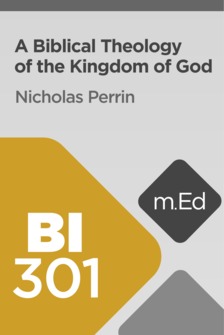 Mobile Ed: BI301 A Biblical Theology of the Kingdom of God (9 hour course)
•
Runs on Windows, Mac and mobile.
Overview
Explore the kingdom through the parables of Jesus and learn what the kingdom is, who the kingdom belongs to, and how one lives in the kingdom. Discover that the kingdom is what God does, and that He just might use you in his work. This kingdom is to be characterized by sharing, by working together, by forgiving each other, and by being empowered by the Holy Spirit. Most importantly, it is a kingdom centered on Jesus the Messiah and on worship—and this is just a foretaste of what's going to happen when the kingdom comes in its fullness.
Learning Objectives
Upon successful completion you should be able to:
Understand the close connection between suffering, service, pouring out one's life, and refusing to self-protect
Discern proper kingdom behavior
Course Outline
Unit 1: Scholarship
The Quest of the Historical Jesus and the Kingdom of God

H.S. Reimarus
D.F. Strauss
Lives of Jesus

Major Paradigms for Understanding the Kingdom

The Ethical Kingdom
Ritschl's Background
Key Points of Ritschl's Thought

Framing the Questions

The Already But Not Yet Kingdom
Unit 2: Old Testament
Nature of Creation: Old Testament and New Testament
Yahweh as King
Adam and Messiah
Image of God in the Old Testament
Was There a Covenant of Creation?
Concept of Messiah in the Old Testament
Unit 3: Covenants
Noahic Covenant
Abrahamic Covenant
Mosaic Covenant
Davidic Covenant
New Covenant
Unit 4: Gospels
Matthew's Genealogy
A New Moses
Jesus' Baptism
Jesus' Temptation
Sermon on the Mount
Parable of the Sower
Great Commission
Mark's Prologue
By the Sea
Healing of Leper
Exorcism
Confession of Christ
Temple Cleansing
Crucifixion
John's Prologue
Calling of Nathaniel
Nicodemus
Healing of Paralytic
Triumphal Entry
Jesus Comforts His Disciples
Confession of Christ
Peter's Reinstatement
Unit 5: Paul
Overview
Greetings (Rom 1:1–7)
Not Ashamed (Rom 1:16–20)
Apart from the Law (Rom 2:12–16)
Righteousness of God (Rom 3:19–25)
In the Thrall of Sin (Rom 7:14–20)
Life through the Spirit (Rom 8:1–4)
Unit 6: General Epistles and Revelation
Hebrews: Prologue (Heb 1:1–4)
Hebrews: Scriptural Citation (Heb 1:5–14)
1 Peter: Greeting (1 Pet 1:1–2)
1 Peter: Inheritance (1 Pet 1:3–9)
Revelation: Prologue and Greetings (Rev 1:1–8)
Conclusion
Product Details
Title: BI301 A Biblical Theology of the Kingdom of God
Instructor: Nicholas Perrin
Publisher: Lexham Press
Publication Date: 2016
Product Type: Logos Mobile Education
Resource Type: Courseware, including transcripts, audio, and video resources
Courses: 1
Video Hours: 9
About Nicholas Perrin
Nicholas Perrin, PhD, is the Franklin S. Dyrness Professor of Biblical Studies and dean of Wheaton College Graduate School. Between 2000 and 2003, he was research assistant for N.T. Wright and has since authored and edited numerous articles and books, including Thomas and Tatian (Society of Biblical Literature / Brill); Thomas: The Other Gospel (Westminster John Knox); Lost in Transmission: What We Can Know about the Words of Jesus (Thomas Nelson); and Jesus the Temple (SPCK; Baker Academic), the first of a three-part trilogy on the historical Jesus. He is also coeditor of the recently revised edition of Dictionary of Jesus and the Gospels (InterVarsity).
Getting the most out of Mobile Ed
Logos Mobile Education is a highly effective cross-platform learning environment that integrates world class teaching with the powerful study tools and theological libraries available in Logos Bible Software. Every course provides links to additional resources and suggested readings that supplement the lecture material at the end of every transcript segment.
This course comes with an Activities resource that functions as a type of "workbook" for the course. This resource includes learning activities such as: places for you to respond to reflection questions, exercises that will challenge and show you how deepen your understanding of this course by using specific Logos tools and resources, tutorial videos on different features of Logos Bible Software, and links to relevant Logos guides and tools. A link to open the Activities resource is conveniently placed at the end of every segment.