Mobile Ed: BI103 Principles of Bible Interpretation (2 hour course)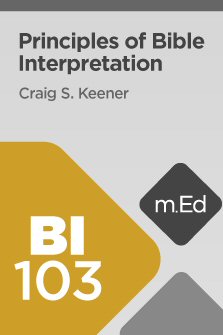 Mobile Ed: BI103 Principles of Bible Interpretation (2 hour course)
•
Runs on Windows, Mac and mobile.
Overview
Join Dr. Craig Keener, a foremost expert in biblical backgrounds, as he provides principles for interpretation along with excellent examples. See the parable of the Prodigal Son through the eyes of a Pharisee, learn the dangers involved in using allegory rather than analogy, and appreciate the contrast between Emperor Augustus and Jesus in the story of the first Christmas. Dr. Keener draws from his meticulous research of the ancient world to show you how to interpret the Bible by understanding its cultural contexts, genres, and more.
Learning Objectives
Upon successful completion you should be able to:
Relate Bible background information to modern settings
Interpret passages of scripture based upon their original setting and cultural elements
Utilize knowledge about genre to better understand the intent of biblical authors
Contents
Introduction
Introducing the Course and the Speaker
Unit 1: Reading the Bible in Context
Immediate Context
Identifying References to Satan in John
Whole-Book Context
Example from the Gospel of John
Example from 1 Corinthians 13
Unit 2: Understanding the Background of the Bible
Ancient Contexts
Background of Luke 2
Jesus' Parables of Lost Things
Unit 3: Interpreting Different Genres in the Bible
Defining Genre
Old Testament Genres
Discovering Poetic Form and Function in the Psalms
Genres and Devices in Jesus' Teachings
The Gospels
Genre-Specific Searching with Literary Typing
Epistles
Epistles: Example of Head Coverings
Epistles: Situational Differences
Creating a Custom Guide for Cultural Background
Prophecy
Prophecy and Apocalyptic: The Book of Revelation
Interpreting Revelation: Part 1
Interpreting Revelation: Part 2
Conclusion
Product Details
Title: BI103 Principles of Bible Interpretation
Instructor: Craig S. Keener
Publisher: Lexham Press
Publication Date: 2015
Product Type: Logos Mobile Education
Resource Type: Courseware, including transcripts, audio, and video resources
Courses: 1
Video Hours: 2
About Dr. Craig S. Keener

Dr. Craig S. Keener is professor of New Testament at Asbury Theological Seminary, and is the author of 17 books, four of which have won book awards in Christianity Today. One, IVP Bible Background Commentary: New Testament, has sold more than half a million copies. He has authored scholarly commentaries on Matthew, John (two volumes), Acts (four volumes), and more briefly on Romans, 1 and 2 Corinthians, and Revelation.
Getting the most out of Mobile Ed
Logos Mobile Education is a highly effective cross-platform learning environment that integrates world class teaching with the powerful study tools and theological libraries available in Logos Bible Software. Every course provides links to additional resources and suggested readings that supplement the lecture material at the end of every transcript segment.
This course was produced with screencast videos. These videos provide tutorials showing you how to use Logos Bible Software in ways that are tied directly into the content of the course. We are now producing Activities resources as a replacement for screencast videos. We plan on updating this course to include this additional Activities resource in the future for no extra charge.
More details about these resources