Light and Truth: Bible Thoughts and Themes (5 vols.)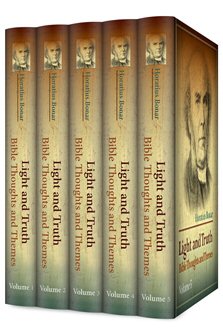 Light and Truth: Bible Thoughts and Themes (5 vols.)
•
Runs on Windows, Mac and mobile.
Overview
Horatius Bonar's Light and Truth: Bible Thoughts and Themes series follows the canonical order of the Bible and traces its thought and message of hope and redemption. Bonar selects major passages from the Bible and provides very practical and personal meditations on each passage, drawing the reader into a deeper and more personal understanding of the Word. Each meditation is immediately applicable and eminently teachable, allowing you to take Bonar's devotional thoughts on the Bible to your small group or congregation. Study with the insight of Horatius Bonar in a thorough study of the themes and applications of the major Bible passages.
With Logos Bible Software, this collection is completely searchable, with passages of Scripture appearing on mouse-over, as well as being linked to the Greek and Latin texts and English translations in your library. This makes these texts more powerful and easier to access than ever before for scholarly work or personal Bible study. With the advanced search features of Logos Bible Software, you can perform powerful searches by topic or Scripture reference.
Key Features
Personal meditations for major passages of Scripture
Substantial and practical direction that has aided generations of believers
Classic insight into Scottish Reformed devotional theology
Product Details
About Horatius Bonar
Horatius Bonar was born and raised in Edinburgh, Scotland, in a family with a long history of ministry in the Church of Scotland. After graduating from the University of Edinburgh in 1838 (where he studied under Dr. Thomas Chalmers), Bonar was ordained and became pastor of the North Parish, Kelso, where he remained for 28 years. He joined the Free Church of Scotland after "the Great Disruption" of 1843, and in 1853 he earned a Doctor of Divinity degree from the University of Aberdeen. In 1867 he took over ministry duties at Chalmers Memorial Church in Edinburgh, and in 1883 he was elected Moderator of the General Assembly of the Church of Scotland. A prolific author, he wrote and edited numerous books, biographies, articles, poems, tracts, and over 600 hymns. Horatius Bonar died on May 31, 1889.